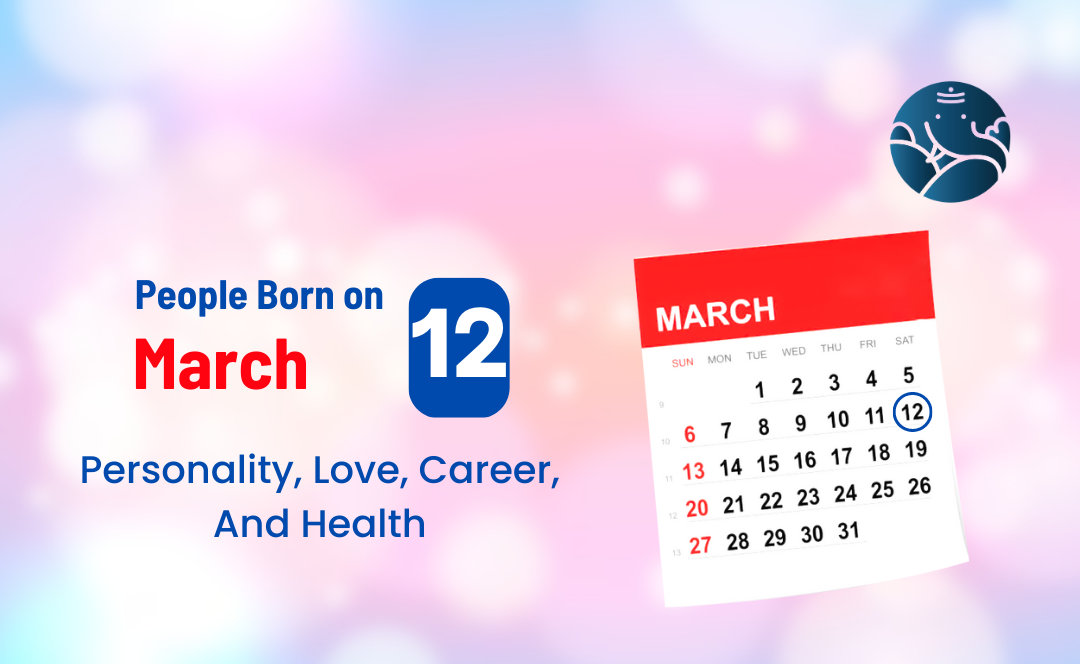 People Born on March 12: Personality, Love, Career, And Health
Relationship with the life of a person born on March 12 has an impact on your health, career, and positive and negative traits. You are very versatile and have top-notch expression skills. You are very versatile and possess top-notch expression skills. You are an individual with a youthful enthusiasm for the pursuit of knowledge. Talking about your relations with people, you are loyal and honest towards people. You have a wonderful belief about people that people don't suffer. Thus, whenever someone next to you suffers, you feel pain. You are overprotective and intelligent. You have a way of overcoming a challenge which makes you known as the ultimate challenge solver.




March 12 Birthday Personality
Individuals born on March 12 show excellent human contact. You have a unique way of interacting with people without any gusto. You also know how to strike the right chord with your communication skills. Friendliness, reasonableness, and affection are also qualities you are endowed with.

You have communication skill that enables you to express your ideas effortlessly. Born on march 12 is an imaginative and creative person who comes up with great ideas, which are sometimes unrealistic. You do not have any particular emotional characteristics as you can be hot and cold depending on the period. You like to have your own personal space to think about the world and go after great and exciting things. Also, you have great disdain for and go after any trivial discussion that would affect you. You are very unrealistic, yet you don't want to believe that you are. Lower your standard a bit; Not all of your employees can meet your standard.
March 12
 

Zodiac Sign

 

The zodiac sign of a person born on March 12th is Pisces.

 
March 12
Zodiac Sign Compatibility
Born on March 12 is favorable to Taurus and Cancer.
People Born on March 12 Positive Traits
The faith of those born on march 12 is seen in your innate ability to boldly defend to the end, no matter how unorthodox it may be. You are an imaginative and engaging person who can create new ways of overcoming any challenge. Thus you become a thorn in the flesh of any challenger. You have a special knack for talking and persuading people to believe your opinion. They often adapt to the tune and reality of life. You are very easy to reach and calm. Plus, you have a unique way of putting your points across clearly and efficiently.

You often find different ways to be yourself, resourceful and knowledgeable. Your kind and compassionate heart usually make you use your versatility to benefit people without money. You are over-responsible and hate to shirk your duty. You thrive on competition and are always eager to beat your opponent; Thus, you will be most successful. Your goal to win often makes you resilient to life's setbacks.
People Born on March 12 Negative Traits
The flaws of a March 12 Born person are basically found in what gives you the strength you need in life. Known for pushing himself too hard in order to outsmart or defeat his competitors. Thus, you can do the unimaginable to defeat your opponent. Always learn to be obedient and listen to the advice people give you. Don't accept the danger your birthday personality is in stock by embracing your inflexibility on things. You are often driven by the ability to challenge yourself.

Stay focused on your work, and don't get distracted by yourself. One of your problems is that you don't know what you want. March 12 woman He should at least learn and plan his will. Do not act again without a plan.
People Born on March 12 Love
As per Love marriage astrology, you do it efficiently, but commitment is always out of place for you. You are always suspicious of your partner and try your best to make sure that he is not cheating on you. Your relationship link comes from an energetic person who can tell you his feeling. Can accept your arrogance and eccentricity. You are also likely to be in a relationship with someone in the right spirit because of the emotional security you get from people. You can also choose someone born on the 6th, 9th, 15th, 18th, 14th, and 27th.
People Born on March 12 Career
As per Career astrology, the ultimate goal of those born on March 12 is to choose a good career that suits their personality. You are well-talented, and you often face a dilemma while choosing your career. Your indecision makes it very difficult for you to choose a particular career for yourself. You are creative and intelligently prepared to overcome any challenge. Your communication skills are superb, and you can speak anywhere without fear.

Persistence and endurance are what makes you most likely to succeed in the work you are endowed with. You become a business contractor and a television presenter, or a negotiator. Also, you are likely to become an activist or a lawyer who loves to fight for the rights of the people.
People Born on March 12 Health
As per health astrology, those born on March 12 have excellent health, but you are not made without health problems. Most of the health problems you are aware of are related to stress. You are always engrossed in your work to such an extent that you forget to take some food. You sometimes refuse to even consider the kind of food you consume. Workouts or exercise can prove to be great for your health, especially in reducing your stress and uplifting your spirit. Headaches and backaches are most likely to be your problem, being your close friend. Consider sleep and rest essential for your health. It would help you if you learned how to keep your calm and spirit. Do something that uplifts your soul and spirit.
Conclusion
A kind and caring person born on March 12 will conquer the world. You are prone to change your mood and become over-enthusiastic about things. If you want to know more about the person born on 12th March then talk to astrologers.