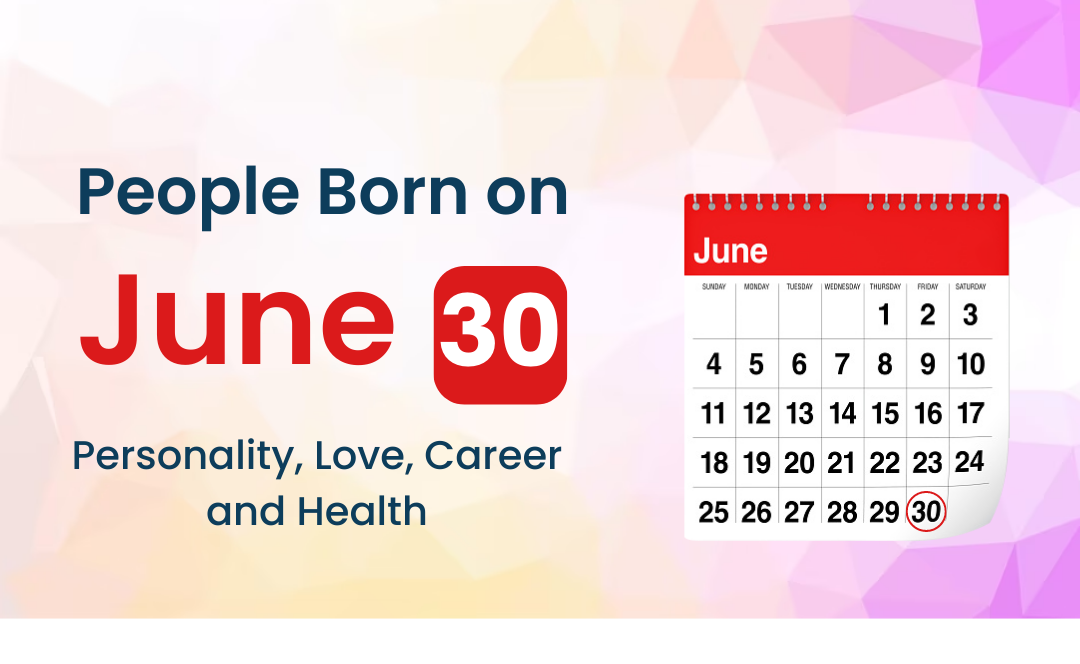 People Born on June 30: Personality, Love, Career, And Health
Those born on June 30th are artistic and highly dependable. It seems that you hate confrontation because you often avoid anything that might bring you closer to confrontation. Apart from this, you will be a passionate very determined person who will not rest till the best comes out of him.
June 30
 

Birthday Personality

Those born on June 30 believe in hard work and success as you often work hard for your success. Apart from this, you will be a peace-loving and caring person who wants the well-being of the people of the world. You are ruled by what gives you all kinds of conversation and human communication. It also makes you eloquent, reliable, and hardworking. Also, you are sociable and enthusiastic as a result of your number. You will be a deceitful person because of your lies and cunning ways. You have a way of stooping down to the point of losing yourself by trying to change people to be who you want them to be and not what they want to be. You are also suggested to be a forgiving partner as you often live in the past.
June 30
 

Zodiac Sign

The zodiac sign of a person born on June 30th is Cancer.
June 30 Zodiac Sign Compatibility
Well compatible with Virgo, Scorpio, and Pisces born on June 30th.
People Born on June 30
 

Positive Traits

Those born on June 30 love to relate to people because of their sociability and candid nature. You would also be someone who would solve any issue easily because of your wit and intelligence. Those born on June 30 would choose to protect their near and dear ones. In addition, you are a passionate person whose determination is the highest point of his career. You often try everything with your ability and competence to make people happy with your humorous nature. Those born on June 30 believe in being hardworking. Thus, you are a hardworking individual who is committed to working. Furthermore, you have unwavering loyalty and faithfulness. You are not the kind of person who would be unfaithful to the course to which he has pledged his loyalty. Also, you hate breaking your promises as you often try your best to keep every promise you make.
People Born on June 30 Negative Traits
Those born on June 30 have a high tendency to go against their own opinions at the cost of others' opinions. One of the noticeable weaknesses known to the person born on June 30th is moodiness. Also, you will feel incompetent, especially because of your careless attitude to simple things. Those born on June 30 are most likely going to be bold and impulsive in how they relate to those around them. Has been It would help you if you learned how to stand up for your opinion and not take pity on other people talking to you in order to receive pity.
People Born on June 30 Love
As per Love marriage astrology, those born on June 30 are so protective and romantic as a lover. You will be graceful and imaginative with your lover's perspective. Moreover, you will give unconditional love and support to your lover whenever he needs it. You will give birth to brilliant and highly creative children who can be leaders in society. Furthermore, you will devote all your time to the furtherance of your children. You will be compatible with someone born on June 6, 9, 15, 18, 24, and 27.
People Born on June 30 Career
As per Career astrology, those born on June 30 are talented individual who has many job prospects because of the talents they possess. Moreover, due to the many career opportunities, you often face the problem of choosing your career. However, you will go for a financially sound job. You choose the most suitable job because of the few career options you have. It is the case that you want a job that will allow you to showcase your creativity and imagination. It is also the case that you will not choose a regular job because of your hatred.
People Born on June 30
 

Health

As per health astrology, the most important thing for someone born on June 30 is your health. You need to take care of your health and make sure that it is in excellent condition and free from any problems. Furthermore, you tend to emphasize your individuality and overwork yourself because of your workaholic nature. You like to eat without a break. Oftentimes, the food you eat negatively affects your metabolism and your health. To improve your metabolism and reduce your stress, you need to arm yourself with a standard exercise regimen.

Conclusion

Those born on June 30 are free to take decisions without any interference from their workplace. Plus, you'll choose a job that will allow you to travel around the world and learn about new cultures and traditions. If you want to know more about the person born on 30th June then take an Astrology Phone Consultation.