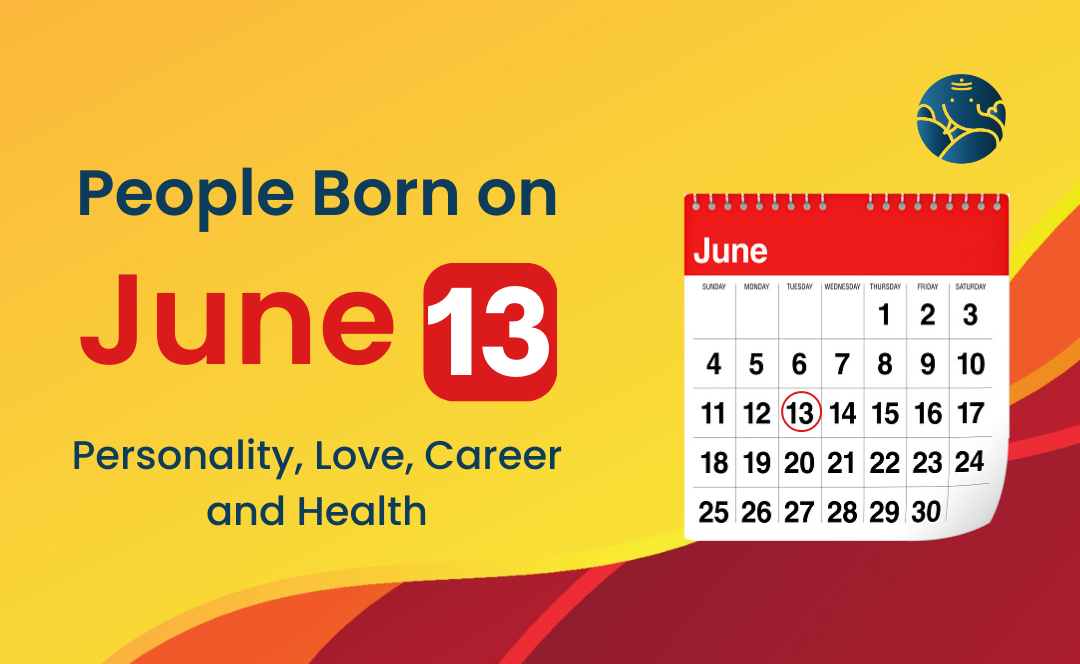 People Born on June 13: Personality, Love, Career, And Health
Born on June 13 is an attentive and kind person who is always ready to help people. Besides, you are a believer in injustice. You believe in justice and that people should be treated equally and fairly without any discrimination. Furthermore, you love surrounding yourself with like-minded people and people who can come together to form creative ideas.
June 13 Birthday Personality
How uniquely accomplished are those born on June 13th? You are tolerant, honest, and friendly. At the same time, you will also be stubborn and critical. You are an impulsive and aggressive person who will use impulsiveness and aggression in your dealings with people. Furthermore, you are unpredictable because of your element. As a result of your unpredictability, you often lose some of your unique opportunities.
June 13 Zodiac Sign
The zodiac sign of a person born on June 13th is Gemini.
June 13 Zodiac Sign Compatibility
Well compatible with Libra, Sagittarius, and Aquarius born on June 13th.
People Born on June 13 Positive Traits
Those born on June 13th are born with many positive traits that make them unique and more talented than anyone else around them. Those born on June 13th are compassionate. You make it very easy to relate to people because of your chatter. You are known as the CNN of your workplace because you often give them the latest news there.

Furthermore, you are honest, and you believe in doing things with great honesty. how irresistible is your charm; You often use your charm to win contracts for yourself and the company you work for. You believe in socializing. Thus, you easily socialize with people without the fear of betrayal. You are confident and eloquent because you often say whatever you want to say without fear of being victimized by anyone. The positive traits you are aware of include your vigor, energy, and youthfulness that set you apart from others.
People Born on June 13 Negative Traits
Those born on June 13 learn how to suppress them in order to live a happy and wonderful life. Those born on June 13th have a high tendency to be impatient. You are the kind of person who will not only lose your temper but also get frustrated if someone chooses to delay your wishes. Furthermore, you have zero tolerance for boredom and loneliness; You often want a life that is full of people, energy, and enthusiasm. This is a result of the fact that you get your energy from the people around you. You are always determined about things and often put pressure on people to do what you think is right. Also, you remain moody and restless.
People Born on June 13 Love
As per Love marriage astrology, there is also a person born on June 13th whose heart cannot be won easily because of your whims. You want someone who accepts your whims and can easily talk to you without getting bored. Also, you will go for an unpredictable person who will always make you think of the next course of action. Also, your horoscope reveals that you will be a loving life partner who will be ready to sacrifice some of his dreams for his family. You will also give birth to intelligent and brilliant children. You match well with anyone born on the 1st, 8th, 10th, 17th, 19th, 26th, and 28th.
People Born on June 13 Career
As per Career astrology, those born on June 13 are talented individual who has many job opportunities. You are indecisive and it is always difficult for you to choose a job. It is also the case that you have a high standard that your potential job seeker must meet. You cannot go for a job that does not satisfy you mentally and physically. Additionally, you don't always care about a particular task; You only care that such a job is in line with your high moral standards.

Apart from this, he is a workaholic who is always ready to work without any support for his health. Also, you often go after something that will make you successful in life. Plus you have a way to spend your money. You don't just spend money; You spend it according to your budget. Similarly, you hate giving money to the poor because you take it as an incentive for laziness, but you can create a job for them.
People Born on June 13 Health
As per health astrology, those born on June 13 do not always care about their health as they believe that it is a hindrance to you and your work. It is the case that you are endowed with strong health, which is threatened by your actions and inaction. Often, on June 13th birthday Geminis are prone to fluctuations in their health due to their unhealthy pursuits. It is also the case that you are prone to stress-related illness because of your love for work and overwork.

It would help if you also learned how to control your meals by eating the recommended calorie intake. You should do your best to exercise yourself to reduce your stress levels and improve your metabolism. Also, you should learn how to burn the extra calories in your body. It will help if you also learn how to take breaks in your tight schedule. Too much work can affect you as you are most likely to get back pain.
Conclusion
Those born on June 13th will be fierce, strong, and aggressive. Those born on June 13 are inquisitive and will always be eager to research what will make them successful in life. If you want to know more about the person born on June 13, then talk to astrology.