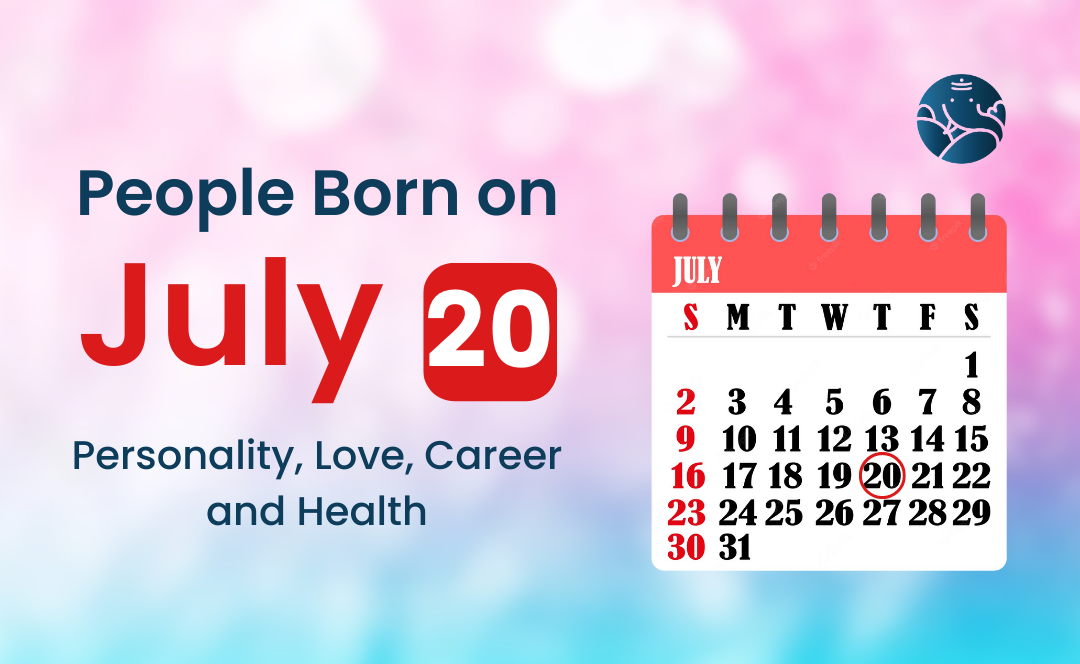 People Born on July 20: Personality, Love, Career, And Health
Those born on 20th July will be emotionally and financially strong. It is also shown that you are going to be a promising and understanding person. This birthday astrology also shows that you are going to be determined and passionate about your work.
July 20 Birthday Personality
Those born on the 20th of July would also be intelligent and highly educated people who would always be ready to impart knowledge to any person. Individuals born on the 20th of July are endowed with a desire for harmony and peace. You are an imaginative and creative person who is patient and work-oriented. Oftentimes, you fail to forget the past, and this, most of the time, creates a lot of problems in your life. You often lose friends as a result of your high tendency to let your past dictate the way you relate to those around you.
July 20 Zodiac Sign
The zodiac sign of a person born on July 20th is Cancer.
July 20 Zodiac Sign Compatibility
Well compatible with Virgo, Scorpio, and Pisces born on July 20th.
People Born on July 20 Positive Traits
Those born on the 20th of July will make you excel in life. It so happens that you are obsessed with life and money, as you often do everything possible to make yourself successful in life. You are a good organizer who is responsible for the success of your organization, yourself, and the people around you. Able to keep things right. You are good at investing your money in something that will make you highly successful.

It will be easy for a child born on July 20 to explore the world and successfully watch anything that is placed under your watch; Furthermore, you are often curious about new opportunities and are good at converting them into success. A good vision to make life better is your goal and vision; This you often do with your determination and passion. You find it easy to give to people because you think they can be your helpers in the future.
People Born on July 20 Negative Traits
A quick acceptance of your mistake and negative traits born on the 20th of July will give you a better chance to overcome them. There are many things that you should have put off due to fear of the future. You will also have an inferiority complex as you tend to feel inferior to those around you. Though you are endowed with an observant personality, you are going to be the most contradictory. Your contradiction often loses you a lot of friends. It is also the case that you are most likely manipulative, suspicious, and devious. It is also the case that these characteristics of yours will result in people finding it difficult to trust you.
People Born on July 20 Love
As per Love marriage astrology, Finding true love is very difficult for a person born on July 20. Most of the time, love life is full of pain, tears, and sadness. However, you will be one of the happiest people on earth when you find a true lover. You are also a person who believes that one who loves should treat their loved one with respect and understanding. He will be a passionate lover who is going to give his lover the security and support that she needs. Your compatibility with someone born on July 2, 5, 9, 11, 14, 18, 20, 23, 27, and 29 is Ideal.
People Born on July 20 Career
As per Career astrology, the known job possibilities for those born on July 20 are innumerable. It so happens that as a result of your good judgment, you often find it easy to choose a particular job for yourself. You are going to choose a career of your choice at a very young age as a result of your horoscope. They often let your passion and determination take over and make them successful in life. You are also a person who is always ready to work and work till you get success. You will most likely find it less difficult to relate to and discipline people, especially your workers. Although you're caring, you often want your workers to be perfectionists, because you often don't take no for an answer.
People Born on July 20 Health
As per health astrology, your health is good but is prone to a lot of problems due to your lethargic behavior. You believe that your health is only there to act as an obstacle in the pursuit of your goals and success. Thus, you often do your best to ignore the work you embrace. Apathy towards work can make you a victim of stress-related illness. You are more prone to suffer from headaches, back pain, and emotional problems. You are always advised to visit the hospital consistently and at the right time whenever you feel ill. Also, it is expected of you that you eat the right food in the right proportion at the right time. Exercise is paramount to your health; It is always recommended to do this.
Conclusion
Those born on the 20th of July have a high tendency to kill morale. You will be energetic, determined, and highly passionate. If you want to know more about the career of the person born on July 20, then talk to astrology.