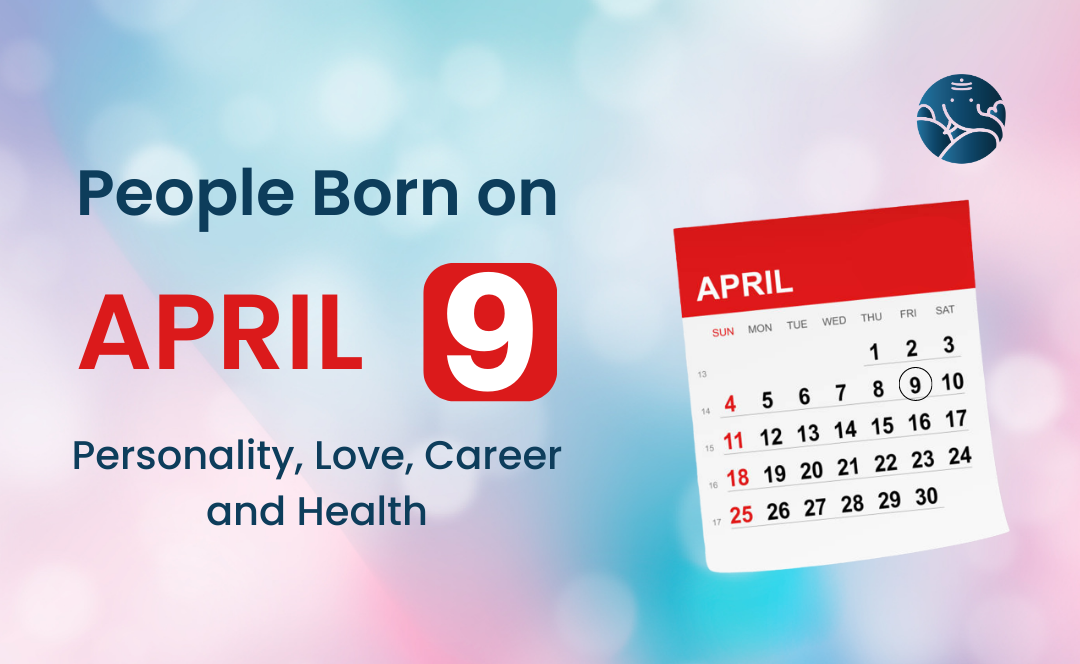 People Born on April 9: Personality, Love, Career, And Health
Those born on April 9 have unique personalities, which makes them outstanding and able to solve challenges with ease. You are a multi-talented person who always finds it easy to solve the complex challenges of the world.
April 9 Birthday Personality
You are a daring challenger who can be a bit gullible. Apart from this, you have a special personality which makes you passionate and intelligent. You often come up with unique and creative ideas that have been able to make you or your company successful. You believe that if dishonesty is allowed to flourish, the world will become void. Thus, you often do your best to ensure that honesty becomes the best policy in society.

They are susceptible to change and always eager to help others. Your connections make you a humanitarian and a progressive person in society. You are narrow-minded and determined. You are very hardworking and often make sure that you earn money at all costs. At times, you may find yourself crying out in stress and pain as a result of your obsession with work. In particular, you have a working mind that is very active.
April 9
 

Zodiac Sign

 

The zodiac sign of a person born on April 9th is Aries.

 
April 9
Zodiac Sign Compatibility
Born on April 9 is favorable to Leo and Sagittarius.
People Born on April 9 Positive Traits
Those born on April 9 have a personality that always wants to better society. You often ensure that society is free from evil, disorder, and war. You are the mediator between two warring parties to ensure that they both meet at a convergence point. Many people know that one thing you know is your special endowment of spotting what is wrong with people. Your recognition of people's problems often helps people to overcome their problems.

You have an imaginative heart which always makes it easy for you to come up with ideas. These thoughts cannot develop society but can make it better. Certainly, you are very free and free to do what you like. You are determined and determined to make things happen.
People Born on April 9 Negative Traits
Those born on April 9 often get into trouble because of their activism. You have a high tendency to be left to face the consequences of fighting for people. You are a bit unrealistic and aggressive with your life path. Sometimes, you have a hard time learning to apologize to people. They should learn how to accept defeat and say sorry when they are wrong.

It would help if you didn't always consider yourself the most accomplished person in the world. Put behind you the pride of being the best in the world and value the proper advice of people. Due to your naivety, you have a high tendency to deceive yourself. You need to learn how to tame your unruly attitudes toward people in order to lead a successful life.
People Born on April 9 Love
As per Love marriage astrology, you don't like to go into a relationship because of the fear of unrequited love. You are an intelligent lover who is always mistreated at home. You often go for an ambitious life partner, regardless of your ambition. You are very focused and determined to go for the person you love. You can be a bit sentimental about your choices in life and go for someone with a ton of cash. You don't just choose a lover, you go for an unconventional and eccentric lover. You are a bit vague and impatient in your own way. Your impatience often fails you. Those born on 3, 5, 6, 12, 14, 15, 21, 23, 24, and 31 are favorable for you.
People Born on April 9 Career
As per Career astrology, the career of a born on April 9 is important in life as it determines how successful you will be. You are gifted with a lot of skills and talents, which makes it easy for you to get into any job in the world. You know that you have immense energy that you often put into your personality in order to be successful. You are the visionary leader with a dynamic approach to fulfill that dream.

You have a tendency to become a lecturer or teacher because of your hatred of ignorance. Your curiosity will get you a seat in the library or university as a researcher. You can also see yourself fighting for the public in front of the judge as a minister of truth in the court. They can also become a public speaker and an activist for the right cause. You are also a deep writer and thinker who will do everything possible to ensure that the people around you are successful. When it comes to money they hate to spend it. Often, you save more and spend less because of your love for money.
People Born on April 9 Health
As per health astrology, Oftentimes, you choose to treat holistically because of your aversion to conventional medicine. We would advise you not to run away from conventional medicine because for effective treatment you need it sometimes. You often have headaches or back pain because you are always working without rest or sleep. You are at risk of developing diabetes as a result of your love for sweet and sugary things. It will help if you always take your snacks and meals, as a lack of food can slow down the metabolism. You don't need many sermons on exercise as you prefer to exercise yourself. It would help if you learned how to maintain your exercise routine for a steady and improved metabolism. It will help if you are not always tired of any exercise you find yourself in. Plus, it will help your performance.
Conclusion
You are very passionate about things and kind as a result of your connections. Furthermore, your fiery nature instills in you a strong desire to possess something special at all costs. You love to be in the limelight, even if it affects you. It will help you if you learn to separate impatience from enthusiasm as there is a fine line between the two personalities. To know more about the career, love life, and marriage of those born on April 9, talk to astrologers.