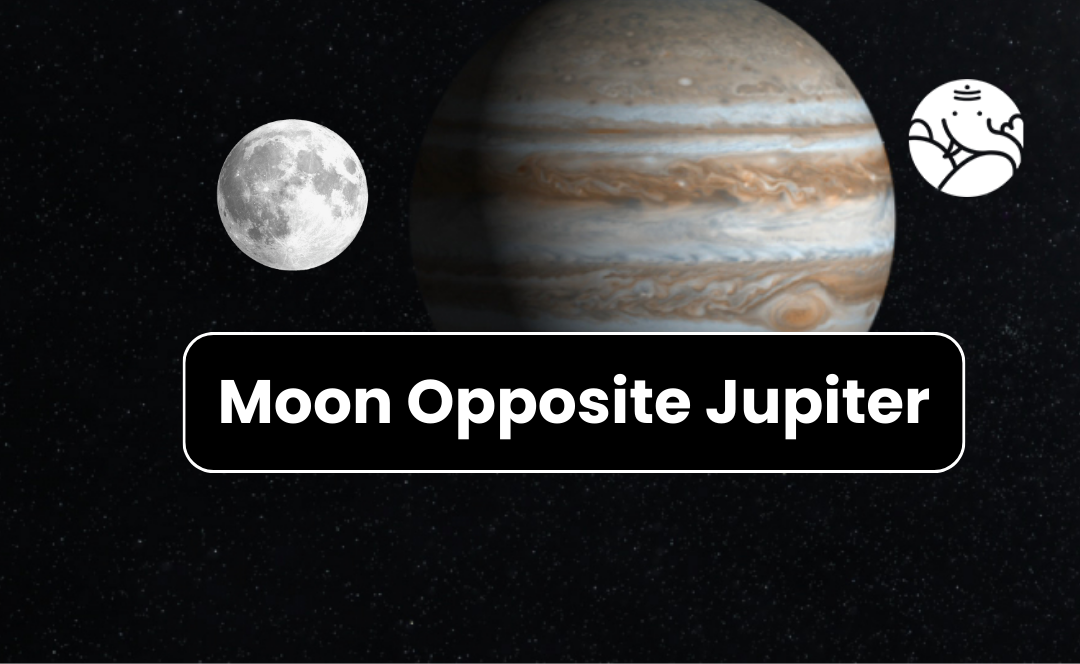 Moon Opposite Jupiter
Moon opposite Jupiter in natal, you know how to use your accelerator but may have difficulty finding a break and you are generally an optimistic, generous, and charming person who others find warm and friendly. You can appear intense and overbearing at times, but it's all part of your bubbly personality, and people accept that about you, and it adds to your popularity.
You may have many friends, but you give a lot of yourself to your partner or any one person. You cannot hide your feelings which have the potential to create anxiety or tension in the relationship. Obsession or jealousy may make your partner feel resentful, or they may be embarrassed by your over-emotional displays or other excesses in social situations.
While this is generally a positive aspect, problems can arise if you go too far with negative behavior. Anything that tickles the happy hormones in your brain can take over your life if you're not careful. Drugs and food are a few examples, but too much of anything can cause problems. You also have to be careful about being too nice. You can be overly judgmental and leave yourself and your family short. Other consequences of excess can include embarrassment, humiliation, and illness.
Moon Opposite Jupiter Natal
Moon in opposition to Jupiter, you will find it difficult to work solely for material reasons, and so you will need to find a way to believe in your work and support yourself with a routine that aligns with your underlying philosophy. You are willing to take ambitious risks to bring your inner visions into reality, but you need to be sure that you are realistic in putting in enough time, preparation, and support to achieve your desired results. Although you are able to believe in your ability to create a meaningful life, you may be prone to mistrust when your emotions become overwhelming at times, causing you to avoid taking necessary action. As a result, you'll need coping strategies when you encounter difficult emotions so that they don't cause you to miss opportunities to pursue your purpose.
Moon Opposite Jupiter Synastry
Moon Opposite Jupiter Synastry, the key to avoiding self-destructive behavior is moderation using self-control. It's not easy if you feel a compulsive urge to engage, which may start as a nagging feeling in your stomach. Your tendency is to find the fastest and easiest way to feel calm and stable. You'll find healthy ways to replace old naughty quick fixes.
Another possible manifestation of the Moon opposite Jupiter is a focus that seems irrelevant and your mother, partner, friends or the public may intrude into your privacy. This may be because you are so open about his feelings or it may be because of his jealousy, obsession, or moral arrogance. If so, then you should set boundaries and be more self-disciplined about sharing your feelings and personal life.
Moon Opposite Jupiter Transit
As the transiting Moon opposes Jupiter, you may experience encounters in your relationships that prompt you to consider beliefs based on aspirations. If anything, today you question the outlook on life that you have been following or any philosophy that you have been professing. Try to take the time to consider the deeper implications because a small detail can lead to a big insight. If difficult experiences cause you to feel upset or overwhelmed by your emotions, you may turn to shopping or over-consuming substances in an effort to cope or distract yourself. This is a good day for making a conscious effort to maintain your personal boundaries so that you are less likely to give or take more than you need to. Finally, this transit may coincide with an unexpected opportunity today that will boon for a deeper purpose in your life, so look for favorable winds.
Conclusion
The Moon opposite the Jupiter transit brings good feelings, generosity and a lack of self-control, and the potential for unwanted attention. If you are shy, this is a good transit to share your feelings and open up with your loved ones. You should feel more relaxed and friendly. However, if others see your kindness as a weakness, your good spirit can turn to misery. Avoid taking advantage of your over-generous mood. Being less guarded about your feelings and personal life can also be an open invitation to intrusive moms, moral transgressors, and even the public. This transit will be more problematic if you already have problems with self-control or addiction. You may be subconsciously reacting to other people's possessive or jealous behavior by falling into harmful habits and behaviors. If you want to know more about the Moon Opposite Jupiter, then talk to astrologers online.