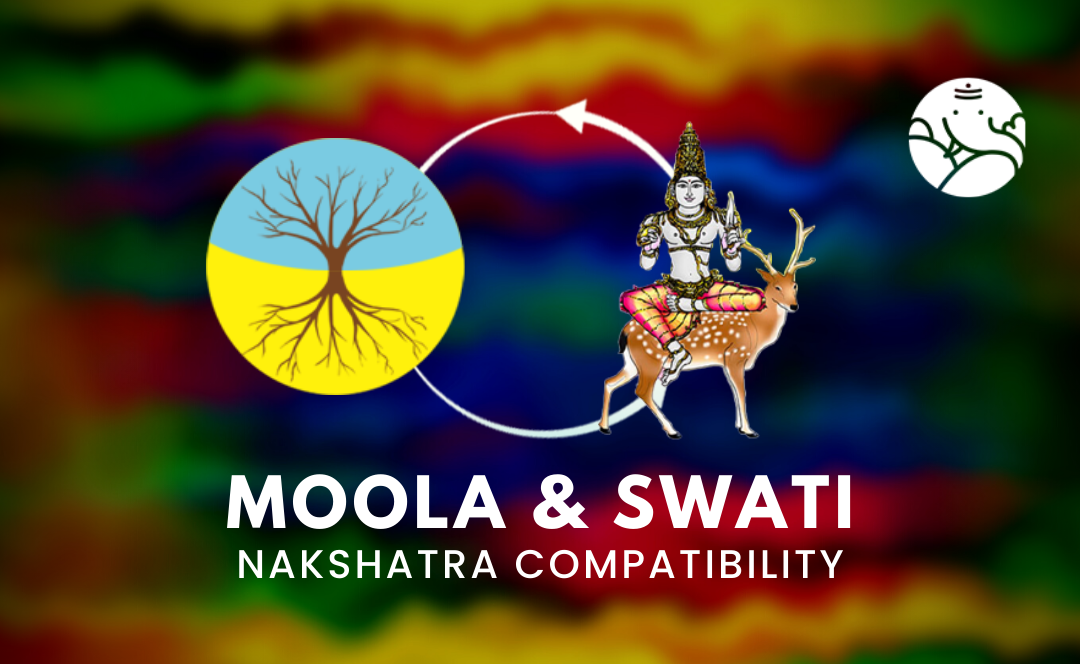 Moola and Swati Nakshatra Compatibility
Planet Ketu, according to Vedic astrology, is the Moola Nakshatra's ruling planet. It resembles a Tied Bunch of Roots. Nirriti is Nakshatra's Hindu god. This star belongs to the female gender.
The Swati Nakshatra's arc spans 6.40 degrees in the Tula or Libra zodiac and ends at 20 degrees. Along with the Lord, the shadow planet Rahu also rules and has an impact on this realm of Lord Vayu, the god of air. Both of them leave a mark on this cage that would include characteristics of wind like impatience, extreme liberty, dissatisfaction, and chaos. It is a manifestation of self-control and being oneself while possessing a great deal of internal power and mental fortitude.
Moola and Swati Nakshatra Love Compatibility
These people would remain incredibly polite as long as their independence is not threatened because if it were, they may get extremely enraged. They can be either your best mate or your deadliest adversary, therefore they carry two egos. Due to this disposition, they may experience rejection in their romantic lives according to our Love Marriage Specialist.
Moola and Swati Nakshatra Marriage Compatibility
Although their relationship won't be particularly wonderful, it will hold steady and rewarding despite the fact that their route to marriage will seem to the outside world to be nice while they will have many disagreements and an absence of harmony at heart. Marriage predictions by date of birth can help you know about your life partner.
Moola and Swati Nakshatra Career Compatibility
According to career predictions, the Swati Nakshatra male natives are thought to struggle in their fields of employment, giving it all they have. In addition, they are said to remain compassionate and resolute throughout their journey. The problem is that, despite being capable of positive returns, they would have to navigate a somewhat challenging professional road until the age of 21. Up to the age of 25, these people would continue to develop, but their full potential would only become apparent between the ages of 30 and 60. During their era, they would grow massive. These individuals might be employed in the cotton, diamond, pharmaceutical, or entertainment industries.
Moola and Swati Nakshatra Friendship Compatibility
The Swati Nakshatra natives are regarded to be extremely independent individuals who would never live under any restrictions since they are individuals of clean conscience with all real empathy of love and unity surrounding them. They are eager to make new friends and enjoy conversing with them.
Moola and Swati Nakshatra Sex Compatibility
The native Mula are remarkably faithful in their sexual relationships, but Swati does occasionally deceive them. Swati becomes involved in a lot of relationships because people need to satiate their sexual urges, and as a result, Swati is frequently forced to be used as a medium for sexual gratification.
Positive Impact of Moola and Swati Nakshatra Compatibility
Since they never carry two characteristics at once, they are authentic beings because they always look as if they are on the heart. If you have treated them well, they will go to any lengths to make things right. However, if you have not, they may choose to exact any amount of restitution. They are simple creatures all around. They are morally upright and upstanding because they never show contempt for the money and possessions of others or desire to share their own. They are indeed neutral personalities since, despite their status and money, they won't anticipate anybody. They detest judgment of anything he does, whether it be for themselves or for others because it negatively affects them.
Negative Impact of Moola and Swati Nakshatra Compatibility
They occasionally exhibit extreme judgment and will dispute with people about unimportant issues. They are only capable of hearing their own good. They frequently engage in extremely pointless talking, which harms their reputation.
Conclusion
They are humorous as well as wise and knowledgeable, yet they are not egotistical. They firmly believe in omnipotence. The male residents of Swati Nakshatra are thought to have a healthy and quite well journey of life, which would include a few minor issues for a limited length of time, such as abdominal issues. Online astrology consultations can help you dealing with your financial affairs.