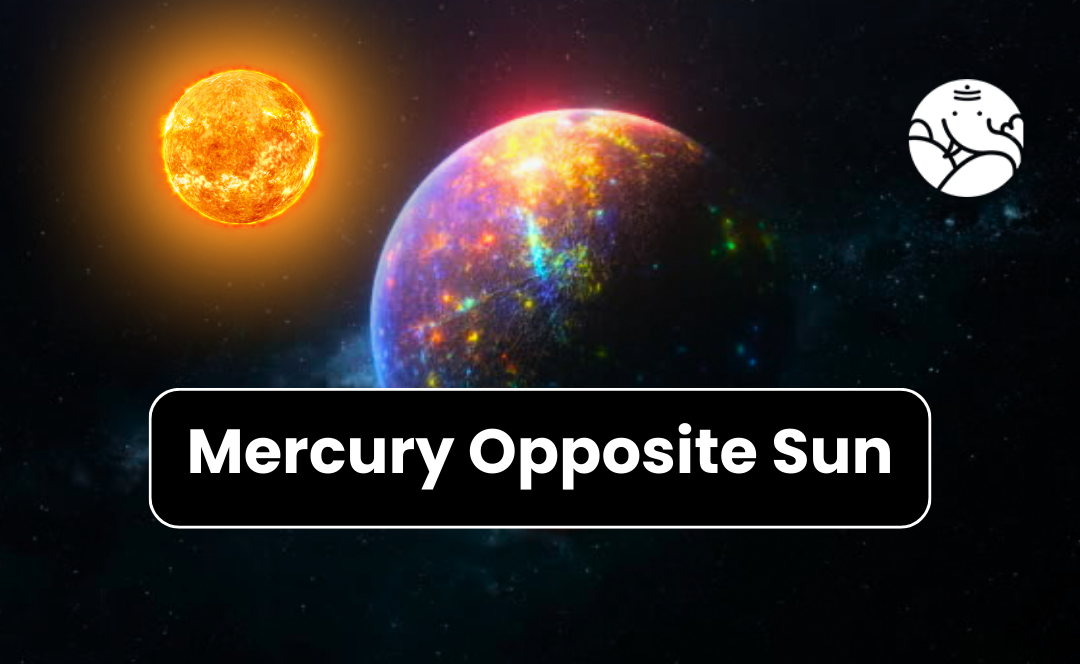 Mercury Opposite Sun
Mercury's transit opposite the Sun brings conflict and tension during this busy time. Your will and ego are working at opposite ends of your rational thinking and how you express yourself, so it's easy to push other people away during this time. They will think that you are very selfish and irritable, but you will find that they are the kind of people who are difficult to get along with.
Communication and mental activity are stimulated now so it may be difficult to avoid arguments, but it is you who has to think about others and compromise, at least to sort things out before furthering your own agenda. Important decisions and negotiations should be avoided, and this is also not the best time to make deals, business deals or sign contracts.
Mercury Opposite Sun Natal
This is a very mentally active time and you may find yourself involved in an exchange of ideas. However, during this time, as your ego is in conflict with your communication, some conflicts may arise. So be careful of coming in with intense energy. Focus on the issues, not your ego, and you should avoid stepping on other people's toes. And then you can learn from others for whom this transit is suitable. When you listen, you can sidestep the conflict between ego and communication.
One reason people don't listen that much or that well is that it takes more energy to listen than to speak. Luckily this is a high-energy transit. It is most beneficial to pay attention at this time. Mercury opposite Sun expect to find some wrench in the gear of your plans. Bureaucratic messes and failures of the organization are likely, but whatever inconveniences you face as a result, use them as an opportunity.
Mercury Opposite Sun Synastry
The Mercury solstice aspect opposite the Sun means that you tend to have lively debates. You are both very intelligent, but you are also both different and can hold completely opposite opinions. This opposition gives a lot of opposing viewpoints, but can also allow you to have very interesting conversations if you stay open to each other's ideas. Usually, your differences do not cause serious problems with the Sun opposition Mercury solstice aspect.
Your differences can really enhance your conversation. It often has a romantic aspect as it draws you into each other's mind and thoughts. With the Sun opposite Mercury in the solstice aspect, you probably have lively mental debates. Your conversations never get boring!
At times, the Sun person may feel that the Mercury person is too cold or stoic in their manner, while the Mercury person may feel that the Sun person is too emotional or involved in abstract issues. These differences do not cause major issues. If anything, Mercury with the Sun opposite the solstice is an opportunity to learn from each other and grow intellectually through a relationship.
Mercury Opposite Sun Transit
Mercury opposite Sun transit challenges the sense of personal identity. The natural development of your personal path may encounter a serious roadblock where you are forced to pause for a while and may even consider turning back. If you have developed enough flexibility there will be options, and no matter how unattractive they may be, you may have to choose the least unpleasant of them. This is usually a quick transit that comes about once per year, but more often six to seven years or more rarely 13 years apart, Mercury will make a series of three oppositions with the middle occurring during retrograde motion. This is a very important transit that suggests an inner need for contemplation. External obstacles to personal growth can be a symbol of internal processes that need to be considered more deeply. If you can avoid blaming others or the situation, eventually you will find the inner block and a way around it.
Conclusion
Mercury transiting your natal Sun brings a lot of intellectual and mental creativity. They also increase your perception and focus in a way that supports any activity. You need verbal communication. You are now able to express your ideas with more brilliance and creative power. This is a good time to clarify your thoughts and consider your future interests for the coming months. The Mercury Sun transit will help in your writing and media relations. If you want to know more about Mercury opposite the Sun, talk to astrologers online.