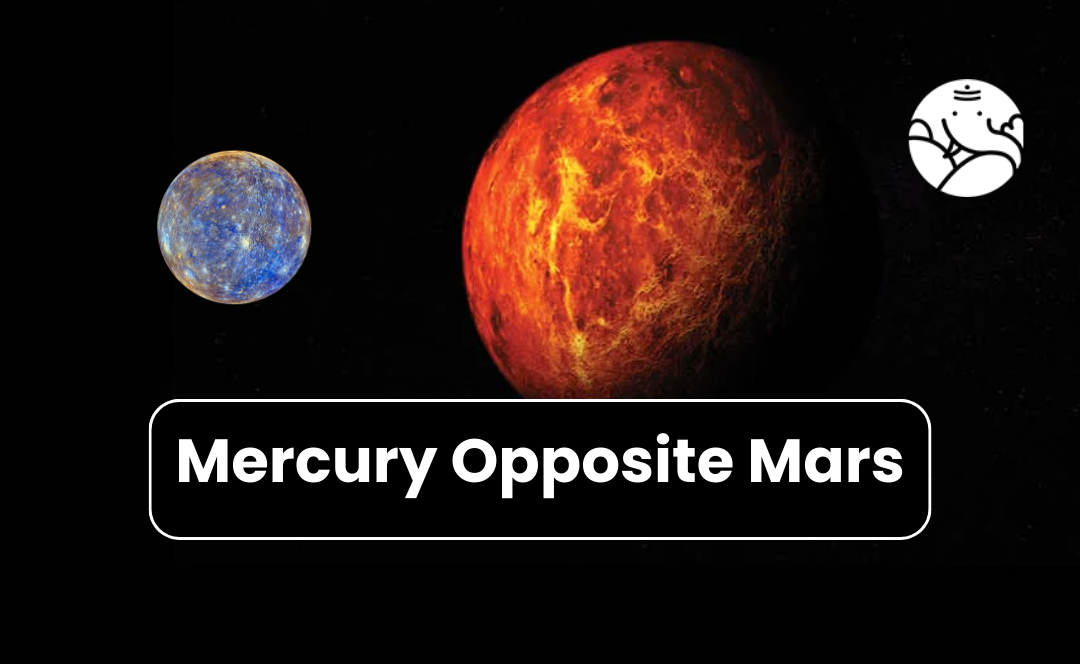 Mercury Opposite Mars
Opposite Mars, Mercury gives a sharp mind and tongue. You are a mental warrior and can be an aggressive debater. A strong tendency to challenge the words and ideas of others can cause problems mainly because of the speed at which you react. The number one skill to learn with this aspect is patience, a well-placed Saturn in your chart can help immensely, but most of you may have to learn patience through competition and as your learning experience. There could be some embarrassing loss in form.
One-to-one relationships can be a major area of competition. Listening is the first step; Before talking, one must learn to listen consciously. Others may find your comments and hand gestures threatening, even if they are not. Unless you consciously set the pace when interacting with others, arguments, and conflicts will hinder your progress in many areas of life, especially relationships. Public speaking and debate are great ways to improve your critical thinking skills. Communication can become a strong point with practice.
Temper tantrums are a great way to vent anger, but are, of course, self-defeating. Mercury, unlike Mars, tends to generate a lot of tension, which can turn into anger or resentment at anything you perceive to be a source of tension. It will help you burn off your incredible mental energy through reading or doing puzzles, but also through creative or artistic work that requires the skills of your hands and fingers.
Mercury Opposite Mars Natal
The Mercury opposite Moon symbolizes a state of dynamic tension between the way you communicate and experience yourself daily and your more ambitious side that you need to conquer. Initially, you may be soft-spoken and still be a ruthless competitor or you may talk a big game but not really have the means to back it up. As you grow, you'll learn to use words and symbols to summon your desires, almost like magical talismans. The danger here is that you may not really know how to focus your will without some kind of enemy or external threat so that in times of peace you can be calm and gentle. By alternating between these extremes, you'll begin to realize that feeding your inner furnace more regularly yields more consistent results. As disciplined as it is to maintain a structured existence, you'll be able to work hard every day and enjoy a relaxed social life afterward.
Mercury Opposite Mars Synastry
Mercury opposite the Moon Synastry depends on the emotional excitement involved in the aspect. An intergalactic aspect of this conjunction of celestial bodies integrates the emotionality of the Moon with the wisdom of Mercury. A harmonious conjunction between Mercury and the Moon can lead to deep conversations and the comfort inherent in trusting one another. Mercury influences subjects to be initiated and brought into conversation while the Moon involves emotions in them. Lively, insightful conversations are sure to be an affront but they can sometimes devolve into excessive intellectualism and emotion. A Mercury-Moon square can be most critical, inconsistent, judgmental, and insensitive. Other harmonious aspects such as the trine and sextile between the Moon and Mercury encourage self-expression, appreciation, empathy, and understanding.
Mercury Opposite Mars Transit
Mercury Opposite Moon transit suggests a challenge to your sense of ambition and pursuit of excellence. You may receive a challenge from someone who is trying to take over your position or you may force yourself to issue such a challenge. The key is controlling the time, place, or environment of the battle. This is usually a quick transit that comes about once per year, but often six to seven years or rarely thirteen years apart, Mercury will form a series of three oppositions with the middle occurring during retrograde motion. This is a much more significant transit that suggests an inner need to make adjustments to your need to stand out from the crowd. You may find yourself fighting for something that does not yield the promised rewards or perhaps without any concrete goals. Going to remind or renew your relationship with what you really want will help you bring your focus back and ignite the fire of ambition once again.
Conclusion
Relaxation methods like yoga help channels your raw, aggressive Mars energy. It is important that you either safely release your anger or channel it into productive outlets. Otherwise, the risk of disagreement and conflict will increase. Excessive risk-taking and impulsive actions can result in injury or damage, especially to your limbs, such as cuts and burns. Since Mercury rules transport, you should also avoid impatience while operating machinery. As you develop your skills and learn patience, these things will become less of a problem. If you want to know more about Mercury opposite Mars, talk to astrologers online.