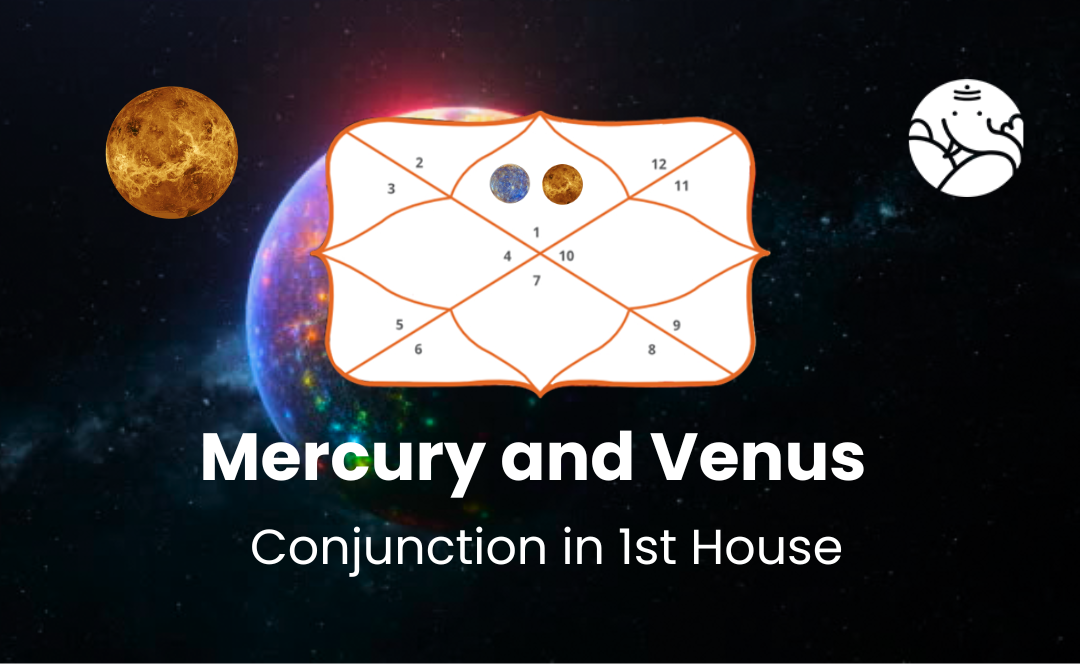 Mercury and Venus Conjunction in 1st House
In astrology, Mercury and Venus conjunction in the first house establishes a celestial alignment that is of great consequence. These two planets' energies combine when they cross paths in the house of one's identity and self, creating a dynamic and peaceful impact on a person's personality and communication style.
Venus, the planet of affection and beauty, and Mercury, the planet of knowledge and interaction, combine to create a charming and articulate personality. This alignment endows the bearer with a pleasant personality, artistic talent, and a captivating aura. A voyage of self-expression and interpersonal appeal for the individual is heralded by the union of these planetary forces in the 1st House, making them genuinely captivating and motivating.
Mercury and Venus in 1st house
A potent astrological alignment that affects a person's communication style, charisma, and self-expression is the conjunction of Mercury and Venus in the first house. This combination makes people articulate and convincing in their interactions. Individuals with this conjunction typically have strong communication abilities. Their aesthetic sensibility enhances their charisma, which makes them alluring to others.
The magnetic aura promotes strong interpersonal ties this alignment bestows. During an astrological phone session, people may look for information about their communication styles, creative talents, and personal magnetism. They could ponder how best to take advantage of the favourable possibilities of this conjunction to strengthen their interpersonal connections and accomplish their objectives.
Positive Effect Of Mercury and Venus Conjunction in 1st House
Numerous advantageous astrological outcomes result from the conjunction of Mercury and Venus in the first house. People with this alignment have outstanding communication skills, which enable them to articulate themselves elegantly and charmingly. Others are drawn to them by their charisma, which creates enduring links in personal and professional interactions. They are creative and ingenious problem solvers due to their sharp brains and artistic talent.
Their social abilities are improved by this alignment, which makes them likeable and approachable. Individuals with this conjunction in the first house are frequently admired for their sense of fashion and beauty. Overall, it confers a harmonious blend of charm, charisma, and intelligence, producing an alluring and influential person.
Negative Effect Of Mercury and Venus Conjunction in 1st House
In astrology, the conjunction of Mercury and Venus conjunction in 1st house can also have unfavourable outcomes. While it improves communication, it can also make people verbose or susceptible to rumours, which can cause miscommunication and relationship issues. Their charisma and charm could result in a propensity to use others for their advantage, undermining acquaintances' trust in them.
They could become too preoccupied with outward appearances and surface characteristics, ignoring more profound emotional relationships. As their need to win everyone over prevents them from making decisions, this unity can also result in indecision. Furthermore, it can make individuals too sensitive to criticism, which could result in fear and self-doubt. Awareness and equilibrium are essential to fully utilise this combination's beneficial potential.
Mercury and Venus Conjunction in 1st House in Navamsa Chart
The conjunction of Mercury and Venus in the first house in the Navamsa Chart has important astrological ramifications. With artistic abilities and a captivating demeanour, this alignment suggests a person with a pleasant and compelling communication style. They are adept at creative expression because they have a harmonious combination of intelligence and aesthetic sensitivity.
They have excellent social skills that help them build trusting relationships. To prevent misconceptions, they need to exercise caution when being excessively talkative or manipulative. This combination makes them more approachable in social situations and impacts their romantic relationships, opening the door for a fascinating and significant contribution to their life's journey.
Conclusion
In summary, the conjunction of Mercury and Venus in the first house is a potent astrological alignment that endows people with a special fusion of intelligence, charisma, and creativity. They have excellent communication skills, enabling them to express themselves eloquently and persuasively. They are attractive and influential because of their artistic talent, which gives their personality depth and allure. Although their social elegance and approachability help build lasting connections, they must be careful to avoid manipulation and rumours. An equilibrium between their cerebral and emotional sides is necessary to fully benefit from this combination. Overall, this congruence gives people a magnetic presence that enables them to have an enduring influence on the world. The conjunction of Mercury and Venus in the first house If you want to know more about astrology phone construction then you can talk.