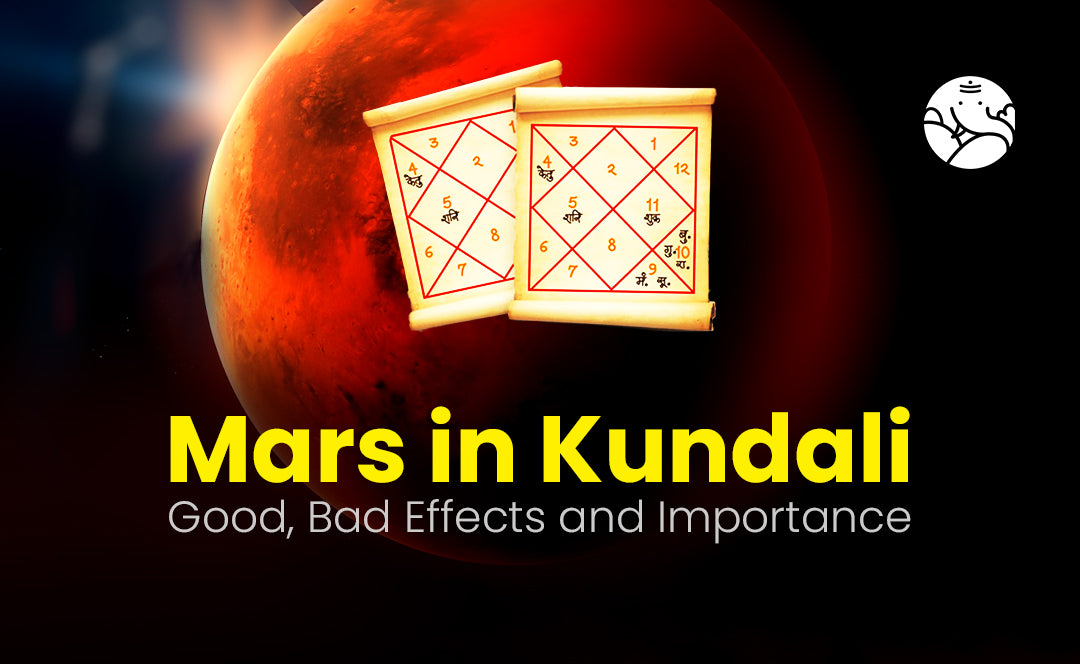 Mars in Kundali - Good, Bad effects and Importance
Planets have a lot of influence on our life. Planets can give both bad and good effects. It is believed that due to the movement of planets, many changes take place in life. Sometimes happiness and sorrow are due to planets only. In this, there is the planet Mars. In Hinduism, Mars is considered to be the commander of all the planets. According to Vastu Shastra, when Mars is inauspicious, it not only affects your life but also has a strong effect on your nature. A person becomes angry and irritable when the planet Mars deteriorates. Not only this, but a person also does not understand the difference between good and bad. Change in nature is due to change in Mars.
Importance Of Mars in Kundali
Mars is considered a cruel planet in astrology. The planet Mars has good and bad effects on the horoscope of the native. All kinds of troubles come due to Mangal dosha in the kundali, main delays in marriage. In astrology, Mars is also considered the planet of energy, land, and courage. Aries and Scorpio are represented by Mars. Mars is considered exalted in Capricorn and low in Cancer. People in whose horoscope Mars is in benefic house, that person is very fearless and courageous. Such a person is not afraid of any kind of challenge. On the other hand, people who have Mars in an inauspicious house in their horoscope, may have to face many problems.
Good Effects Of Mars in Kundali
Mars is definitely a fiery planet. But it can also make you a king from rank. If Mars is auspicious in the horoscope, then it creates yogas like Lakshmi Yoga, and Ruchaka Yoga, which bring immense success along with immense fame and wealth. If Mars is sitting in a strong position in the horoscope, then it creates two such yogas in the horoscope which change the life of a person. Laxmi Yoga is formed by the conjunction of Moon and Mars. Laxmi Yoga makes a person rich. Immense wealth makes the owner of wealth. The Panch-Mahapurush of Mars is called Ruchaka Yoga. Ruchaka Yoga makes a big post, Chief of Army Staff, Administrator. One should definitely help the helpless in Ruchaka Yoga.
Bad Effects Of Mars in Kundali
Mars is considered very important in astrology. If there is Mangal dosha in the horoscope, then the hindrance in marriage starts. If Mars is debilitated then loss of money and accidents start. If Mars is inauspicious, then such crises arise in life, which is to be hit by the mountain. But the solution to all these problems is also hidden in those small worship, worship, and measures, which not only increase your faith. Rather, it also rains happiness in your life. Anger continues to grow. Loss starts in the business. Small problems become big. The worries keep on increasing. Bad effect on health There is a loss in real estate. Self-confidence decreases.
Conclusion
Mars is considered a very powerful planet. According to the astrology predictions, both auspicious and inauspicious yogas of Mars are formed in the horoscope. If Mars is in a good position then the person becomes successful and if Mars is in a bad position then the person becomes poor.