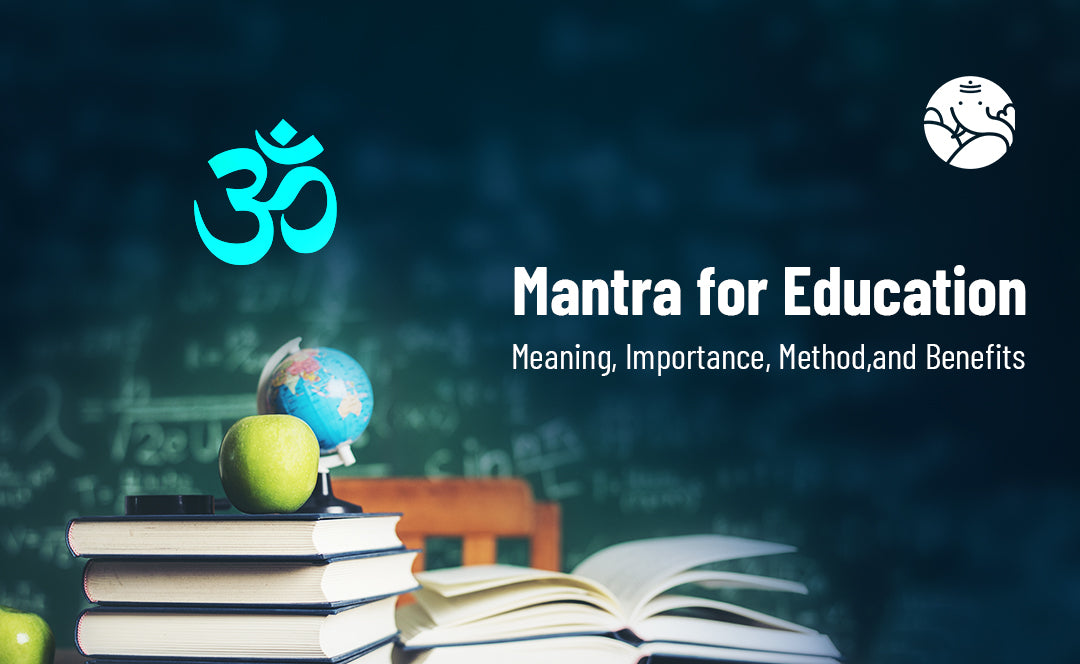 Mantra for Education: Meaning, Importance, Method, and Benefits
All students must worship Mother Saraswati. Simple mantras of Maa Saraswati for those who cannot chant difficult mantras of Saraswati. By starting chanting this mantra and reciting this mantra for life, there is an increase in knowledge and wisdom. Not only this, but this mantra is also more beneficial for getting success in the examination.
Saraswati Mantra illumines the mind with the light of knowledge, whether it is related to the academic field or the spiritual world. It is believed that Saraswati Mantra increases self-confidence in the mind and makes a person more expressive. Saraswati Mantra also helps in the development of our speech power, removes speech defects, and helps us to use our words properly.
Mother Saraswati is the Goddess of the Saraswati Mantra. Saraswati Devi is the goddess of speech, arts, music, knowledge, and the power of the mind. Saraswati Devi is also known as 'Vak Devi' i.e. Goddess of speech and sound. Saraswati Devi revealed linguistic science to mankind. Goddess Saraswati is depicted as a beautiful woman dressed in white, symbolizing purity; seated on a white swan which represents wisdom and truth; She has four hands holding a veena, a book, a crystal rosary, and a sacred water vessel, which respectively represent creativity and all forms of art, the Vedas, the power of meditation, and pure forces.
Mantra for Higher Education
You want to pursue higher education but there are many such obstacles due to which you have to face many problems, for which you should chant this mantra of Saraswati Mata 108 times with a true heart, and you will definitely get success.
या देवी सर्वभूतेषु बुद्धिरूपेणसंस्थिता 
नमस्तस्यै नमस्तस्यै नमस्तस्यै नमो नमः
Ya Devi Sarvabhuteshu Buddhirupena Sansthita
Namastasyai Namastasyai Namastasyai Namo Namah
Mantra to Reduce the Problems Coming in the Field of Education
You can chant this mantra to reduce the problems coming in the field of education. Which will prove helpful in your education field.
ॐ ह्रीं श्रीं सरस्वत्यै नमः 
ॐ ऎं सरस्वत्यै ऎं नमः  
Om Hree Shree Saraswatyai Namah
Om Aim Saraswatyai Aim Namah
Mantra to Perform Well in Academics
You are serious about your studies, due to which you work hard, but why do you prove to be weak in front of everyone, why you are not able to perform well, for which you remain sad, that even after doing everything, no one appreciates me. With the help of this mantra, you can perform well, which will also praise you.
सरस्वति नमस्तुभ्यं वरदे कामरूपिणि
विद्यारम्भं करिष्यामि सिद्धिर्भवतु मे सदा 
Saraswati Namastubhyam Varde Kamrupini
vidyarambham karishyami siddhirbhavatu me sada
Conclusion
Regular chanting of the Saraswati Mantra increases speech, memory power, and concentration in studies. The Saraswati mantra has the power to dispel ignorance and confusion and sharpens the intellect of the person who chants the mantra. Chanting of Saraswati Mantra is easy to learn and memory lasts long. By chanting this mantra with dedication, a student can clear his examination with very good marks and a job aspirant can clear his interview successfully. Even those aspiring to go for higher studies and research work can derive immense benefit from the regular chanting of the Saraswati Mantra. Artists, poets, and public speakers can reach new heights of achievements with the help of Saraswati Mantra. If you want success in the field of education then take an astrology phone consultation. Astrology can give you the right information about the success mantra in education according to the Kundli.