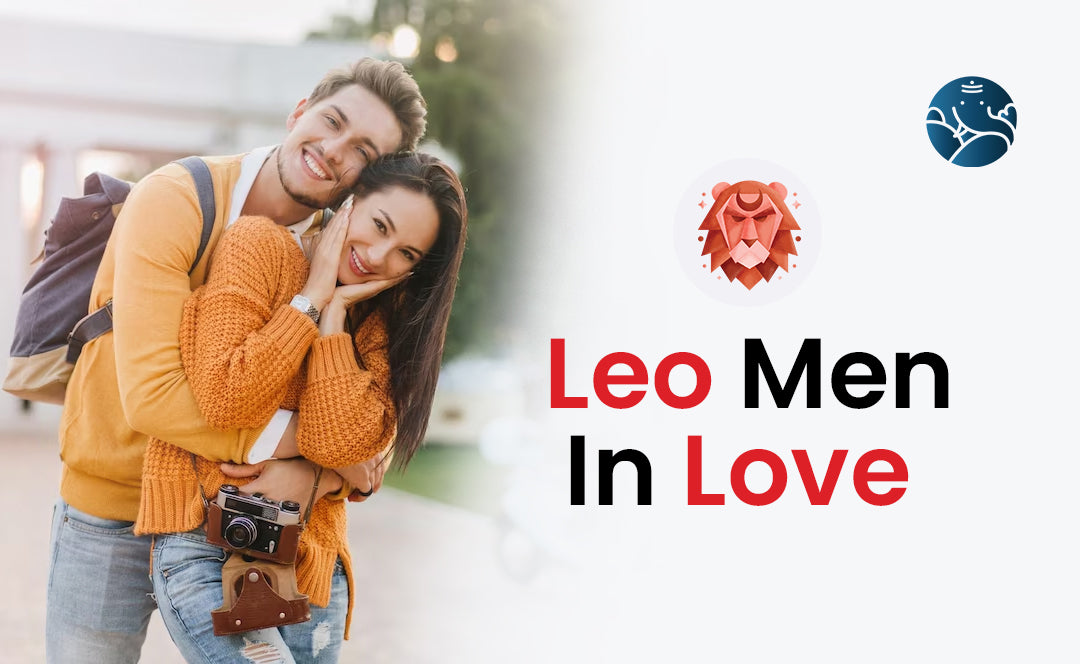 Leo Men In Love 
Astrologically, a Leo man's strongest characteristic is aggression and straightforwardness. But, a Leo man in love may act a little differently from his characteristic. It is not a thumb rule for all. But needs to be kept in mind while analyzing the behavior of Leo Men in love. There are various features that can make us come to the conclusion that a Leo man is in love. Let's study a few of them. We, the love marriage specialists, can help you be successful in your love life if your partner happens to be a Leo. 
Leo Man Traits in Love 
They Get Jealous
Leo men tend to get jealous very fast if he sees his love with someone else. And the intensity of jealousy is extremely high. They expect their partners to focus only on them and nowhere else.
They Do PDA
Leo men are the kind who find it satisfying to display their love openly in front of everyone. They don't care what others might think. On the contrary, they want all to see how much they love their partners. It is very natural for them to hold hands, kiss or hug their love of life in public.
They Are Possessive
Leo men are super possessive. They can, at no cost, dream of losing their partners. They will keep you on their priority list and would expect you too to keep them on your priority list.
They Have High Sex-Drive
Leo men have an extensive sex drive and interestingly only for those with whom they are in love. Their expression of love is also in physical ways and they have this craving for physical touch or sex almost all the time.
They Have A Very Strong Loyalty And Devotion Toward You
Once they are committed to you, you can blindly trust them as they are very strong in terms of their loyalty. They are completely devoted to this relationship.
They Always Make You Feel Loved And Special
They will not leave any stone unturned to make to feel special and pampered. They are really good at making efforts to keep the spotlight on you.
They Are Honest To The Core
Honesty is the key point of a Leo man. They will never hesitate to tell you the truth and will always be transparent in their acts. They will never hide anything from you and you can always bank on them.
They Keep You In Mind While Scheduling Their Day
Leo men make their schedules keeping their partners in mind. They will consider your convenience and comfort while making any plan.
They Are Very Soft But Passionate Lovers
Leo men may be passionate lovers but are very soft and kind as far as lovemaking is concerned. They will have sex passionately but will have a streak of softness.
How Leo Man Express Love
They Want You Around All The Time
Leo men kind of get addicted to you. They like being around you all the time. And they even expect you to make your plans in such a way that you can always be with and around them.
They Are Protective By Nature
They will be over-cautious when it comes to the safety of their loved ones. Leo men are not in favor of taking any chances and are super protective.
They Are First Move Makers
Leo men will always take the first step, the first initiative. They will not wait for your actions, they will not wait for your step.
They Are Invested Genuinely In You And Your Life
They are, in all genuineness involved, engrossed and invested in you and your life. They keep knowledge about everything that's happening in and around your life.
They Believe In Giving Required Spare To Partners
They might always want to be around you. They might be possessive about you. But they respect your own space and believe in giving the required spare to their partners.
They Are Great Appreciators
They will never miss a chance where they can give you a compliment, praise you, and appreciate you. Leo men are great at appreciating you one to one as well as in front of others.
They Express Their Feelings Romantically
Leo men are highly romantic in expressing their love to you. They express their feelings, their thoughts, and their emotions in the most romantic way.
They Love To Display Their Love Life On Social Media
Leo men are quick to post every bit of happiness linked with you on social media. They love to display their love life on social platforms.
Conclusion
If you have a partner with the Zodiac sign Leo and you want to know how they are as partners, you can talk to astrologers. We can help you understand your partner better and lead you to a happy successful love life.