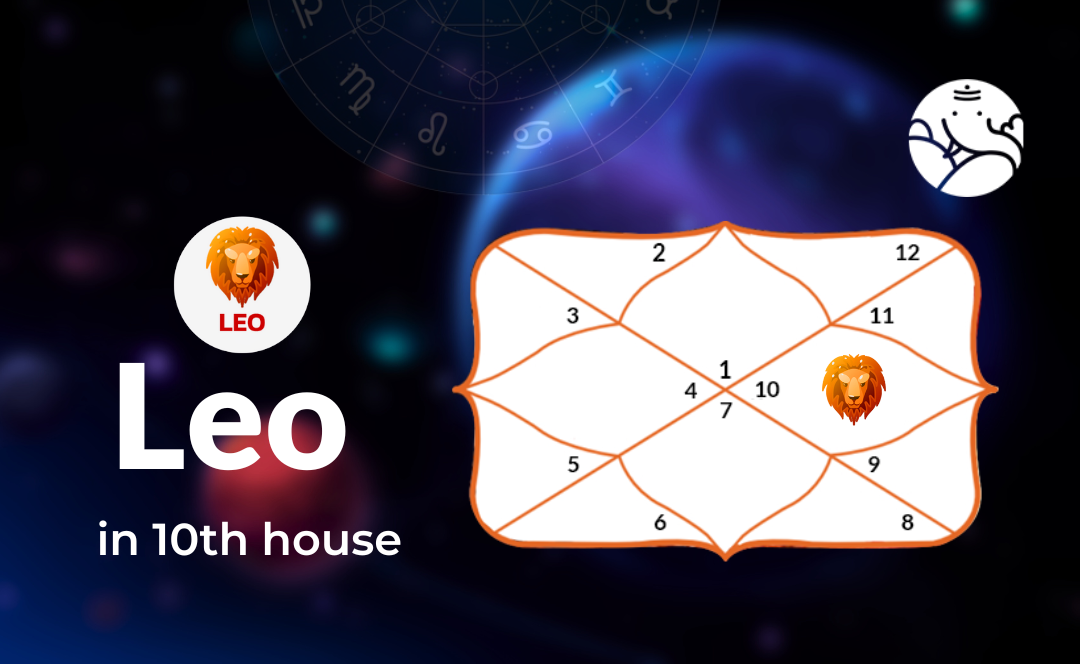 Leo in 10th House
Leo, in the 10th house in astrology, symbolizes a driven and ambitious tackle to one's occupation and public persona. When Leo, a sign known for its likability, ability to lead, and ability to express yourself, is in the tenth house, it strengthens an individual's hunger for accomplishment and praise in their professional life. People in this position are charismatic, confident, natural leaders with an intense drive to hold leadership positions. They attract admiration from others due to their magnetic personality. Leo inspires people in the tenth house to pursue their careers with vigor, creativity, and a determination to leave an indelible mark on the world.
Leo In 10th House Astrology
Leo's astrological placement in the tenth house greatly impacts an individual's professional life and public image. Because Leo, a sign known for its charm, leadership skills, and propensity for expressing yourself, rules the 10th house, this placement intensifies desire, drive, and a desire for understanding in one's professional life.
As a result of their inherent charisma and charismatic qualities, people with Leo in the 10th house stand out in their chosen fields. They exude a magnetic personality that inspires admiration in others. Their verbal and changing personalities enable them to command attention and make a lasting impact.
However, seeking an online Jyotish consultation is advised to fully comprehend and take advantage of Leo in the 10th house. By examining the birth chart, taking into account the planetary positions, and evaluating the specific influences of Leo in the 10th house, a professional Jyotish astrologer can offer individualized insights. Through an online Jyotish consultation, people can get advice on channeling their Leo energy best to improve their career prospects, boost their public image, and accomplish their professional goals.
Additionally, online Jyotish consultation can provide insightful counsel on fostering harmonious interpersonal connections, enhancing communication skills, and persuasively articulating distinct viewpoints. By being aware of the subtleties of Leo in the 10th house, people can have a positive impact on their immediate surroundings, make a good impression, and confidently and clearly navigate their career path.
Tenth House Astrology
The tenth house, the Midheaven, represents our aspirations, careers, and public persona in astrology. It stands for the path to success and acclaim around the world. The characteristics of the astrological sign Leo are highlighted when it occupies the tenth house. This placement strengthens one's desire for professional success, leadership, and self-expression. Leo in the tenth house is associated with endearing charisma, confidence, and a commanding presence that inspires admiration. They are driven to impact the world significantly and aspire to hold influential positions. They have a strong sense of purpose, are passionate about their work, and want to create an enduring impression in their industry.
Positive Effects Of Leo In 10th House
Numerous beneficial impacts on a person's career and public image result from Leo in the tenth house. In this role, ambition and tenacity are sparked by a strong desire for success and recognition. Individuals with Leo in the 10th house are charismatic and naturally charismatic leaders. They inspire and influence those around them by setting a precedent in their employment endeavors and exuding confidence. Because of their evocative and imaginative personalities, they can stand out in their field and make a lasting impression. If they have a clear sense of objective and steadfast self-belief, they can achieve extraordinary things and leave an unforgettable career mark.
Negative Effects Of Leo In 10th House
Leo brings many positive aspects to the 10th house; however, there could also be a few negative aspects. The tendency for people with this placement to turn excessively concerned with their accomplishments and goals, at times becoming unaware of the requirements and contributions of others, may be present. They might exhibit an intense desire for compliments and attention, manifesting as arrogant actions or an urge for steady approval. In their pursuit of success, they might overly claim dominance or authority, enticing peers or colleagues. They must find an equilibrium between their drive for personal achievement and modesty, and cooperation, as well as taking notice of the perspectives of others to preserve mutually beneficial connections and a positive professional reputation.
Conclusion
Leo in the tenth house is a potent and significant placement that can have favorable and unfavorable effects on a person's professional and public image. On the plus side, it increases ambition, self-assurance, and a natural aptitude for leadership. The magnetic charisma of those with this placement draws admiration and attention, which fuels their desire for success and acclaim. They can have a significant legacy and a long-lasting impact in their field. However, it's crucial for people with Leo in the 10th house to be aware of any potential negative traits, such as possessiveness or self-centeredness. Harmonious relationships and a good professional reputation require balancing determination and humility while considering other people's perspectives. By getting aware of themselves and deliberate, individuals in this category can use their greatest assets to achieve greatness and foster a collaborative and diverse work environment.