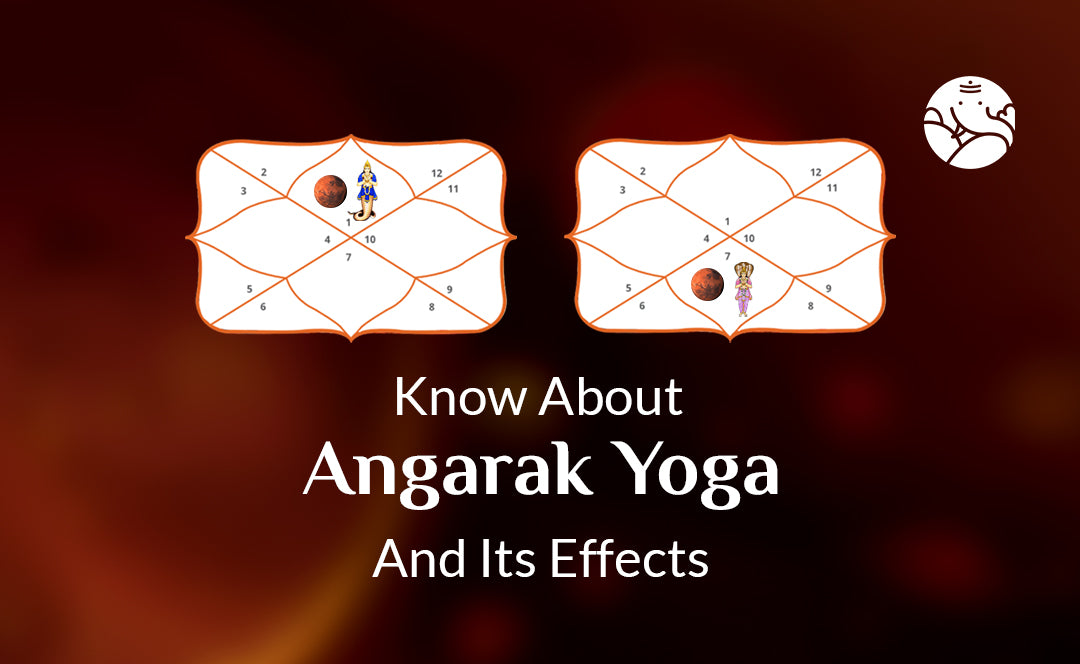 Know About Angarak Yoga And Its Effects
According to astrology, many types of yoga are formed in the horoscope, which brings changes in a person's life. Both auspicious and inauspicious yogas are formed in the horoscope. Some Yogas are called Raja Yogas which bring success and happiness to the life of the native. On the other hand, inauspicious yogas are also formed in the horoscope, due to which problems, diseases, and failures are received. When such a combination of planets and constellations is formed in which there is some auspicious and inauspicious yoga. In Vedic astrology, there are five most dangerous yogas which only bring problems in a person's life. In these inauspicious yogas, there is an Angarak defect.
What is Angarak Yoga?
According to Vedic Astrology, Angarak Dosh is formed in a horoscope when Mars and Rahu or Ketu come together in the same house. Due to the effect of this yoga, changes are visible in the nature of the natives. The feeling of anger gets more in the mind of a person. Due to the effect of this yoga, the decision-making ability of a person decreases. Let us know that whenever Rahu and other planets make an alliance, then it has a wide impact.
The inauspicious results of Angarak Yoga in the horoscope are obtained only when both Mars, Rahu, and Ketu, who created this yoga, are in inauspicious places. Apart from this, if Mars and Rahu-Ketu are in any auspicious place in the horoscope, then there is not much negative effect on the life of the person. In Lal Kitab, Angarak Yoga has been given the name of the mad elephant or spoiled lion. 
People Affected By Angarak Yoga
Angarak Yoga can be identified only by the behavior of the person. Under its effect, the person starts getting very angry.
They are unable to take any decision of their own but these people are just.
These people are cooperative by nature. Under the influence of this yoga, the person gets appointed to a government post or becomes an administrative agent. 
Angarak Yoga Effects
Angarak Yoga, as the name itself suggests, is a sign of fire. When this yoga is formed in the horoscope, the person remains trapped in the confusion of anger and not being able to decide. Angarak Yoga mainly causes anger, fear of fire, accidents, blood-related diseases, and skin problems.
Angarak Yoga gives both auspicious and inauspicious results. When this yoga is formed in the horoscope, the person earns their name and money through his hard work. Under the influence of this yoga, there are many ups and downs in a person's life.
Due to Angarak Yoga, the nature of the native becomes aggressive, violent, and negative and under the influence of this yoga, the native has differences with his brothers, friends, and other relatives. Due to having Angarak Yoga, there is a shortage of money. Under its influence, there is a possibility of an accident of the native. They suffer from diseases and their enemies use black magic on them. Angarak Yoga also has a bad effect on business and married life.
Remedies Of Angarak Yoga
To reduce the effect of this yoga, fasting on Tuesday will be beneficial.




Apart from this, worshiped Kumar Kartikeya, the son of Lord Shiva.




By worshiping Hanuman Ji, both these planets become free from pain. This is a great solution.




Reciting the Beej Mantra of Rahu will be beneficial.




It is beneficial to make specified donations for the peace of Mars and Rahu.




Feed sweet bread to stray dogs.




Keep worshiping for the peace of Rahu planet at home.




Worship Goddess Lakshmi in Rohini Nakshatra of Moon.




The native will benefit from meditation and stay away from any kind of controversy.




Worship God by going to some religious place.




Wearing a silver pendant will be beneficial.




Light a lamp in the house every evening.
Conclusion
The results of Angarak Yoga become very terrible. That's why people should work with restraint when Angarak Yoga is formed. To know more about the remedies for Angarak Yoga, take an astrologer phone consultation.