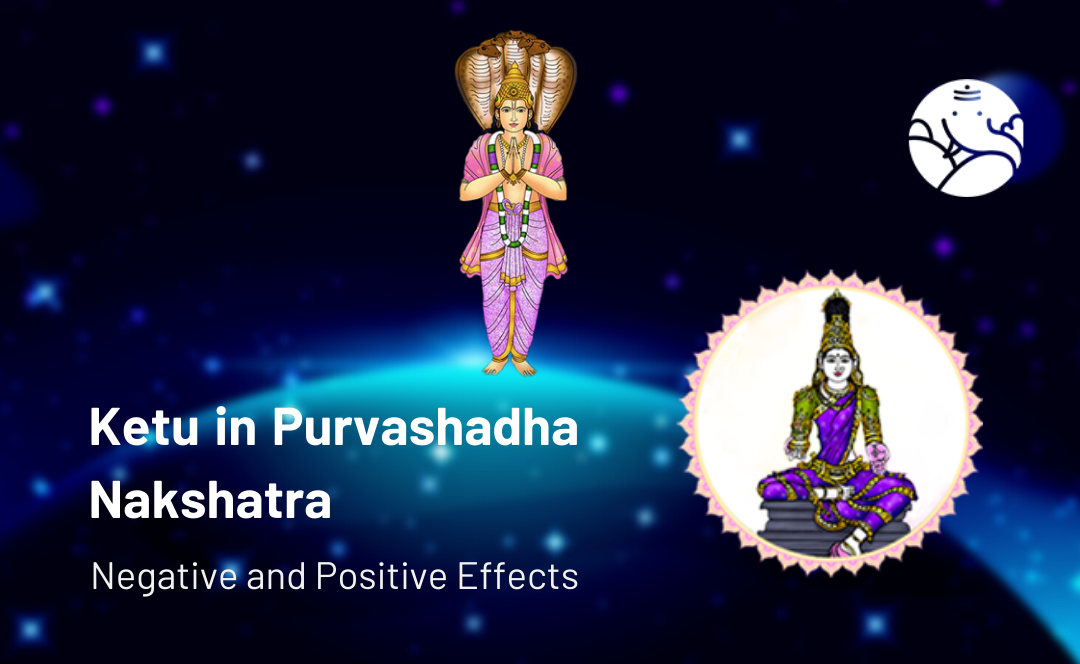 Ketu in Purvashadha Nakshatra: Negative and Positive Effects
Due to the presence of Ketu in Purvashadha Nakshatra, there is excessive thirst, excessive urination, urinary retention, addiction to alcohol, and discord. Defeat from enemies, slander, and pain from women, family discord leads to business loss.
According to Vedic astrology, the people born in Purvashada Nakshatra are always victorious, live life freely is proud, influence people towards themselves, have strong willpower, get fame in society, and excel in the field of education. Those who are not able to follow the rules, move towards success at a young age, speak well, do not let the person who comes to help go back without help, are lucky, and work cleverly.
Purvashadha Nakshatra is the one who makes you an expert in the art of war or makes you victorious in war. The person in this Nakshatra is angry and very sharp. This constellation gives quick success in water-related businesses. For example, the aquatic industry, sea voyages, etc. This constellation is a constellation related to water. The best time of the life of the native is in these years [8, 15, 20, 23, 25, 27, 30, 50] of his age and this time is considered to be the best.
Native is courageous, and brave but unable to take the right decision in time, chooses the wrong path due to haste, stays true to his decision, accepts his mistake but does not seek help or advice from anyone, and has faith in God. The male native of Purvashadha Nakshatra is going to get successful in the field of medicine soon, but the people of the business class are dependent on the people working at their workplace.
Ketu in Purvashadha Nakshatra Pada 1
In this phase, the person feels more thirsty, and due to drinking more water, he is more likely to urinate. The native is addicted to alcohol due to which there would be discord in the family.
Ketu in Purvashadha Nakshatra Pada 2
In this phase, the person is the one who defeats his enemies, remains unhappy due to the company of women, and defames society. The person is the cause of family discord because of his wrong habits.
Ketu in Purvashadha Nakshatra Pada 3
In this phase, the person gets good benefits from things related to water, engages in addiction, remains sad for physical pleasure, faces loss, and becomes ill.
Ketu in Purvashadha Nakshatra Pada 4
In this phase, the person is going to make negative changes in his life, but he is addicted to alcohol, defamatory in society due to a love affair, engaged in sexual activities, and degrading his family, due to which the person will face problems even at home. Don't get respect.
Conclusion
If there is Ketu in Purvashadha Nakshatra, then the female person gets little benefit, addiction, moderate physical pleasure, loss, and disease from aquatic things. Very inauspicious results happen in this phase. Defamation due to skin disease, addiction to alcohol, love affair or sexual diseases, physical condition, life becomes chaotic. Talk to astrology to know about the effect of Ketu in Poorvashada Nakshatra.