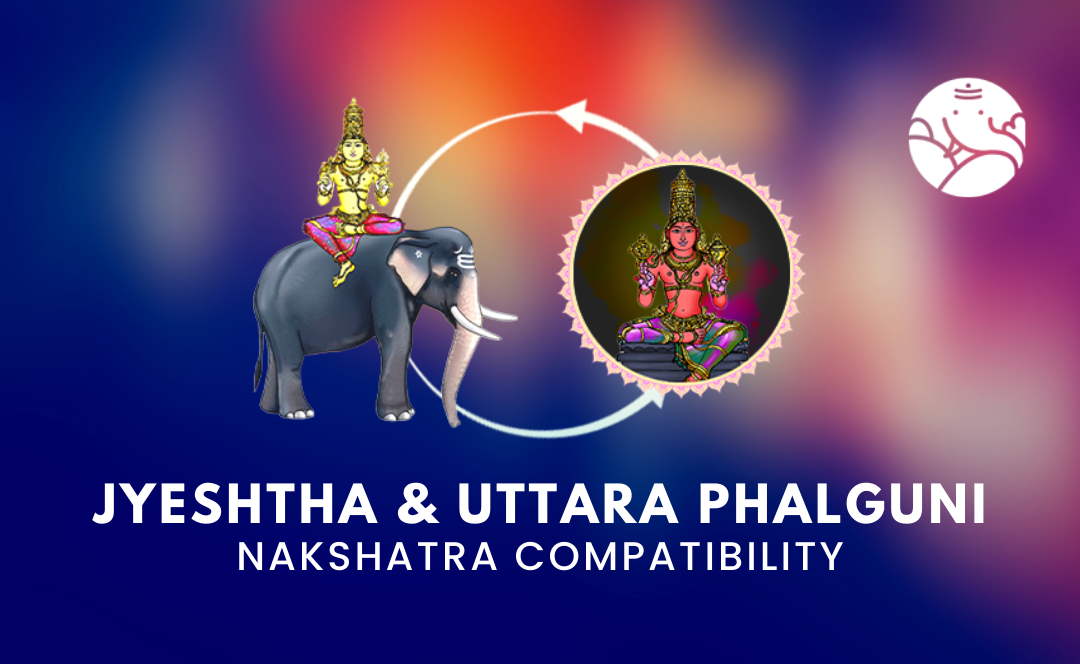 Jyeshtha and Uttara Phalguni Nakshatra Compatibility
Jyeshtha Nakshatra, the eighteenth Nakshatra in the zodiac according to Indian astrology, is situated around 16°40' and 30°00' degrees in the Capricorn sign. A globular protective talisman or an umbrella is used to symbolise Jyeshta Nakshatra. An umbrella stands for safety and the capacity to erect a shield of defence. A talisman is a visual embodiment of an understanding of esoteric or hidden energies as well as a sign of providing or receiving protection from harm or adversity. As a result, the Jyeshta Nakshatra is firmly linked to the idea of a shielding impact.
The Nakshatra is a modest formation of stars that has earned a unique status in Vedic astrology. Lunar Mansions is another name for the Nakshatras. The 12th of the 27 nakshatras are Uttara-Phalguni. This guidance is for you if your birthday fell between the moon's positions of 26:40 Leo and 10:00 Virgo. The sun is considered to be Uttara Phalguni Nakshatra's ruling planet in Vedic Astrology. The object that represents a comfortable and opulent life seemed to be a pillow or the rear legs of a cot. Uttara Phalguni Nakshatra's Hindu Deity is Bhaga. The star in the Uttara Phalguni Nakshatra is female.
Jyeshtha and Uttara Phalguni Nakshatra Love Compatibility
Your love life will be happy and delightful with a faithful, committed, and caring partner. However, it's likely that you won't meet your perfect match until you've gone through many challenging and terrible love experiences. According to our Love Marriage Specialist, you can suffer through a lot of heartbreaks, sorrow, and misery in your early romantic life.
Jyeshtha and Uttara Phalguni Nakshatra Marriage Compatibility
Both natives enjoy being content, therefore your marriage makes you happy. Your lifemate is calm, gentle-spoken, and skilled in household tasks. Marriage predictions by date of birth will make your marriage more successful.
Jyeshtha and Uttara Phalguni Nakshatra Career Compatibility
According to career predictions, Uttara Phalguni nakshatra Your skills really stand out in fields like teaching, writing, and scientific research. Politics, music, sports, senior official positions, parliamentary or ministerial positions, entertainment, clergy, religious preachers, lecturers, departments of finance, social service, matrimonial consulting, mathematicians or science-related fields, engineering, astronomy, advertising, journalism, etc. are all good career choices for you.
Jyeshtha and Uttara Phalguni Nakshatra Friendship Compatibility
Their friends help them out and are interested in them. They make good friends, nevertheless, and are valued for who they really are. They are very desperate for friendship.
Jyeshtha and Uttara Phalguni Nakshatra Sex Compatibility
You will treasure the benefits of the other sex. Additionally, your sexual urge may get satisfied. You will enjoy your sexual relationship.
Positive Impact of Jyeshtha and Uttara Phalguni Nakshatra
Compatibility
Natives of the Jyeshtha nakshatra are deserving of admiration because they are endowed with a wealth of beneficial qualities. In addition to their inherent brilliance of mind and heart, their tenacity, conviction, respect, and knowledge rank among their top positive qualities. Their practicality and enthusiasm for the finer details of life, such as ornamentation, music, the arts, and weaponry, are both commendable. Uttara Phalguni natives you speak clearly and intelligently, and you live an honourable and sincere life. Additionally, you don't pass up the chance to use your riches and influence to benefit others. Additionally, you are effective at saving money. You can also receive your ancestor's property. You have financial independence. The activities related to public relations are advantageous to you. You never feel fear when it comes to hard labour, which helps you succeed.
Negative Impact of Jyeshtha and Uttara Phalguni Nakshatra
Compatibility
Starting at the age of 32 natives under Jyeshtha nakshatra, you may struggle, but after you reach the age of 38, you will succeed. However, there are times when talking too much can cause chaos and conflict in the home and at work. Venus' influence makes them more likely to engage in extramarital affairs. This is indeed one of the main unfavourable characteristics of those who were born under the Uttara Phalguni nakshatra. Arrogance and concern with cleanliness are some undesirable characteristics. They occasionally exhibit a lack of consideration and contempt.
Conclusion
They have an excessive hedonism and a propensity to pursue meaningless economic objectives. They have a reputation for being self-destructive sometimes, as well as unscrupulous and unscrupulous. Due to their inability to maintain mysteries, these people are the least effective Nakshatras. Locals of Jyeshta Nakshatra display passion and bravery in the face of adversity. They constantly practise sobriety and engage in actions that will promote their position and beat their competitors. Take Online astrology consultations and get deeper insights into your life.