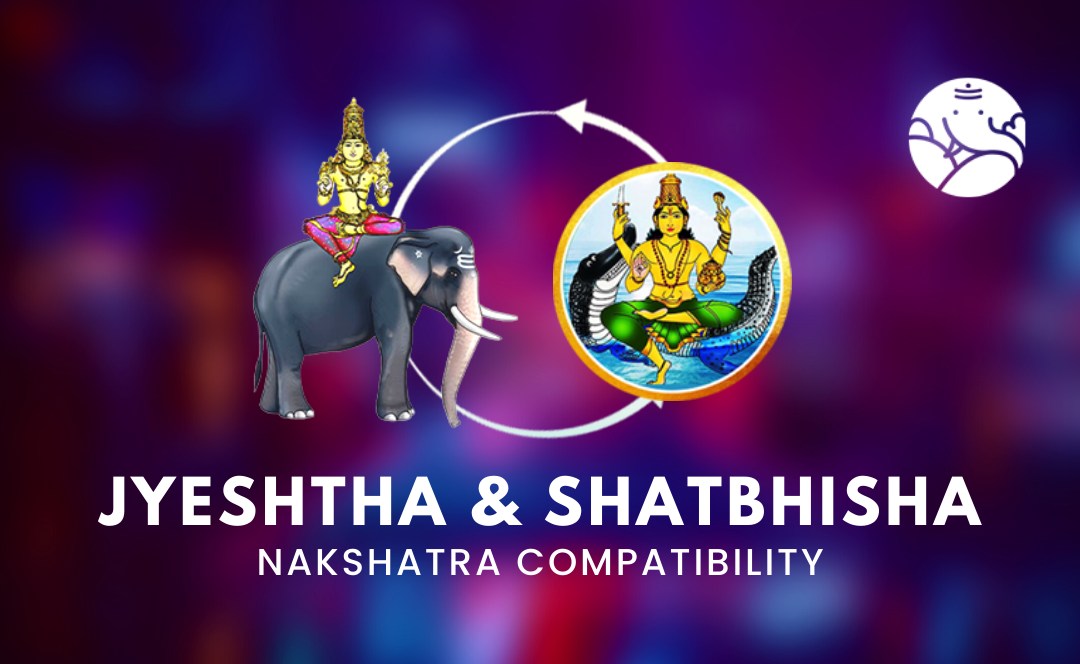 Jyeshtha and Shatbhisha Nakshatra Compatibility
The nakshatra of Jyeshtha, which means "oldest child," is linked to maturity, possessiveness, being the head of the family, and running an establishment. The last pada (portion) of Jyeshtha creates the karmic Gandanta zone between the watery sign of Scorpio and the fire sign of Sagittarius, while Jyeshta nakshatra is in the sign of Scorpio.
The Shatabhisha Nakshatra is one of the 27 Nakshatras that exist in the universe, ranking 24th overall. This Nakshatra's ruler is Rahu, and anyone born under this sign belongs to the Aquarius zodiac sign, whose ruler is Saturn. Saturn and Rahu's influence on these people continues in this fashion for the duration of their lives.
Jyeshtha and Shatabhisha Nakshatra Love Compatibility
You may have a tendency to exert control over others for the sake of the welfare of those you love or who hold dear to you, which can lead to tension in your relationships. People may fail to understand the noble motivation behind your behavior. Take suggestions from our Love Marriage Specialist to reach the zenith of your love life.
Jyeshtha and Shatabhisha Nakshatra Marriage Compatibility
You are fiercely devoted to your family and will do anything to protect them, even go beyond your moral bounds. You must exercise extraordinary caution to avoid abusing your authority or using it for personal gain. Your marriage life can be a disturbed one. Marriage predictions by date of birth report will help you choose your partner for marriage.
Jyeshtha and Shatabhisha Nakshatra Career Compatibility
According to career predictions, they are capable of leading an organization. Administration and entertainment are only two of the many occupations that fit Jyeshta Nakshatra. Additionally, one needs to concentrate on consciousness, United nations employees, army generals, intellectuals, models, engineers, dancers, philosophers, and crime scene investigators.
Jyeshtha and Shatabhisha Nakshatra Friendship Compatibility
Those in positions of authority, are friendly and have strong ties. People hesitate to be friends with them because of their candor and bitterness. They don't have a lovely personalities. Despite having a small social circle and being respected in the community.
Jyeshtha and Shatabhisha Nakshatra Sex Compatibility
Jyeshtha Nakshatra has a Stag sexual type. This Nakshatra is thought to respond to sexual relationships with a frigid but ferociously impassioned attitude. Their husbands may occasionally subject them to compelled sexual activity. 
Positive Impact of Jyeshtha and Shatabhisha Nakshatra
Compatibility
People respect or fear you because of your commanding voice, and you command respect. People frequently feel envious of your standing, but they don't realize how much you have endured—either in this existence or in past lives—to obtain what you have earned. You secretly adore arcane disciplines like numerology and astrology. People find it difficult to conceal information from you. You have a great deal of compassion for and concern for those who have less than you. They frequently look to you for guidance and security. There are times when you neglect your own needs while helping others.
Negative Impact of Jyeshtha and Shatabhisha Nakshatra
Compatibility
A minor error you make may have more negative effects on those close to you than it does on you. You place a lot of value on how other people see you. However, you keep this a secret from everyone. Your problems and concerns could occasionally get out of hand. In this lifetime, you should develop the ability to control this. People can't help but notice and gravitate toward your perceptive and penetrating eyes. People should make a concerted effort to win your favor, as it will be difficult for you to refrain from retaliating if someone turns on you. You are more susceptible to jealousy in life. Either other people are envious of you, or you are envious of other people.
Conclusion
According to astrology, people born under the sign of Jyeshtha are quick to anger and can turn hostile at any time. They are fun-loving, fast-paced individuals. They strive to complete their assignment on time because they appreciate the worth of time. They are truthful and devoted to fulfilling their obligations. They have a wide range of interests and are not limited to conventional tasks and menial tasks. They pick things up quickly and can cope with life's challenges head-on. Their impatience is a flaw in their personality, which occasionally causes their job to fail.  Online astrology consultations will analyze the pros and cons of your character and will guide you in the correct direction.