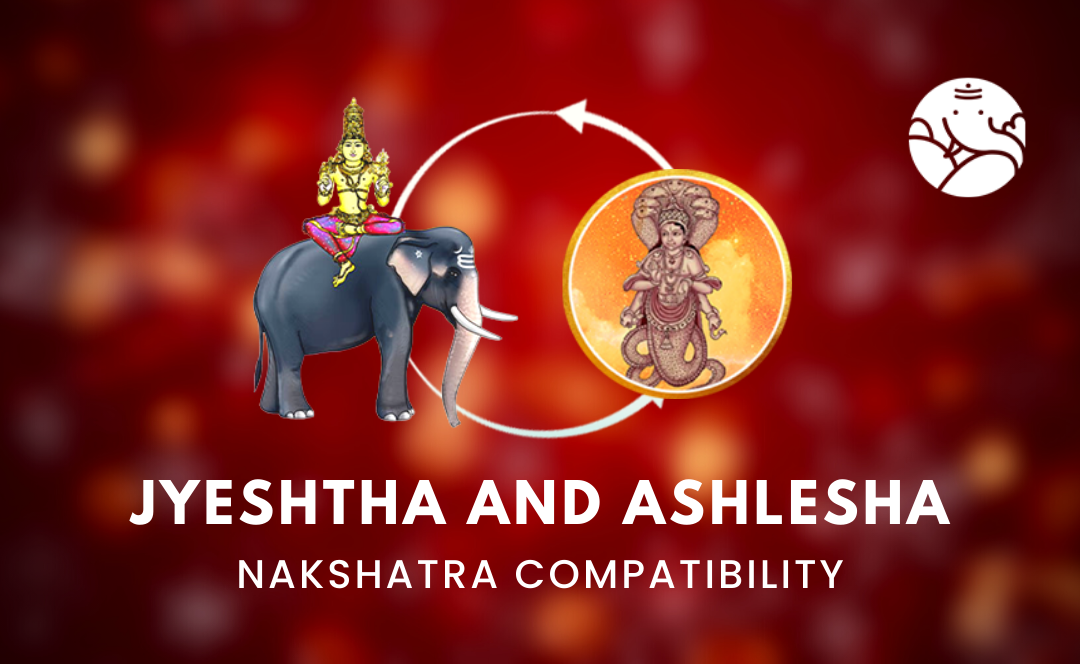 Jyeshtha and Ashlesha Nakshatra Compatibility
As the moon orbits the Earth, it passes through a series of minor star constellations called nakshatras. The 18th of the 27 nakshatras is called Jyeshtha. This manual is for you if your birth took place whenever the moon falls within the range of 16:40 and 30 degrees Scorpio. They are considered the senior most nakshatra and are therefore superior to other Nakshatras.
According to Indian Vedic Astrology, Ashlesha Nakshatra, which spans 16°40' to 30°00' points in Cancer, is the 9th Nakshatra inside this zodiac. The deceitful divine snake who homes in the sign of Cancer is said to reside in this lunar house. The Sarpas, or a bunch of snakes, are Ashlesha's presiding deities. In Hindu lore, they are frequently described as residing in the Pataal which is underground. Ashlesha is associated with anything related to snakes due to the Naga nakshatra's relationship with it and other snake-related symbolisms. Indian culture views snakes as cunning, unsettling creatures that are rumoured to enchant their prey before entangling or eating it before their prey are conscious, they coil themselves around them.
Jyeshtha and Ashlesha Nakshatra Love Compatibility
You both need to have the ability to think critically and creatively outside of the intellectual bounds of your ruler Mercury. You are aware of each other's life goals. You are bound together by love and friendship. Although Ashlesha prefers complicated relationships, they are willing to take a chance on you. Ashlesha Nakshatra residents have a strong sense of duty, caring, and love when it comes to relationships and love according to our Love Marriage Specialist.
Jyeshtha and Ashlesha Nakshatra Marriage Compatibility
Since Ashlesha Nakshatra native is typically the oldest family member, they must typically take on all of the associated responsibilities. Their partner won't be able to comprehend his thoughts, feelings, moods, and occasionally even his words. They typically do not want to give her in-laws access to her belongings. As a result, it is usually advisable to seek professional advice Marriage predictions by date of birth is essential before entering into a love marriage or arranging a marriage.
Jyeshtha and Ashlesha Nakshatra Career Compatibility
According to career predictions, the Ashlesha Nakshatra native is likely to pursue a career in either business or the arts. Their career ups and downs are swift, and occasionally even abrupt. From around the ages of 35 and 40, they are likely to have significant financial loss, and they are also likely to experience some unexpected financial windfalls. They will be highly auspicious at the share market, and lottery. They have a sense of duty towards their country, so they have a chance to join the armed forces.
Jyeshtha and Ashlesha Nakshatra Friendship Compatibility
Ashlesha Nakshatra creates a special connection. They enjoy their fun, daring, and outgoing qualities. They bond right away and value their idealistic and adventurous character. In every places, they are surrounded by friends.
Jyeshtha and Ashlesha Nakshatra Sex Compatibility
A resident of Ashlesha or someone with Ashlesha Nakshatra is also said to possess primal energy and power. Particularly sexual power is part of this primal vigour. They are conscious of how their behaviour arouses sexual arousal in their Ashlesha-matched stars.
Positive Impact of Jyeshtha and Ashlesha Nakshatra Compatibility
Their capacity to command various organisations and be a compelling orator are both great traits. They are capable of leading a whole nation. They do not distinguish between persons who are wealthy, poor, decent, or terrible. They do, however, favour allies who submit to his authority. They are down to earth like a person.
Negative Impact of Jyeshtha and Ashlesha Nakshatra 
Compatibility
Inhabitants of the Ashlesha Nakshatra won't be appreciative of anyone, not even their parents. They are crafty and deceitful. They appear caring on the outside, but on the inside, they care nothing at all. They are prone to experience flatulence, jaundice, digestive issues, and knee and leg joint pain. They will probably develop a drug addiction eventually.
Conclusion
Jyeshtha has your attention. They stand for the personal development you hope to achieve. You share their challenges and discuss your ethical decisions with them. You both push each other to reach new levels in your relationship, which you find to be mentally thrilling. You consider Jyeshta to be a part of yourself, and they go out of their way to win your favour. To get accurate predictions and solutions, take Online astrology consultations with our experienced astrologers, which are available around the clock.