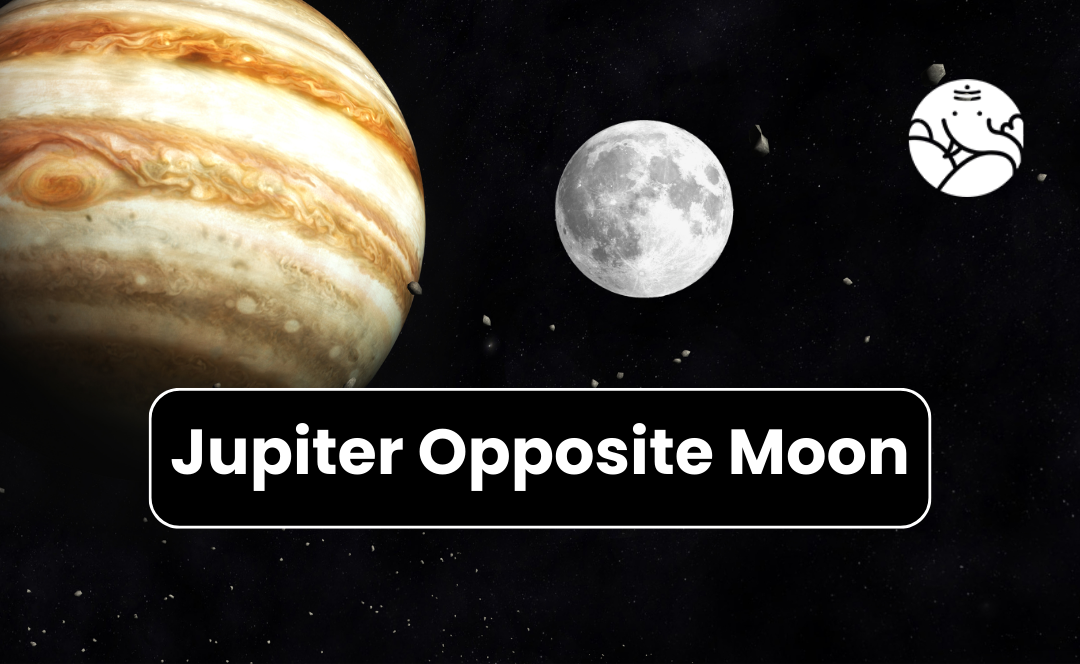 Jupiter Opposite Moon
Jupiter opposite the Moon in the birth chart can cause your interactions with other people, bringing out the best and worst of your moods. You may have an opportunity to work through the tension in your close relationships, which is usually caused by one person being too restrictive or possessive of the other. If you allow them the same personal freedom that you expect, you can establish greater balance, equality, and mutual respect in your relationships. If you are unwilling to compromise or react defensively, you will experience more difficulty. You are generally optimistic during this time but can become restless if you feel overly restricted by your environment. You can also leave a situation that hasn't allowed you to feel safe and comfortable, but this usually happens when all other options have been exhausted. Watch out for overworking your body and consuming fortified food and drink – your stomach is more sensitive and this may cause you some discomfort.
Jupiter Opposite Moon Natal
On the generous end, you are inclined to think that you can always give more and help someone feel more comfortable. You are not only willing to go the extra mile, but you are also willing to run it. Yet, there is another end to the craving for constant gratification: you constantly demand more and more from others and at the same time become self-indulgent. You probably expect more from the world than any one person. Or maybe you anticipate more than you give and desire a higher return than you've earned. You don't care how much time or money you must spend to feel comfortable. So, for example, you may be inclined to eat more or eat less to achieve whatever ideal makes you happy. These feelings can easily spill over into other areas of your life, such as your intimate relationships and work, and can harm you more than help.
Jupiter Opposite Moon Synastry
Jupiter transit over your natal Moon makes you either tolerant or demanding of others. This is the best time to understand your own feelings and your intimate needs. You get in deep touch with yourself. Jupiter opposite Moon transit makes you feel emotionally, and can express with great generosity. Your personal life and your home may increase or get better. Also, if you are a woman, there are chances of pregnancy. Jupiter opposition lunar solstice transits may coincide with the time of child birth, and with accurate transits, you are already positive for the child.
Jupiter Opposite Moon Transit
At your best, you want to feel what life has to offer. Likewise, you want to make a lasting impression on others, especially those in need. You can increase your overall good feelings towards others in any way you can. Perhaps you'll do this by making a charitable donation, or by hosting a wonderful dinner at your home for family and friends. If you've helped make the world a better place, even for one night or one person, thank you. But at worst, you're more likely to be overly self-indulgent, using your emotions, food, and any other creature comforts to satisfy a deep sense of lack. You may feel as though you owe the world what it is asking of you. But the truth is that no one can fill that emptiness except you. Instead of assuming that collecting new items and experiences will satisfy you, you must learn to do more with less and enjoy yourself.
Conclusion
In general, they make you feel nice and warm. They increase your well-being. It can also be an unproductive time in the outside world, but it can be very positive for healing old psychological wounds and past hurts. Jupiter opposite Moon can be more honest with self and also with others. Generally, relations with your family and women are very important during this time. They help you to understand yourself better and properly understand your unconscious habits and problems. You can incorporate whatever makes you feel more secure in your life and provides emotional support and a sense of inner freedom. If you want to know more about the Jupiter Opposite Moon, then talk to astrologers online.