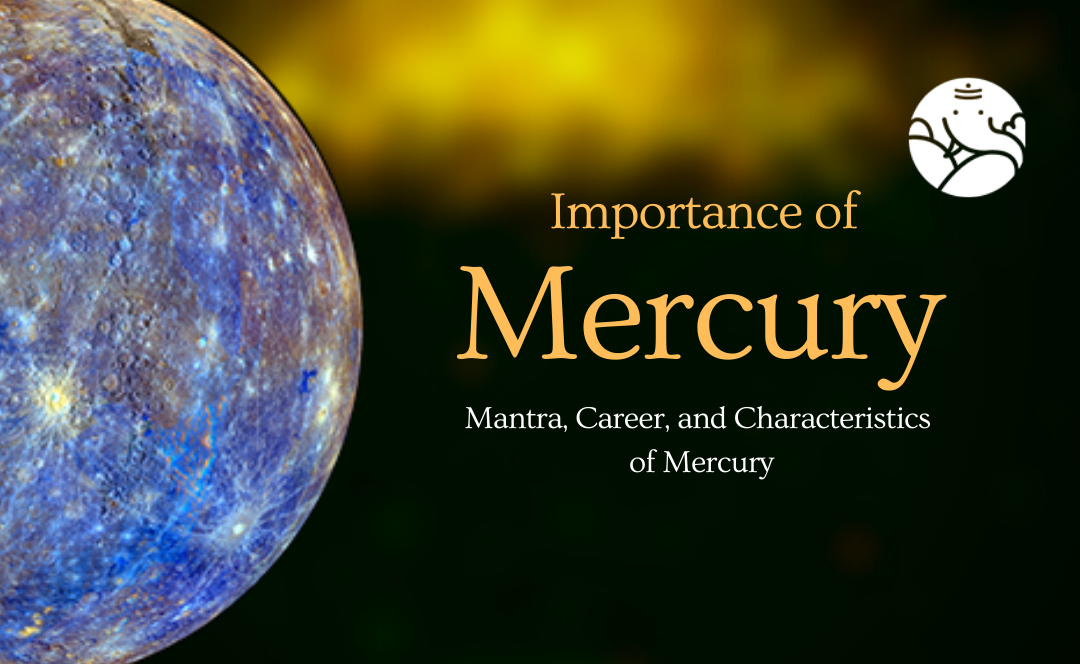 Importance of Mercury: Mantra, Career, and Characteristics of Mercury
According to Vedic astrology, the planet Mercury is of Rajo quality and represents speech. Mercury is a planet of calm and gentle nature. Lord Vishnu is the presiding deity and Pratyadhidevta of the planet Mercury and his Mahadasha is of 17 years. The specialty of Mercury is that it accepts the qualities of other planets and gives results accordingly. Mercury primarily represents the air element. The strong influence of Mercury in the horoscope makes the person efficient and diplomatic. The characteristics of Mercury include intelligence, education, friends, business and profession, mathematics, scientist, acquiring knowledge, dexterity, speech, publisher, printing work, teacher, flower, maternal uncle and maternal uncle, writing, clerk, nephew, adopted son, There are qualities like pearl, laughter, eloquence, spot answer, etc.
Friends and Enemy Planets Of Mercury
Sun and Venus are friends of Mercury and Mercury consider the Moon as its enemy. Mercury planet has an equal relationship with Saturn, Mars, and Jupiter. Planet Mercury is the lord of Gemini and Virgo. Mercury is in its trigonal sign when it is between 15 degrees to 20 degrees in Virgo. Mercury planet occupies an exalted position at 15 degrees in Virgo. When Planet Mercury is in Pisces, it is in a debilitated sign. Mercury is considered a malefic planet and it is the lord of the north direction. The auspicious gems of Mercury are emerald, and agate, their favorite colors are green and brown and the auspicious numbers of Mercury are 5, 14, and 23.
Mercury Beej Mantra
"ॐ ब्रां ब्रीं ब्रौं स: बुधाय नम: "
"Om Bram Brim Braun sah Budhay Namah"
Mercury Vedic Mantra
प्रियंगुकलकाशमं रूपूणाप्रतिमं बुधम ।
सौम्यम सौम्यगुणोपेतं व बुधं प्रणामाम्यहम ।।
Priyangukalakasam rupunapratimum budham.
Soumyam soumyagunopetam v budham pranamamyaham.
Remedies to Remove Mercury Negative Effects
To avoid the inauspicious effects of Mercury, you can donate things related to Mercury. His charitable items include ivory, sugar, green clothes, green flowers, moong dal, camphor, and turpentine oil. Donations should be done on Wednesday before sunrise.
Characteristics of Mercury
In a person's horoscope, the sign of the planet Mercury is in Gemini or Virgo ascendant house, or Mercury is in a strong position in the ascendant house, or the person's birth sign is Mercury, then the person's personality is affected by Mercury. A person affected by Mercury has a well-built body, large body, soft language, laughing, joking, and humorous nature.
Mercury is the factor of bile, air, mucus, anus, thighs, skin, and nervous system in the body. When Mercury is weak or afflicted, there may be an imbalance in the mind and speech of a person. Mercury gives mental illness. Mental illness, impotence, fever, itching, broken bones, fever, dizziness, neck pain, piles, dyspepsia, liver, stomach, and intestinal problems can affect.
Mercury Related Career and Business
According to career predictions, the planet Mercury is mainly considered to be the factor of speech and intellect. Under the influence of Mercury, a person is intelligent and has the ability to influence through speech. The speech and behavior of Mercury are generally favorable to the occasion, due to which the person is able to do his work competently on the strength of his intellect and speech. Mercury attains progress sooner than other people through speech, quick calculation, and intelligence skills. Advocates, journalists, and consultants work in the fields related to research. Accountants, software engineers, politicians, diplomats, teachers, writers, astrologers, and other such professions and people related to them are affected by Mercury.
Conclusion
In the causative elements of Mercury, the person sees the attainment of many types of professions. Mercury is a complete Vaishya planet. If you want all the information about the planet Mercury, then you can take it from an astrology consultation.