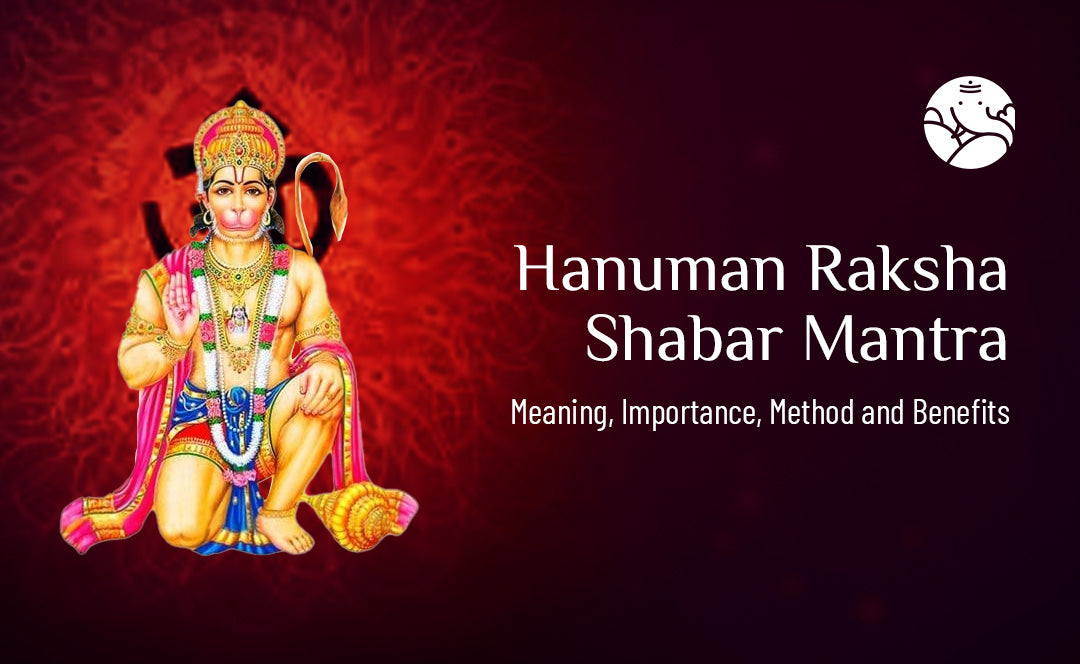 Hanuman Raksha Shabar Mantra: Meaning, Importance, Method, and Benefits
The practice of Hanuman Ji is such a practice, after doing it for a few days, you start having different experiences. If someone is blessed by Hanuman Ji, then that person does not have any fear of ghosts, bad house conditions,s or even death, no one can harm the worshiper of Hanuman Ji in all three worlds. When we start doing his sadhana daily, then his blessings start pouring on us in a visible way.
You can also do good to the world with this mantra. Here also understand one thing it is not so easy to become a seeker of Hanuman Ji, there are some rules for doing his sadhana too. If you do not follow these rules, then your sadhana can never be successful and you can never become eligible for the grace of Hanuman Ji.
Rules of Hanuman Meditation
By the way, there are not so many rules and regulations in Hanuman Ji's Shabar Mantra Sadhana, but there are some rules which are very important to follow.




The first and foremost rule is that it is very important for those who worship Hanuman Ji to observe celibacy, for the number of days they have to perform their rituals, they have to remain completely celibate and even after the rituals are completed, if you want to maintain grace, then be limited to your wife only.




If you do any sadhana of Hanuman Ji, then remember that the more you chant the name of Ram during the sadhana period, the more blessings will be showered on you. This Simran should go on in the mind throughout the day during the Sadhana period. With this one negative thought will not come to your mind and secondly Hanuman Ji is very happy with the name of Ram.




Consumption of meat and alcohol has to be completely abandoned.




In Hanuman Mantra Sadhna, if the proven Hanuman Yantra is installed in the place of worship and mantra Sadhna is done, then special benefits are obtained.
Hanuman Raksha Shabar Mantra
ॐ नमः वज्र का कोठा, जिसमें पिंड हमारा बैठा, ईश्वर की कुंजी, ब्रह्म का ताला, मेरे आठों पहर का यति हनुमंत रखवाला |
Om Namah vajra ka Kotha, Jisme pind hamara baitha, Ishwar ki kunji, Brahma ka tala, mere aatho pahar ka yati hanmant rakhvala
Meaning : Vajra (very hard), Kotha (room), Pind (body), Kunji (key), Tala (lock), Aatho Pahar (24 hours)
Hanuman Shabar Mantra Chanting Method
You can start this Hanuman Raksha Shabar mantra on any Tuesday of Shukla Paksha. You can set any time for this sadhana in the morning or night, but the time and place of the sadhana should be the same every day. In this sadhana, you have to keep a red-colored idol for sitting and doing sadhana, there should be a statue of Hanuman Ji, and if possible keep desi ghee or jasmine oil lamp, incense, and water at the time of worship. Before starting the sadhana Clean the idol of Hanuman Ji with Gangajal and make it pure. After that apply Tilak to your Hanuman Ji's statue with Hanuman vermilion and then apply Tilak to yourself, after that light a lamp if possible and keep incensed and water with you. That: I am going to start the ritual from today for 11 days (you can do 21, 31, and 41 days also), I will chant one rosary daily by your grace, forgive me if I make any mistake in between To do and prove all my works by being part of me. By saying this it is like leaving water on the earth. This resolution taking action has to be done only on the first day.
Conclusion
By simply taking the name of Hanuman, one gets rid of the effects of ghosts, etc. If you want to know more about the importance, benefits, and meaning of the Hanuman Raksha Shabar Mantra, then talk to astrology.