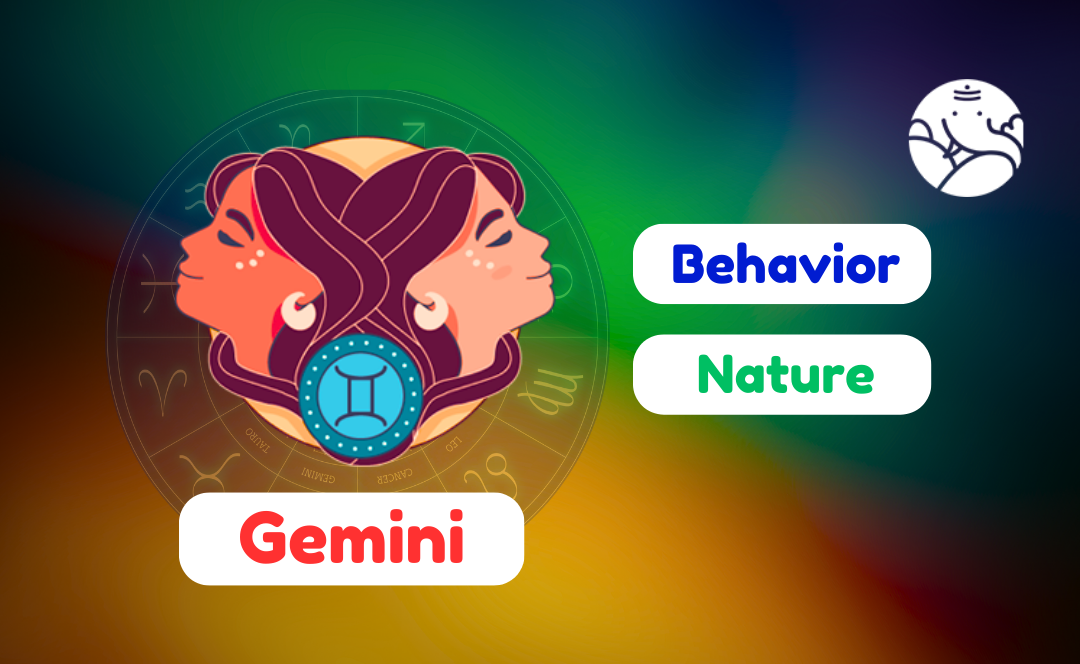 Gemini Behavior - Gemini Nature
The people of Gemini are known for their intellectual and independent thoughts. These people are rich in versatility and are ready to accept all kinds of challenges. These people are a bit mysterious in nature and it is difficult to understand them completely. These people are of a very angry nature and when they get angry, nothing can be said. They have good penetration among the people. The people of this zodiac are very romantic. His language style is also amazing. These people are cheerful and clever. He completes his work with great efficiency. These people perform well in artistic fields.
Normally the mind concentrates quickly, but due to dilemma, the mind often starts wandering. To remove the dilemma of the mind, they should use dhani and sky colors. Also, fennel should be eaten regularly. The people of the Gemini zodiac are of medium height. Their brain is always moving and thinking. These people always understand others' points of view with their cleverness. Gemini people listen to everyone but do what they like. His way of talking is very good. These people are witty and apart from being good speakers, they are also good listeners. They get molded very quickly in every environment. They like to lead in any matter. They are curious, sociable, and mentally strong people.
Gemini Man Nature
Gemini man has a lot of interest in traveling. The natives of Gemini can be in a good position in the field of literature, writing, editing, and banking. The people of Gemini are deeply interested in music and art. They are not much influenced by the thoughts of others and they like to be with friends. Sometimes they may even be betrayed by friends. Sometimes they may have to face opposition from their in-laws as well.
Gemini men are always logical talkers and are fond of partying by nature. Gemini men are intelligent and versatile. They are honest, decent, and sociable. His personality is very attractive. The man of this zodiac likes variability. The people of the Gemini are fond of reading and writing, but they also like to travel a lot. The man of Gemini is considered to be of dual nature. So in many places, they have difficulty in taking decisions. The people of the Gemini zodiac are of unstable nature and they are the ones who treat everyone equally.
The people of this zodiac are not able to concentrate on one thing for a long time. Apart from this, these men do not hesitate to use others for their own benefit. That's why it is dangerous to trust them. In the matter of love, these men are unable to control themselves and jump into any relationship without thinking.
Gemini Woman Nature
Gemini women do not believe in wasting time at all and are quick to take action. They are capable of making their own decisions, but even then, if they ever feel the need, they only take advice from someone they trust completely. It is believed that Gemini women are dominating. This is believed to be because they want everything to happen according to them or according to them and this shows their domineering nature. It is also believed that they like to control their partner's life as well.
As a Gemini woman takes action without wasting time and at the same time believes in hard work. They work hard to get what they want and wait patiently for it. Gemini women love to celebrate their achievements with their near and dear ones. It is said that they celebrate their success together and enjoy it openly with their special ones.
Conclusion
Gemini ascendant people are bright-eyed and woo people with their words. In appearance, these people are of lean stature and of average height. These people attract anyone with their personality. However, the people of this zodiac have to face many diseases and health problems. Talk to astrology to know more about the nature of Gemini.