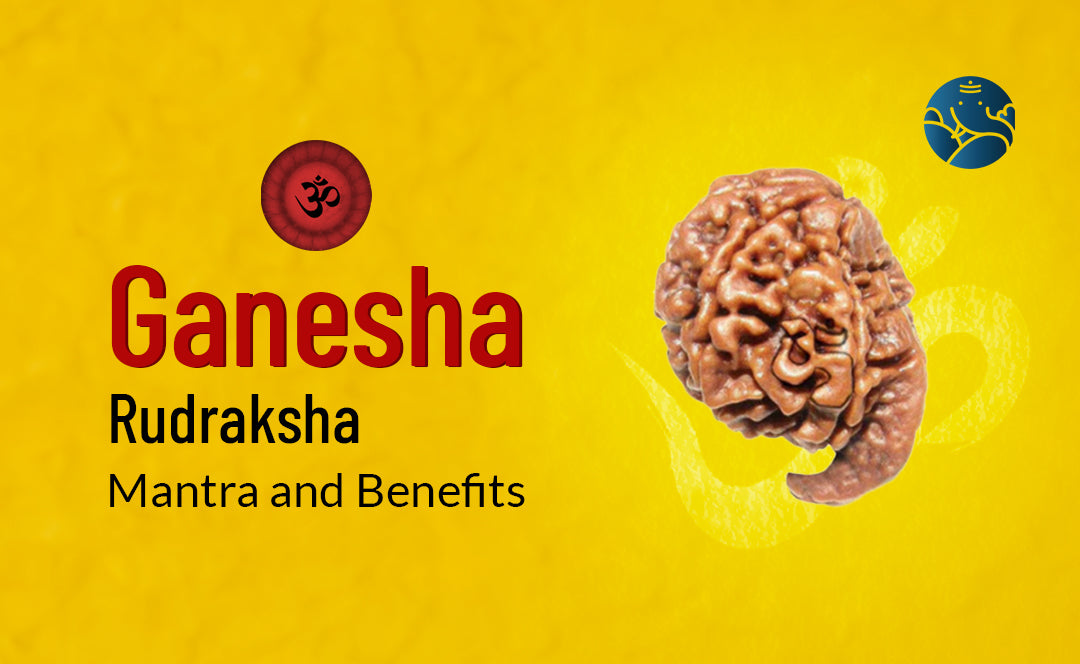 Ganesha Rudraksha Mantra and Benefits
The Ganesha Rudraksha stands tall like a trunk as seen on the face of Lord Ganesha. The elephant-headed god Ganesha, personifying success and overcoming obstacles, is also associated with wisdom, learning, discretion, and power. They give spiritual power and prosperity. They are worshiped first at the beginning of any auspicious occasion.

Ganesha Rudraksha has been considered to increase intelligence, discretion, and concentration. When a person wears it, its positive effects bring success to the person in all areas of his life and give him the power to fight against negative energy.
Ganesha Rudraksha Mantra
ॐ श्री गणेशाय नमः

Om Shri Ganeshay Namah
Importance Of Ganesha Rudraksha
Ganesha Rudraksha can be worn to eliminate our financial problems. Ganesha Rudraksha is considered to be the form of Lord Ganesha. Wearing this Rudraksha has a very positive effect on our intelligence. It is believed that by wearing Ganesha Rudraksha all the troubles of the person go away.
Ganesha Rudraksha Benefits


Wearing Ganesha Rudraksha gives relief from diseases. Obstacles are destroyed by wearing Ganesha Rudraksha. Wearing Ganesha Rudraksha gives success in studies.



Wearing Ganesha Rudraksha gives freedom from debt. Wearing Ganesh Rudraksha increases wealth and prosperity. Ganesh Rudraksha plays an important role in intellectual development.



By wearing Ganesha Rudraksha, all the negative effects of planet Ketu go away. That's why this Rudraksha is considered a very miraculous Rudraksha. Ganesha Rudraksha removes negativity and obstacles in one's path.



It fulfills the materialistic desires of the wearer. Ganesha Rudraksha makes the body healthy and free from diseases. It gives relief from stress and depression. It also reduces anxiety.



Ganesha Rudraksha is extremely beneficial for students appearing in any examination. By wearing it, intelligence develops. Lord Ganesha is considered to be the god of wisdom, therefore students must wear Ganesha Rudraksha. Wearing this increases the concentration of the students.



Method of Wearing Ganesha Rudraksha


Ganesha Chaturthi is the best date to wear Ganesha Rudraksha. If Ganesha Rudraksha is worn on this day, then all the wishes of the person will definitely be fulfilled. By the way, Monday is also very auspicious for wearing Ganesha Rudraksha. Ganesha Rudraksha can be worn on Wednesday also. The way everyone worships Shri Ganesh Ji. Similarly, anyone can wear Ganesha Rudraksha. People of any zodiac sign can wear Ganesha Rudraksha to get success in their work. And can take advantage of it. Ganesha Rudraksha can be worn in red thread, gold wire or gold chain, silver wire or silver chain, and copper. If Rudraksha is worn in the right way, then its fruit increases manifold.
Conclusion

Ganesha Rudraksha is one such Rudraksha that enhances our decision-making ability. This Rudraksha is considered very auspicious for those who are studying, taking an education, or who are students. People often get confused as to what to do or what not to do. For them, this Ganesha Rudraksha proves to be a boon. By wearing this Rudraksha not only does one get wisdom, wealth, and success, but also Goddess Lakshmi is pleased and fulfills our wishes. If you want to know more about the mantra and benefits of Ganesh Rudraksha, then talk to astrology.