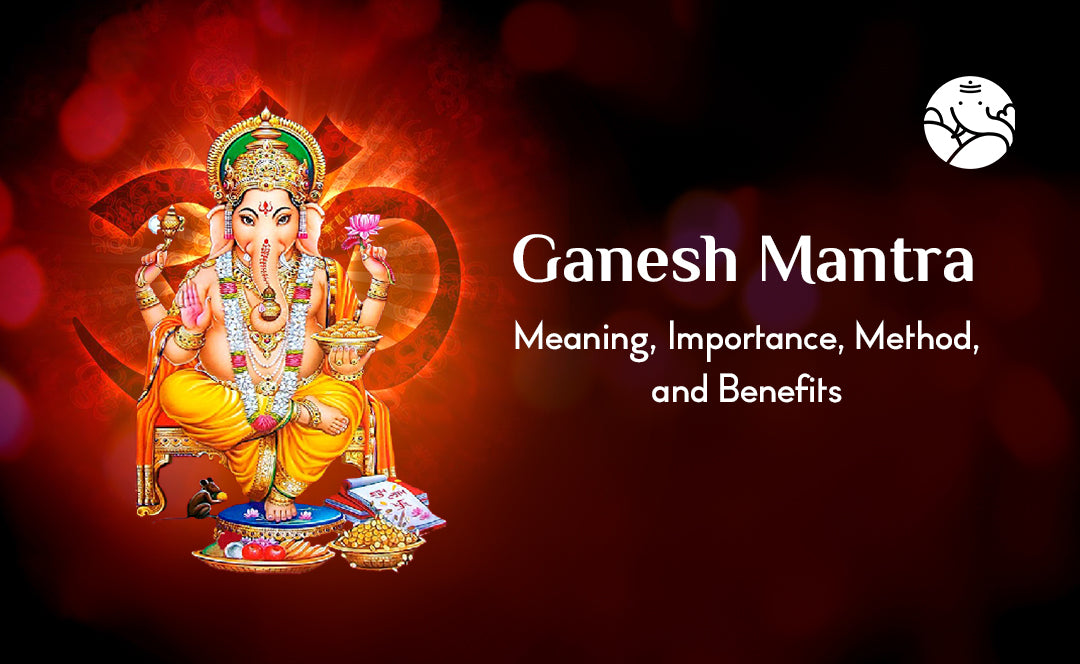 Ganesh Mantra: Meaning, Importance, Method, and Benefits
It is considered to fulfill every dream and desire of life by protecting it from obstacles and crises. Lord Shri Ganesh Ji has been given the best place in Hindu culture and worship. Lord Ganesha worship is said to be mandatory first in every auspicious work. The deities also offer prayers to Ganesha to complete their tasks without any hindrance. This is because the gods themselves have made a law for their ancestor worship. By worshiping Lord Ganesha, the achievement of meaning, learning, intelligence, discretion, fame, fame, and accomplishment are easily achieved. By chanting Lord Ganesha, the destroyer of such obstacles, with the following mantras, obstacles, laziness, diseases, etc. All the obstacles are removed by reciting Shri Ganesh Mantra.
Vakratunda Ganesh Mantra
वक्रतुण्ड महाकाय सूर्यकोटि समप्रभ ।
निर्विघ्नं कुरु मे देव सर्वकार्येषु सर्वदा ॥
Vakratunda Maha-Kaaya Surya-Kotti Samaprabha
Nirvighnam Kuru Me Deva Sarva-Kaaryeshu Sarvadaa
Meaning- Oh Lord Ganesha, your aura is like the light of crores of suns. I bow to you Please make all my work hassle free forever.
Benefits Of Vakratunda Ganesh Mantra
This mantra of Ganesh Ji is chanted before starting any work in Hinduism. Chanting this mantra gives success in work. This mantra is especially fruitful for the worshipers of Lord Ganesha. By chanting this mantra, all your works are completed and you get fame. Chanting this mantra gives immense benefits. Due to the boon of Goddess Saraswati, Lord Ganesha is also called the God of knowledge and wisdom and he develops the intellect. Lord Ganesha is the first deity to be worshiped and chanting this mantra of Shri Ganesha first thing in the morning is believed to complete all the work. Fear, doubt, and negative energies keep away by chanting this mantra of Lord Ganesha. Lord Ganesha also bestows strength on man for success and growth.
Ganesh Gayatri Mantra
ॐ एकदन्ताय विद्धमहे, वक्रतुण्डाय धीमहि, तन्नो दन्ति प्रचोदयात्॥
Aum Ekadantaya Viddhamahe, Vakratundaya Dhimahi, Tanno Danti Prachodayat
Meaning- We bow to Lord Ganapati, who has ivory teeth and who is omnipresent. We pray to Lord Ganesha to grant us more wisdom and illuminate our lives with knowledge. We bow before you.
Benefits Of Ganesh Gayatri Mantra
This is Ganesh Gayatri Mantra. Chanting this mantra 108 times with a calm mind for 11 days brings special grace to Ganesha. By chanting Ganesh Gayatri Mantra, the luck of the person shines and every work starts proving favorable. By chanting this mantra, a person gets strength, intelligence, and knowledge. With the effect of these mantras, positive energy develops in the house, and negativity is destroyed. Students get special benefits in their studies by chanting Shri Ganesh Gayatri Mantra and the mind becomes concentrated. As a result of the chanting of this mantra, the calamities that come on the person are destroyed and success is achieved in life. With the infinite grace of Lord Ganesha, there is wealth and happiness in the house.
Ganesh Mantra
ॐ गं गणपतये नमः |
Om Gan Ganapataye Namah
Meaning- To bow down to the almighty Ganapati with all your being and bless me by saying that O Lord, I may make your qualities a part of my personality.
Benefits Of Ganesh Mantra
This is the mantra of Lord Ganesha. It is also called the Beej Mantra of Lord Ganesha. Chanting this mantra before starting any new work does not fail. This mantra is used for spirituality and yoga practice. Before starting a new business, a new career, or a new job, before starting a journey or a new course in school, this mantra of Ganpatiji is recited, so that obstacles are removed and success in endeavors.
Rinn Harta Mantra
ॐ गणेश ऋणं छिन्धि वरेण्यं हुं नमः फट्॥
Om Ganesh Rinnam Chhindhi Varenyam Hoong Namaah Phutt
Meaning- 'Rinn -Harta' is another name for Lord Ganesha. The word literally means 'giver of wealth'. To understand it in more simple words, a Borrower means one who takes away our debt and frees us from debt. Lord Ganesha is the God who blesses us to be free from debt.
Benefits Of Rinn Harta Mantra
By chanting this mantra regularly, Ganesh Ji is pleased and the debt of the seeker starts getting paid. It is said that in whose house this mantra is recited even once, there can never be any debt or poverty in his house. If you have got a lot of debt and you are not able to give it, then garland the following mantra with a garland of coral daily till Anant Chaturdashi. You will get rid of debt.
Siddhi Vinayak Mantra
ॐ नमो सिद्धि विनायकाय सर्व कार्य कर्त्रे सर्व विघ्न प्रशमनाय सर्व राज्य वश्यकरणाय सर्वजन सर्वस्त्री पुरुष आकर्षणाय श्रीं ॐ स्वाहा ॥
Om Namo Siddhi Vinayakaya Sarva Karya kartrey Sarva vigna prashamnay Sarvarjaya Vashyakarnaya Sarvajan Sarvastree Purush Aakarshanaya Shreeng Om Swaha.
Meaning- O Lord of wisdom and happiness, You alone make everything possible. You are the remover of all obstacles and You have enchanted every creature in the universe, You are the Lord of all women and men, Evamastu.
Benefits Of Siddhi Vinayak Mantra
Chanting this mantra gives success in the journey. This Siddhi Vinayaka Mantra is one of the famous mantras of Lord Ganesha. This mantra helps in getting success in every endeavor. Mantra enhances memory power and concentration. Mantra gives you the power to conquer your enemies. Mantra helps to attain abundance with wealth and happiness.
Ganesh Mool Mantra
ॐ श्रीं ह्रीं क्लीं ग्लौं गं गणपतये वर वरद सर्वजनं मे वशमानय स्वाहा॥
एकदन्ताय विद्‌महे, वक्रतुण्डाय धीमहि, तन्नो दन्ती प्रचोदयात् ॥ ॐ शान्तिः शान्तिः शान्तिः ॥
Om Shreem Hreem Kleem Glaum Gam Ganapataye Vara Varad Sarvajanjanmay Vashamanaye Swaha
Ekadantaya Vidmahe Vakratundaya Dhimahi Tanno Danti Prachodayat Om Shanti Shanti Shanti
Meaning- Ganesh Mool Mantra is one of the most concise and powerful Ganesh Mantras. This mantra celebrates the unique and divine form of Lord Ganapati (Ganesh) and his powers. The Ganesha Mool (Root) Mantra, starting with the chant of 'Om' invokes positivity, purity, energy, and the presence of Lord Ganapati in one's life.
Benefits Of Ganesh Mool Mantra
One of the most effective mantras is Ganesh Mool Mantra and if it is chanted, it provides positive energy around the person. Lord Ganesha is pleased by chanting this mantra. When this mantra is chanted with full faith, success and prosperity are attained.
Namavali Ganesh Mantras
There are many thousand names of Shri Ganesh, Gajanan, Lambodar, and Vinayaka. This Gajanan name pleases Shri Ganesha and he bestows the blessings of fame, fame, might, splendor, majesty, good fortune, success, wealth, grain, intelligence, discretion, knowledge, and brilliance
1. Ganadhyakshaya Mantra
ॐ गणध्याक्षय नमः।
Om Ganadhyakshaya Namah
Meaning- Ganadhyakshaya- Gana means 'group' and 'Adhyaksha' means 'one who is the leader of the group'. I bow to Ganadhyaksha.
2. Gajananaya Mantra
ॐ गजाननाय नमः।
Aum Gajānanāya Namaḥ
Meaning- Here Gajanan means the one who bears the head of the elephant. Gaja means elephant in Sanskrit. The meaning of this mantra is that if the Lord can lift the head of an elephant to survive and fulfill His duties, then we should also renounce our ego and lead a life of duty.
3. Vignanaashnay Mantra
ॐ विघ्ननाशाय नमः।
Om Vighnanashaya Namah
Meaning- Ganapati is also worshiped to remove obstacles from life. Here Vighna means obstacles and Nashanaya means remover of obstacles.
4. Lambodaraya Mantra
ॐ लम्बोदराय नमः।
Om Lambodaraya Namah
Meaning- Lord Ganesha is known to love his food. His belly is huge and round. Thus 'Lambodar' refers to him as a god with a big belly.
5. Sumukhaya Mantra
ॐ सुमुखाय नमः।
Om Sumukhaya Namah
Meaning- Sumukh means 'one with a pleasing face'. Lord Ganesha lost his beautiful face and had to wear an elephant face for life. Despite this, because the mind and nature of Lord Ganesha were so sweet and the soul was pure, his purity was reflected in his elephant mouth as well. That's why he looks handsome and cool. Everyone loves those faces.
6. Gajkarnikaya Mantra
ॐ गजकर्णकाय नमः।
Om Gajakarnakaya Namah
Meaning- Gaj means elephant and Karnikaya means ear. Lord Ganapati bowing to you like an elephant in the yard.
7. Vikataya Mantra
ॐ विकटाय नमः।
Om Viktaya Namah
Meaning- Here 'Vikat' means difficult.
8. Vinayakaya Mantra
ॐ विनायकाय नमः।
Om Vinayakaya Namah
Meaning- The name of Lord Ganesha is 'Vinayak' in the golden age. Vinayaka means 'everything under control and it also means 'God who solves problems.
Ganesh Mantra Chanting Method
To chant the mantra, you can sit on a pedestal made of red cloth but it should be clean and pure. You should use red sandalwood garland for chanting, it is the best. You should chant Ganesh Mantra while sitting facing the east direction, however, you can also chant the mantra by facing the north direction. To chant the mantra, you have to keep the idol or picture of Ganesh Ji in front of you and chant the mantra while meditating on Lord Ganesha in your mind. You can chant Ganesh Mantra at any time, but people chant this mantra according to their convenience in the morning, it is considered good for the chanting of this mantra in the morning.
Conclusion
Simple mantras of Shri Ganesh will be found everywhere but we are giving those mantras of Shri Ganesha which are a bit difficult but if proven, then there are no other effective and powerful mantras like these. If you want to know more about the benefits of Ganesh Mantra, then talk to astrologers.