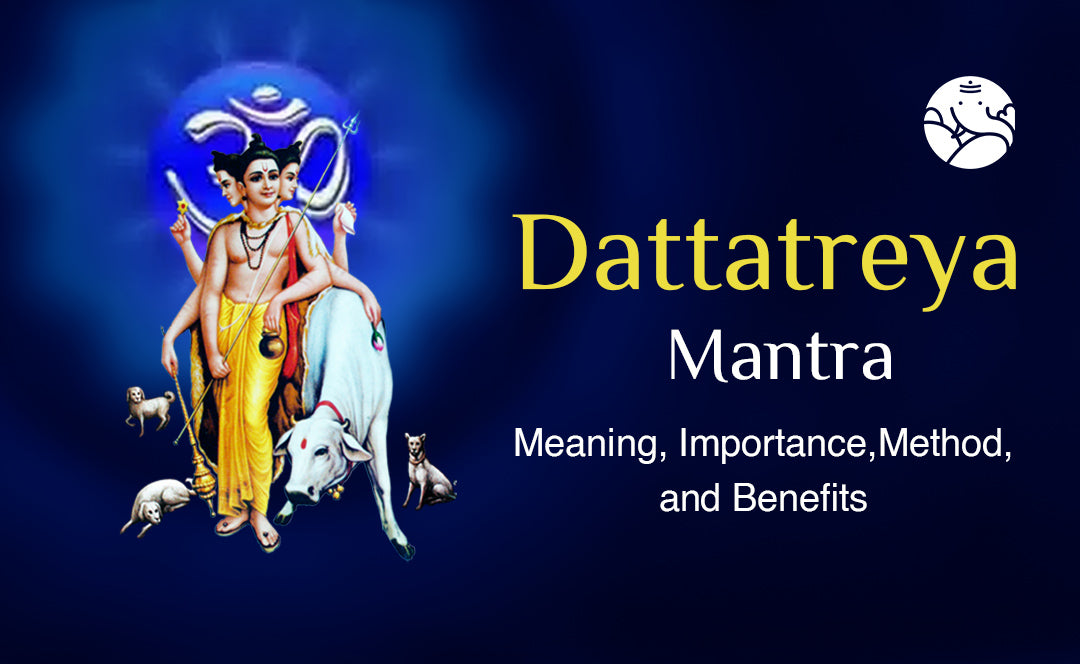 Dattatreya Mantra: Meaning, Importance, Method, and Benefits
According to religious beliefs, Lord Dattatreya is the form of Tridev Brahma, Vishnu, and Mahesh. It is believed that he had received education from 24 gurus. It is said that the Dutt sect was born in his name. Talking about his main temples, it is said that he has many famous temples in South India. Astrologers tell that on the day of Dattatreya Jayanti, it is more important to worship him properly. That's why we are going to tell you about some special mantras given in religious scriptures, by chanting which you can get many benefits.
Dattatreya Mantra / Datta mala mantra
ॐ द्रां दत्तात्रेयाय नमः 
Om Dram Dattatreya Namah
Benefits Of Dattatreya Mantra
By chanting these above mantras of Lord Datta, one not only gets rid of various troubles in life but also by regular chanting of these mantras, one gets rid of Pitra Dosha. If you have Pitra Dosh in your Kundli, then you can get rid of it by chanting these main mantras. These mantras should be chanted regularly 108 times with Sphatik Mala.
The poverty and poverty of the devotee of Lord Dattatreya go away and they get unlimited wealth, houses, vehicles, servants, and all kinds of physical, mental, and physical happiness and peace. Domestic, family, and social troubles go away and good relations with the husband or wife remain.
True devotion to Lord Dattatreya protects him from disease, illness, and all accidents, they are protected from the enemy, secret enemy, evil planets, ghost demons, and black magic removing.
The devotee makes spiritual progress and attains enlightenment, and the possibility of awakening their Kundali becomes intense. Some seekers get divine, supernatural and powers to see the past and future.
Dattatreya Maha Mantra
दिगंबरा-दिगंबरा श्रीपाद वल्लभ दिगंबरा
Digambara-Digambara Shripad Vallabh Digambara
Benefits Of Dattatreya Maha Mantra
This is fierce positive energy driving Dattatreya Maha Mantra in which Brahma, Vishnu, and Shiva are mentioned together, therefore by chanting this mantra with unwavering devotion and faith in Lord Dattatreya everything can be possible, and the impossible can become possible goes.
Dattatreya Beej Mantra
ॐ द्रां
Om Dran
Benefits Of Dattatreya Beej Mantra
By chanting this mantra of Dattatreya regularly 108 times with Sphatik Mala, one can get rid of mental troubles. Especially on the day of Guru Purnima and Dattatreya Jayanti, if the above mantra is chanted, it proves to be very beneficial.
Dattatreya Gayatri Mantra
ॐ दिगंबराय विद्महे योगीश्रारय् धीमही तन्नो दत: प्रचोदयात
Om Digambaraya Vidmahe Yogishraray Dhimahi Tanno Dat: Prachodayat
Benefits Of Dattatreya Gayatri Mantra
These are those mantras, by chanting which not only the troubles of human life go away, but if you are troubled due to Pitra Dosh, then they also get resolved immediately and the grace of Pitra Dev starts and life becomes happy. it happens. Lord Dattatreya is omnipresent, by worshiping him man gets wisdom, knowledge, and strength. Dattatreya Gayatri Mantra is also effective in removing enemy obstacles.
Dattatreya Mantra Chanting Method
Chant the Dattatreya mantra for about 5 minutes remembering Lord Dattatreya. The chanting of the mantra can be done on any day and there is no tantra, rule, or restriction to chanting this mantra. These mantras should be chanted regularly 108 times with Sphatik Mala.
Worship Method of Dattatreya Jayanti
Worshiping Lord Dattatreya, the son of Maharishi Atri and Mother Sati Anusuya bestows the blessings of the Tridevs. It is believed that being pleased with the test of the chastity of Mother Anusuya, the Tridevs jointly took birth as her sons. On the day of Dattatreya Jayanti, establish the picture or idol of Lord Dattatreya on a white seat. First of all, anoint them with Ganges water. White-colored flowers or sweets should be offered to Lord Dattatreya in worship. Reciting Avadhoot Gita in worship on this day gives them freedom from Pitridosh. After this, after chanting his mantras, one should recite Dattatreya Stotra at the end of the worship.
Conclusion
Trilok Guru Shri Dattatreya is the combined form of Lord Brahma, Shri Vishnu, and Shivji. A very simple but very wonderful and miraculous mantra should be chanted to get the ultimate happiness and bliss of life by concentrating on Lord Dattatreya. If you want to know more about the benefits and worship method of Dattatreya Mantra, then talk to astrology.