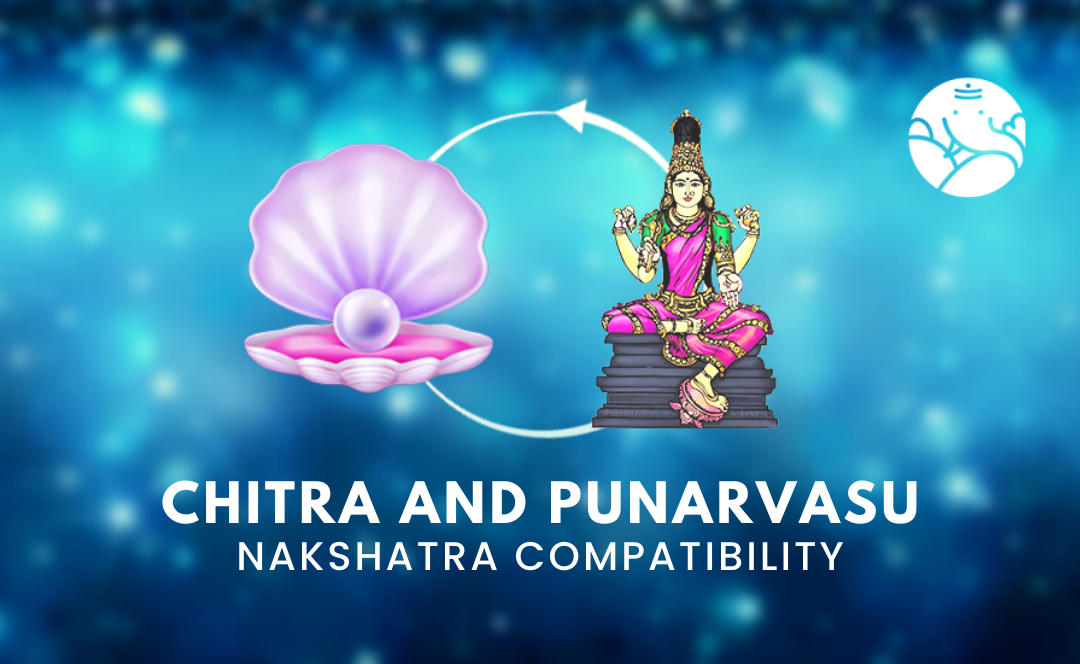 Chitra and Punarvasu Nakshatra Compatibility
Chitra Nakshatra, the fourteenth constellation in Vedic astrology, spans the sky from Virgo 23 20′ to Libra 6 40°. Its principal mission, the fiery red Mars, not only gives people the willpower to strive, but also intensity, intelligence, and sensitivity The inhabitants of Chitra Nakshatra are referred to as lonely warriors because this natal star is also known as the "isolation star." They are also the artisans among us. They enjoy working with heat since that is what forges them. They enjoy making things and enhancing their beauty. However, this also means that they are less about the inherent qualities of folks and more about their outer appearance.
The Punarvasu Nakshatra, whose people are endowed with life's wisdom, is ruled by Jupiter. The deity of Punarvasu Nakshatra is the Goddess Aditi, the mother of all gods. She is the goddess of wealth and stands for the limitlessness of an individual or the one who knows no boundaries.
This Nakshatra is represented by a "Quiver," which is a container for arrows. It has a profound significance. Similar to how an arrow quiver returns after being shot. The people of Punarvasu had a propensity for rising from the dead and returning from places where no recovery was predicted.
Chitra and Punarvasu Nakshatra Love Compatibility
They might not have partners at a young age. Once they reach the age of 25, they will be in a committed relationship. They will express their feelings to their beloved and will discuss every decision with them. They need the advice of a Love Marriage Specialist before taking great decisions in their life.
Chitra and Punarvasu Nakshatra Marriage Compatibility
They have a greater likelihood of having an unpleasant marriage and second marriage, as well as dissatisfaction and worry over their spouse's health. There may also be ongoing conflicts with other family members, which could ultimately lead to mental health problems. Marriage Predictions by date of birth will reveal the actual scenario.
Chitra and Punarvasu Nakshatra Career Compatibility
According to career predictions, Punarvasu male cannot succeed in the world of business because he is a lone wolf and cannot operate in any industry where he will need to work in collaboration with others. Apart from that, they will succeed as professors or theatre presenters, which is what suits them most. Due to adverse stars, they should be more cautious while making significant decisions till the age of 36.
Chitra and Punarvasu Nakshatra Friendship Compatibility
Being connected with them might occasionally be stressful because they gradually lose their likeability as they become older. They will not value their friends when they will achieve everything in their life.
Chitra and Punarvasu Nakshatra Sex Compatibility
Their symbol of sexuality is a cat. They love to be in a cheerful sexual relationship. Sometimes they try to trick their sex partner by making false promises. They enjoy each and every moment of having sex. 
Positive Impact of Chitra and Punarvasu Nakshatra Compatibility
It is thought that males born in the Punarvasu Nakshatra are extremely pious and devout. When they are small, they often behave well and have a decent disposition, but as they become older, they gradually start acting more snobbishly and arrogantly. They are not materialistic since they are typically content with what they currently have, even though they occasionally want something they cannot have. Illegal activity is something that they will not tolerate, and they will not engage in it themselves or for a relative to do so. They can also be extremely kind and compassionate. 
Negative Impact of Chitra and Punarvasu Nakshatra Compatibility
Sincerity makes it difficult for them to run a successful business and accumulate wealth. There may be instances when they disagree, but they won't necessarily be important enough to cause them to worry. They have the propensity to see the shortcomings in others and turn them into their personal enemies; this trait will set them apart from other people. They talk quite honestly and lack empathy for others' sentiments.
Conclusion
By giving your all, you will succeed. You don't typically give anything your all very often. You frequently take things half-heartedly. But if you do put your mind to anything, it will almost certainly succeed.
You have the propensity to overthink everything. Your intellectual capacity is impressive, yet you might not know when to put your knowledge into action. It could turn into a sort of defense mechanism you employ to avoid handling disputes or making choices. Take Online Astrology Consultations for a better life.