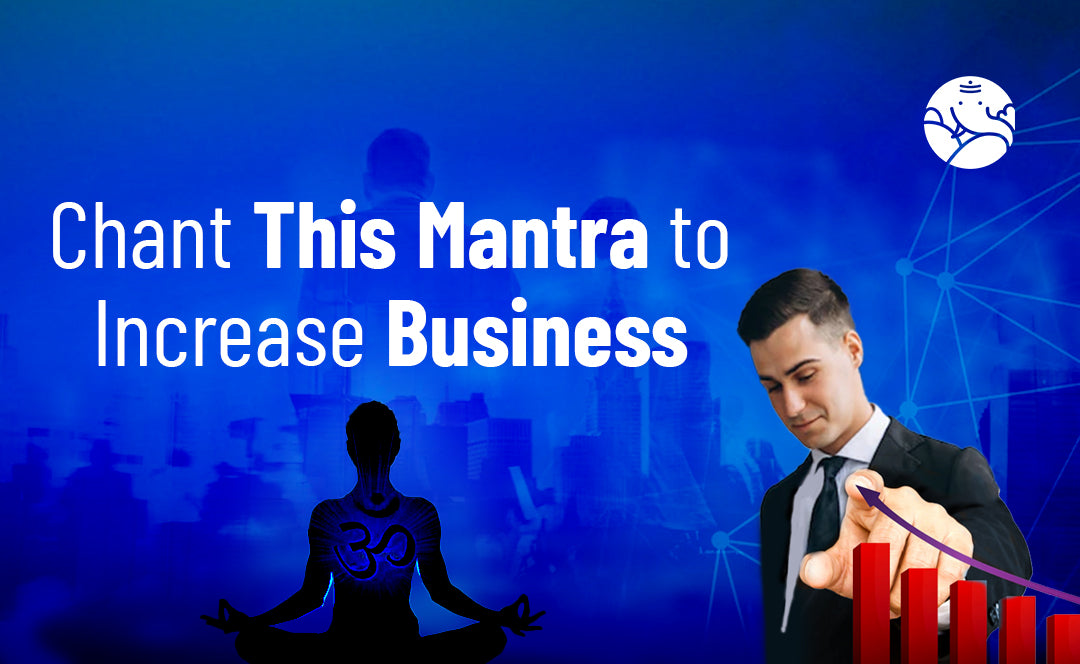 Chant This Mantra to Increase Business
According to Business astrology, mantras have great power. With the influence of mantras, any deity can be brought under control and they can be made to do their work. According to legend, one such powerful mantra was given by Maharishi Durvasa to Kunti, the mother of the Pandavas. As a result, whichever deity Mother Kunti wanted to call to her, that deity had to come to her and fulfill the wishes of Mother Kunti. With the influence of the same mantra, they called many gods to him from time to time and received many mighty sons as a boon from them. Similarly, if you also do some business etc. and your profit from that business is decreasing. So you can also increase your business by chanting some mantras and get huge profits. So let's know about some such infallible Shabar mantras, chanting of which will not only increase your income. Rather, your business will also increase and you will not need any solution again.
According to the experts of astrology, among the Lakshmi Prapti Mantras, Shabar Mantras for Lakshmi Prapti are considered fruitful soon. Siddhidayak Shabar Mantras were composed by Guru Gorakhnath etc. Yogis. In these mantras, mantras have been given for the fulfillment of every deity and every type of purpose. Lakshmi Prapti Mantra is also included in these. It is easy to prove these mantras in the modern environment and there are fewer chances of adverse effects in it, but this type of Lakshmi Prapti Mantra is rare. In such a situation, by chanting Shabar mantras at an auspicious time to get Lakshmi, the desired result is achieved.
Business Growth Shabar Mantra
श्री शुक्ले महाशुक्ले, महाशुक्ले कमलदल निवासे श्री महालक्ष्मी नमो नमः। लक्ष्मी माई सबकी सवाई, आओ चेतो करो भलाई, ना करो तो सात समुद्रों की दुहाई, ऋद्धि नाथ देवों नौ नाथ चैरासी सिद्धों की दुहाई। 
Shree Shukle Mahashukle Kamaldal Nivase shree Mahalakshmyai Namah: Lakshmi Mai sabki Sawai Aavo cheto karo bhalai, na karo to sat samudro ki ruddhri nath devo nau nath chaurashi siddho ki duhai
Benefits of Business Growth Shabar Mantra
Chant a garland of this mantra regularly, and there will be progress in the business. After chanting, after saluting all four directions at the shop, give dhoop-lamps and then transact, money will be gained. Chant this mantra 1.25 lakh by worshiping with incense and offering offerings, Lakshmi's arrival and miracles will be visible. Every work will be successful, and Lakshmi's grace will remain.
Shabar Mantra To Increase Sales In The Shop
ऊँ भंवर वीर तू चेला मेरा, खोल दुकान बिक्री कर मेरा। उठे जो डण्डी बिके जो माल भंवर वीर सो नहीं जाय।।
Om Bhanwar Veer, tu chela mera, khol dukan bikri kar mera. uthe jo dandi bike jo mal Bhanwar Veer so nahi jay.
Benefits of Shabar Mantra to Increase Sales in the Shop
After taking bath in the morning on Saturday, taking 21 whole grains of black urad in hand and reciting the said mantra 21 times, and scattering it inside the shop, the sale of the shop increases unprecedentedly.
Conclusion

In today's era, everyone first wants to please Goddess Lakshmi, the goddess of wealth and grains, and get her blessings. The reason is also clear that the present situation of money in the world has become very important. Let alone living, now even respect is done by looking at a person's wealth. And this situation is not only in India but in the whole world, that's why in today's era, the kind of economy the country has, it is considered powerful. If you also want to get the blessings of the goddess of wealth, then you can know about the mantra by talking to astrologers.