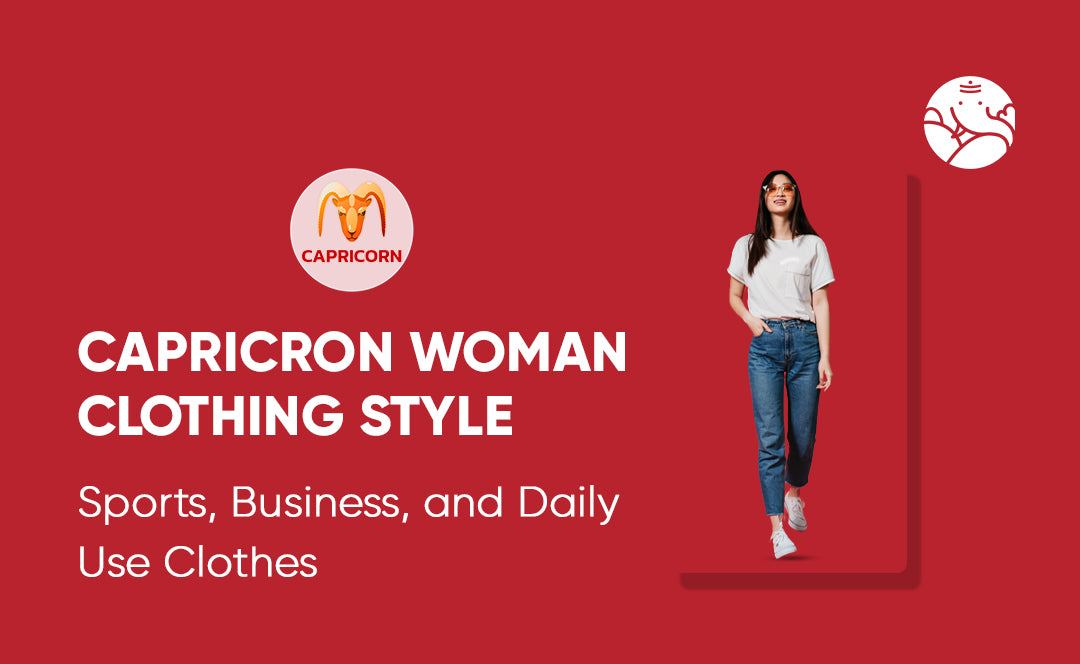 Capricorn Woman Clothing Style: Sports, Business, and Daily Use Clothes
Intelligent, ambitious, and full of self-confidence, the Capricorn woman always prefers to keep the reins in her hands, keeping control over everything in every situation in life. Depending on the positions of the planets and constellations in the horoscope, you naturally have the qualities of a leader or leader. Capricorn Clothing Style women hold a special place among all zodiac signs due to their refined, timeless, and elegant attire. The amazing art of keeping calm and control over oneself and the environment around us even in adverse circumstances is only in Capricorn women. It only happens.

Ruled by Saturn, Capricorn women belong to an earth sign that likes to take their mission, status, and ambitions seriously. You always choose what suits you, regardless of how others may perceive your attire. Looks good Capricorn Fashion Style is influenced by the earth element and while being very thrifty likes to make expensive purchases according to their needs and preferences. Capricorn women love to dress in classic neutral shades like navy, brown, black, white, gray, and khaki. While choosing jewelry for yourself, you use bronze, silver, and gold, and you also like to wear antique jewelry.
Capricorn Women Wear Daily Use Clothes
The most comfortable one for a Capricorn woman's favorite daily outfit style is a sweat t-shirt paired with blue denim jeans. Which you like to club with a sweat jacket in the winter season. If you wear salwar kameez, then there must be a combination of black and blue in that too. You like to wear clothes in a daily style that requires minimum maintenance. You like to wear comfortable black shoes on your feet. Make-up is light and you like to enhance your natural beauty. You look good when your hair is cut and styled in the right shape.
Disheveled hair neither looks good on a Capricorn woman nor do you like to have it. According to the dress style, you adopt the hairstyle of open or tied hair. If you are going for a day outing with friends, then your attire becomes totally funky and colorful, as you choose your outfit to be in a completely fun mood. You go out for a walk in a jumpsuit with funky broad locks and flat heel sandals or flip-flops. On the other hand, if you dress up in Indian wear on a daily basis, go for a long cotton Kurti with a parlor or a palazzo, with your hair in a high bun.
The colors for your dank costume can be either super vibrant and flashy or totally subtle and pastel depending on your nature. While going shopping like this from home, you can also wear slippers in the simple lower-t-shirt of the house, because when you are in a relaxed mood, you do not like to change clothes and get ready.
Capricorn Women Sport Dresses
You prefer to do light exercises indoors rather than going to a gym to do heavy workouts to keep your body under control. But when you decide that you want to control your weight by going to a gym, So you choose the perfect workout outfit. Since you are an earth-element woman, you love mounting, trekking, and walking. While being a part of such outdoor events, you completely transform into a sporty woman by donning a trekking suit, trekking shoes, caps, and sunglasses.
Capricorn Women Business Dresses
Capricorn women are completely self-sufficient, that is the reason, that you mostly earn your livelihood by being associated with some kind of business or job. Your seriousness about your workplace can be gauged from the fact that many times you are seen in your office dressed from early morning till late night. For your business attire, you prefer to wear clothes that are stitched according to body measurements.
You do not like to wear loose-fitting clothes at your workplace. When it comes to colors for your business attire, black, blue, gray, or other pastel colors tend to be the first choices. Even if you wear an Indian dress suit or saree, you pay special attention to the quality, color, and style of the fabric. If you choose to dress in a western style, you would choose a light blue or green shirt of the right size with black or gray trousers, worn with black medium heel belly shoes.
Wearing a wristwatch is one of your most essential accessories for the workplace as you like to do and get everything done on time. Properly groomed and cut hair plays a very important role in making your professional image impressive. Even if you keep your hair open, you still prefer to clip or clutch them properly, because you do not like it at all because of scattered hair causing obstruction in any work.
Apart from the watch, you also like to wear a small slogan pendant on a thin chain around your neck. You love to wear any small-size antique earrings with Indian outfits. It is very important to have an office bag with you, without it you feel incomplete. Because at the workplace you like to use your personal pen, laptop, calculator, etc. Wearing light makeup, you like to impress everyone with your naturally impressive beauty.
Conclusion
Capricorn women may choose to dress for their workplace or to go to a party or celebration. You show equal seriousness in all of them. Talking about western dresses, you can make that party evening more special with a long evening gown with high heel belly shoes. If you want to know about the fashion style of Capricorn women, then talk to astrology.