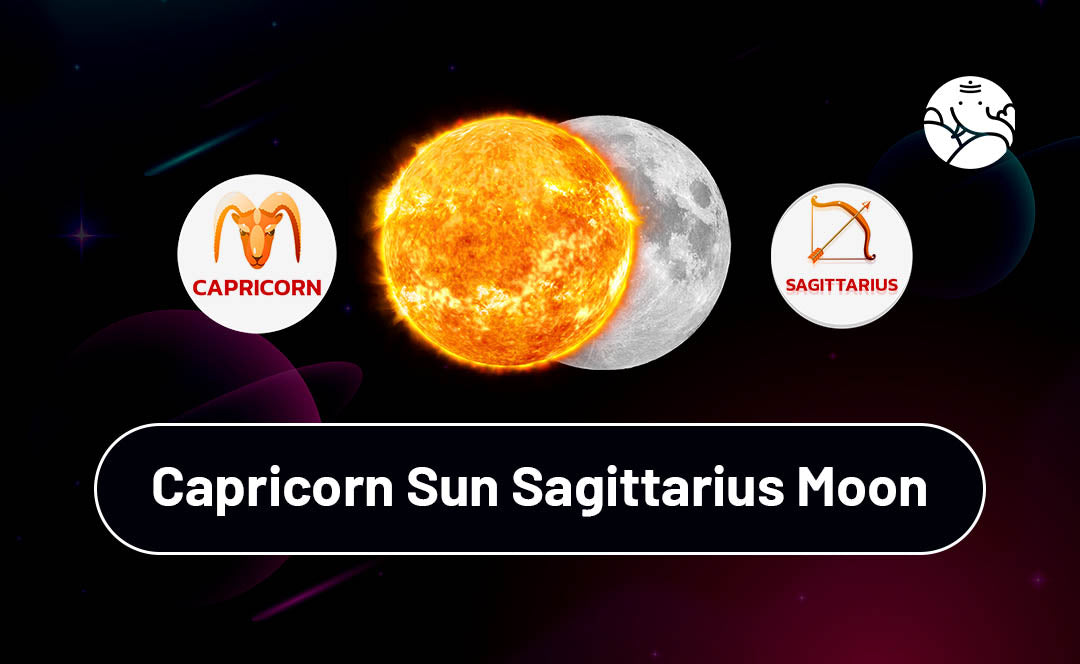 Capricorn Sun Sagittarius Moon
The Capricorn Sun Sagittarius person with a thirst for adventure and discovery. They have a need for expansion that propels them to reach higher and move forward. They have a strong work ethic, focus, and vision that allows them to move forward in life and make their biggest ambitions possible. Settling for a normal life is not for them as they want to continue to see, learn and experience new things throughout their life.

People with Sun in Capricorn and Moon in Sagittarius are reserved but not as serious as they seem. They have a humorous attitude and a dry wit that makes them fun and entertaining. They have a sharp mind and are likely to have writing ability, especially for satire. Their views are likely to be more liberal and progressive, with an emphasis on humanitarian ideals and standing up for the oppressed.

Capricorn Sun Sagittarius individuals are usually very friendly and generous, but they also have a competitive side that makes them formidable when it comes to conflict. They generally have high aspirations and a big-picture mindset. They dislike pessimistic thinking in other people and talk about proving wrong to those who doubt them and what they are capable of. Their confidence is backed by their achievements and undeniable track record.

They are problem solvers who can be very quick and responsive in emergency situations. These individuals are very practical, relying on their experience and logic to find their way. However, they are also creative and good at thinking to later engineer unconventional; Solutions when needed. Experimentation and exploration are their joy and hence they do not shy away from taking the road less travelled.

Capricorn Sun Sagittarius individuals can excel as entrepreneurs, politicians, and capitalists. Their naturally curious and thoughtful nature allows them to understand things on a deeper and deeper level than most people. They can be fountains of wisdom, especially in their later years. They have a philosophical bent and use strong logic and abstract thinking skills to understand higher truths and spiritual principles.
Capricorn Sun Sagittarius Moon Man 
The Capricorn Sun Sagittarius man is reliable rather than attractive. Their reliability and efficiency make them good candidates for positions of leadership and responsibility. He has an independent mind and will not bow down easily to authority. Capricorn with Sagittarius will always be the most reliable and loyal. He is honest and courageous and this position on the Moon gives them a great sense of humor.

The main problem faced by a man born under this horoscope is his attitude toward money and possessions. Generally, he is not motivated by financial gain. He tries to avoid money problems altogether. He has little or no interest in banking matters, stocks, or real estate. These people take big risks to avoid routine tasks and elaborate tasks.

Sun in Capricorn, Moon in Sagittarius is a male art lover. He puts a lot of thought and attention into choosing the right words and the right time to express his feelings for himself. He takes life with a sense of humor but can be serious about the things he feels passionate about and focused on creating their own version of success. Sometimes appearing stoic and distant to others, he actually has a passionate, loyal side.

The Sagittarius man is always on his way to the stars in his quest for self-improvement and great achievement. He is made of strong ambition and exhibits a positive can-do attitude that is very magnetic to others. This man is capable of achieving whatever he sets his mind to, and people immediately notice his highly developed sense of justice. Shooting from the hip with a little forethought, there are times when this man will rush into delicate situations without any idea of the consequences.

Sun in Capricorn, Moon in Sagittarius is a cool guy who is also an adventurous explorer. Seriously, if you want a traditional man who is also dashing, this is your man. This is a man who values security but lives for excitement.
Capricorn Sun Sagittarius Moon Woman 
The Capricorn Sun Sagittarius woman has an adventurous spirit and can move through life with an enthusiasm for exploration, adventure, and play. She is devoted to those she loves and values her friends very much. She is fiercely independent, often seeking solace in life as the most reliable companion. She may emotionally withdraw from others when she feels hurt or insecure.

Capricorn Sun Sagittarius Moon women can be calm in front of others, never short of opinions or suggestions when interacting with friends or family. She is often reclusive, moody, and keeps a lot to herself. She remains silent and can be stubborn in getting her point across. She is temperamental and has great self-esteem.

She wants a lot from life but refuses to take help from others. She rarely feels loved but will give love to those whom she loves deeply. Capricorn Sun Sagittarius Moon women have good spirits that are built solidly on a secure sense of self; These are women who like themselves just the way they are.

The Sagittarius Moon inspires active enthusiasm and adventure while the Capricorn Sun can bring an element of organization and wisdom. The combination of these two zodiac signs is very powerful. They know how to complete every task step by step and always reach the desired goal. But inside them lives an active, impulsive adventurer who seeps into their soul, no matter how much they grow up.

They always power their spirit of independence with a combative intuition that makes them attractive to most people around them. She is not only a leader, but also an organizer, philosopher, and orator among all the people she comes in contact with. She is as enchanting as a firefly and can mesmerize anyone with her smile. She can be extremely emotional or completely cold as ice.

She is a successful executive with a great sense of humor and is a home enthusiast who loves to cook. She is someone who strives for excellence and uses it as motivation to do whatever she sets her mind to. She often defines success on her own terms and is not deterred by the obstacles that come her way. She understands other points of view and is tolerant of others. She loves to play the role of conqueror and will conquer the world with her adventurous spirit.
Capricorn Sun Sagittarius Moon Personality
According to Personalised Prediction, during times of gloom and bad weather, you can always count on Capricorn Sun Sagittarius Moon people to maintain a sense of humor. They will be able to make people laugh no matter what the situation. Even though they are involved in a lot of projects, they are very balanced.

Charming and relaxed, these people will always attract people as they are more sociable and more open than other Capricorns. While having fun, they can concentrate on the matter at hand without any problems. They want to be the boss and they probably will be, because there is no one smarter and more determined than them.

While striving to be progressive, they will respect tradition. They will always want to associate philosophical truth with their existence. While they aspire to be spiritual, they will work to leave something behind in their lives. They are restless and love to travel, they will always feel like they are in a hurry somewhere. Being overly spirited, it would be normal for them to consume a lot of energy.

Ambitious, they are straightforward when it comes to talking about their goals. It's great to see him being diplomatic and extremely honest at the same time. Either way, they would never lie. Their ideals are high and their values are well-founded.

Their quick way of thinking makes them very good with words. And the more they develop their speech, the faster they will achieve success. But they have to keep in mind that their words have a deep impact on others. They want intellectually capable people like themselves because they are not comfortable when they can't have an intelligent conversation.
Capricorn Sun Sagittarius Moon Love 
According to Love Marriage Astrologer, Capricorn Sun Sagittarius Moon natives want discipline and follow rules. They imagine what their relationship should be like, and they want to act like they have in mind. These natives are authoritative, so their partners must ensure that they rule. But they also need someone who can persuade them to be less stubborn in their ways.

If they are not controlled to be more agreeable, they may end up in the relationship. The Moon in Sagittarius heightens their need to be independent. It's not that they can't commit, but they are just too curious about everyone and everything to wander off all the time. Energetic and impressionable, these people tend to be more active than others. Their main issue is that they can't take things too seriously. At least their funny homely ways can bring comfort to even the most nervous person.
Capricorn Sun Sagittarius Moon Marriage
Capricorn Sun Sagittarius Moon is in conflict when it comes to love life, as one part of them wants a traditional, stable married life, family, and children, and the other, a younger person, doesn't want to settle down. Their Sagittarius Moon suggests they wait a little longer to experience more of the world before settling down.

According to Marriage Predictions, they forget the idea that it is possible to share an adventurous life with your family. They will never sacrifice these things, even if it is only for their partner. They believe in the concept of gathering knowledge for growth. There is always something new for them to learn and experience.

Although their personality can be secretive, they are very curious when it comes to knowing the secrets of others. So, if you are in a relationship with them, you will feel troubled because they will question you every now and then. They will be close and loyal to their partner. They can be controlling and manipulative. They may be in a relationship, you should expect their personal space as well.
Capricorn Sun Sagittarius Moon Career
Capricorn Sun Sagittarius Moon Career Perfection They want a career that allows them to explore the world, meet new people, and learn new things. They gravitate towards fields such as travel writing, photography, or even archaeology. Their natural curiosity and enthusiasm make them well-suited for any career that involves exploration and discovery.

Keep following that passion, and you will find success in your chosen career path. Also, sometimes they will find that setting clear and achievable goals can help them stay focused. It is important to stay organized and prioritize tasks to avoid becoming overwhelmed or distracted. Surrounding yourself with positive influences and rewarding yourself for progress can also help keep them focused and moving toward their goals.

As Capricorn Sun Sagittarius Moon people, they have a natural thirst for experience and inquiry, which makes them well suited for careers that involve travel and a sense of independence. Their positive and optimistic attitude makes them ideal candidates for jobs that require them to interact with people from all walks of life. They may consider a career in tourism, where they can combine their love of travel with their outgoing personality.

According to Career Report Astrology, a career in journalism or writing might also suit them, as they have a natural curiosity about the world and a talent for storytelling. Their strong sense of ethics and justice may make them well-suited for careers in law or politics, where they can fight for what they believe in and make a positive impact on society. Finally, with a natural charisma and ability to inspire others, they may also consider pursuing a career in education or coaching, helping others reach their full potential.
Conclusion
Capricorn Sun Sagittarius Moon An extremely interesting personality, but not the easiest to get along with. They are looking for a balance between their restless, adventurous spirit and the traditional, strict part of them. However, most of them know that it is something they should strive for and remain optimistic about it. They are honest and trustworthy people, with a more positive outlook towards life than Sun Capricorns in general. If you want to more about Capricorn Sun Sagittarius Moon then talk to astrologers.