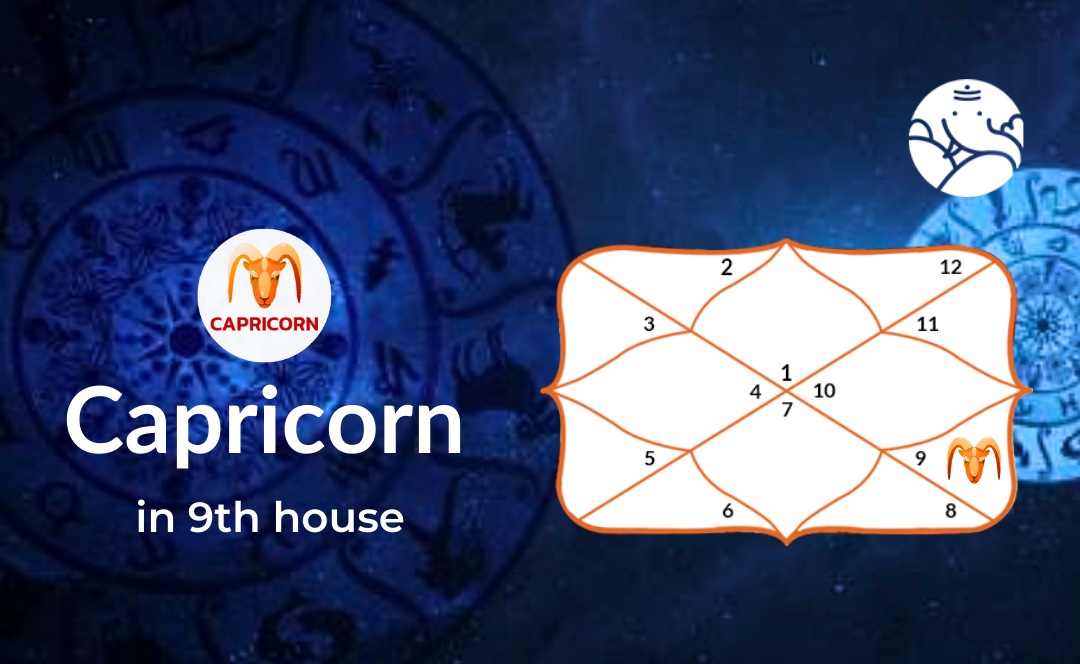 Capricorn in 9th House
An astrological placement of Capricorn in the Ninth house has a significant impact on a person's views, academic pursuits, journey, and devotion. Capricorn signifies ambition, discipline, and realism, whereas the 9th House reflects one's philosophical beliefs, pursuit of knowledge, and investigation of many cultures. When these two factors come together, people tend to approach their metaphysical and mental endeavours severely and disciplined. They value conventional wisdom and seek a practical comprehension of intellectual and religious ideas. These people are conscientious students who aim for greatness in their academic pursuits. They could pursue excursions and learn with a disciplined perspective, looking for real-world opportunities to advance their development. Their Capricorn energy gives their intellectual and spiritual endeavours a sense of accountability and focus.
Capricorn in 9th House Astrology
An essential feature of astrology is the position of Capricorn in the 9th house of a birth chart. Saturn's ruling planet is Saturn's earth sign, Capricorn, which stands for ambition, discipline, and practicality. Higher learning, religious belief, and long-distance travel are all represented by the 9th house. This house benefits from Capricorn's presence when it takes a cautious and accountable stance on these topics.
People with Capricorn in the ninth house frequently need knowledge and often perform exceptionally well in school. They could go after advanced studies or undertake pursuits of knowledge and have a natural propensity for deep philosophical thought. These people strongly desire to combine their ambition with loftier values by viewing the external environment practically.
Consider requesting an online jyotish consultation with a qualified astrologer to receive a thorough analysis of your unique birth chart and personalised astrological advice. Exploring various cultures, faiths, and belief systems gives Capricorn in the 9th house a sense of purpose. They might embark on excursions to distant places for knowledge and horizon-widening experiences. This setting also highlights the significance of moral principles and ethical behaviour, aiding in these people's decision-making about their religious and intellectual pursuits.
Ninth House Astrology
In astrology, the Ninth House is significant since it stands for advanced learning, spirituality, thought, voyages, and growth as an individual. This home represents our ongoing research of other civilisations and philosophical systems and our quest for knowledge. It includes our relationship to ultimate truths, our religious or philosophical convictions, and our pursuit of wisdom. The positions of the elements and symbols in the ninth house reveal our interests in learning and religion, our yearning for adventure and travel, and our receptivity to new ideas. This home inspires us to widen our views, pursue further education, and go on adventures that advance our intellectual and personal development.
Positive Effects of Capricorn in 9th House
Having Capricorn in the ninth house has several advantageous implications for a person's life. A pragmatic and rigorous approach to further study, faith, philosophy, and travel is indicated by this placement. Individuals with Capricorn in the 9th House have a strong work ethic and a conscientious approach to broadening their worldview. They value the real-world application of their learning, which motivates them to seek advanced studies and achieve academic excellence. They can study philosophy and spirituality deeply because of their disciplined natures, searching for life-improving wisdom. Additionally, they can maximise the benefits of their travels by using them as chances for personal development and expanding their perspectives. The 9th House is influenced by Capricorn, encouraging people to pursue their intellectual and spiritual goals by instilling them with an awareness of duty and desire.
Negative Effects of Capricorn in 9th House
Capricorn in the ninth house can have some unfavourable impacts on a person's life. A rigorous and passionate attitude to higher study, theology, religion, and travel may result from this location. Individuals with Capricorn in the 9th House can turn extremely pragmatic and neglect the value of considering many viewpoints and opening themselves up to fresh ideas. They may be reluctant to take chances or leave their comfort zones due to their discipline, which makes it difficult for them to broaden their horizons fully. They also tend to be sceptical or contemptuous of spiritual or philosophical ideas that don't fit their pragmatic outlook. For people with this placement to ultimately benefit from the transformational effects of higher understanding and mental exploration, they must develop transparency, adaptability, and a readiness to embrace the unexpected.
Conclusion
In conclusion, Capricorn in the 9th House affects a person's further studies, religious beliefs, and travel in a favourable and unfavourable way. Some benefits include a realistic and disciplined attitude, an exemplary work ethic, and a desire for academic success. In their aspirations of knowledge and spiritual growth, these people place high importance on applying information. On the other hand, the adverse impacts can take the form of overly inflexible and dogmatic thinking, a reluctance to accept new concepts, and a scepticism towards views that do not align with their practicality. People in this position must strike an equilibrium between pragmatism and receptivity to gain from formal learning and the transforming impact of investigating many viewpoints and spiritual approaches.