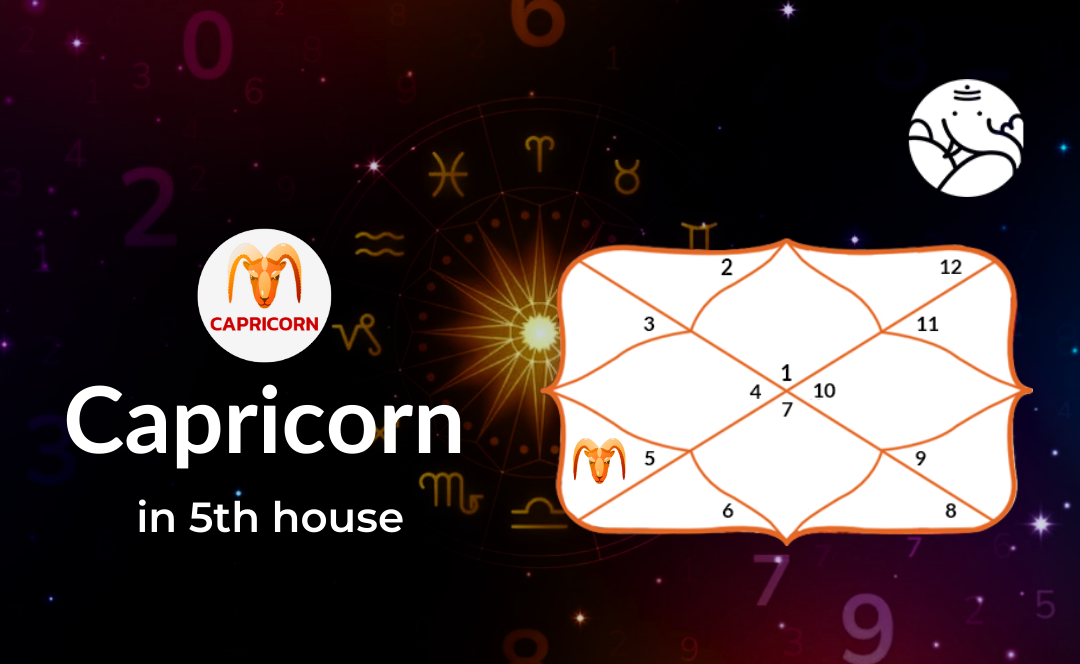 Capricorn in 5th House
In astrology, the position of Capricorn in the 5th house of a birth chart has considerable significance. It denotes a practical and systematic approach to self-expression, romance, and creativity. When exploring their artistic interests and pastimes, people with this placement often do it in a disciplined and organized way. They frequently perform well in fields that demand rigorous preparation and long-term thinking. Regarding love and relationships, people with Capricorn in the fifth house prefer stability and dependability and look for serious partnerships based on conventional ideals. Their parenting is also conducted with a serious and responsible attitude. Knowing how Capricorn functions in the fifth house can help one understand their creative and romantic tendencies.
Capricorn in 5th House Astrology
In an astrological birth chart, Capricorn in the fifth house represents a sensible and rigorous approach to imagination, love, and expressing oneself. People with such a position are probably organized and structured in their artistic pursuits and leisure activities. They might succeed in professions like writing, painting, or business that demand meticulous preparation and long-term thinking.

This location suggests a cautious and prudent approach to love and relationships. People with Capricorn in the fifth house frequently appreciate commitment and conventional values and look for stability and dependability in their romantic relationships. They might also take an organized and serious approach to parenting, putting their kids' long-term welfare first.

Seeking an online Jyotish consultation can offer individualized insights and assistance based on your particular birth chart if you want to fully comprehend how Capricorn in the 5th house affects your life. Their knowledge can guide you through the opportunities and difficulties unique to this placement, empowering you to make wise choices and reach your full potential in all facets of life.
Fifth House Astrology
In astrology, the fifth house stands for romance, children, self-expression, and creativity. It is linked to happiness, enjoyment, and achieving artistic goals. This house governs our capacity to express ourselves honestly and exercise our creative potential. Additionally, it denotes our love lives, dating activities, and the kind of mate we are drawn to. Our interests and talents are in the fifth house, affecting how we approach enjoyment and leisure time. In addition, this home has to do with offspring, conception, and the significance of parenting in the way we live. Knowing the importance of the fifth house can help us gain important insights into our artistic endeavors, romantic preferences, and parenting experiences.
Positive Effects of Capricorn in 5th House
Astrologically, having Capricorn in the fifth house of a birth chart has several advantageous implications. People with this placement frequently approach their artistic endeavors methodically and rigorously. They are exceptional at meticulously planning and carrying out lengthy artistic endeavors. Their organized thinking enables them to materialize their imaginative concepts, producing remarkable results. People with Capricorn in the fifth house desire consistency and dependability in their romantic partnerships, establishing strong and devoted unions. Their diligent and accountable approach to parenting guarantees that their kids are raised in a loving, safe atmosphere. Overall, this placement gives people the tools to unleash their creativity, build enduring relationships, and lay the groundwork for their family lives.
Negative Effects of Capricorn in 5th House
A birth chart with Capricorn in the fifth house may have difficulties and unfavorable outcomes. People in this location may find it difficult to spontaneously and freely express their creativity. Their practicality and discipline may prevent them from using their imagination and embracing unorthodox artistic expressions. In terms of romance, they could also be extremely careful and guarded, which makes it difficult to experience desire and unpredictability in relationships. When Capricorn is in the fifth house, their seriousness and responsibility can occasionally prevent them from being lighthearted and joyful in their interactions with kids. People in this placement must balance their regimented outlook and a desire to accept imagination, affection, and youthful delight.
Conclusion
In conclusion, Capricorn in the fifth house of a birth chart has various astrological effects. On the one hand, it allows people to approach their creative endeavors in a realistic and disciplined manner, empowering them to produce amazing results via meticulous planning and execution. In love relationships, they prioritize consistency and dependability, although this can occasionally result in the absence of surprise and excitement. Additionally, their serious, responsible approach to parenting guarantees a safe atmosphere for their kids, but it might prevent them from being playful. Balancing dedication and spontaneity, structure and creativity, and other competing forces is essential for people with Capricorn in the fifth house to maximize their positive traits while minimizing negative ones.