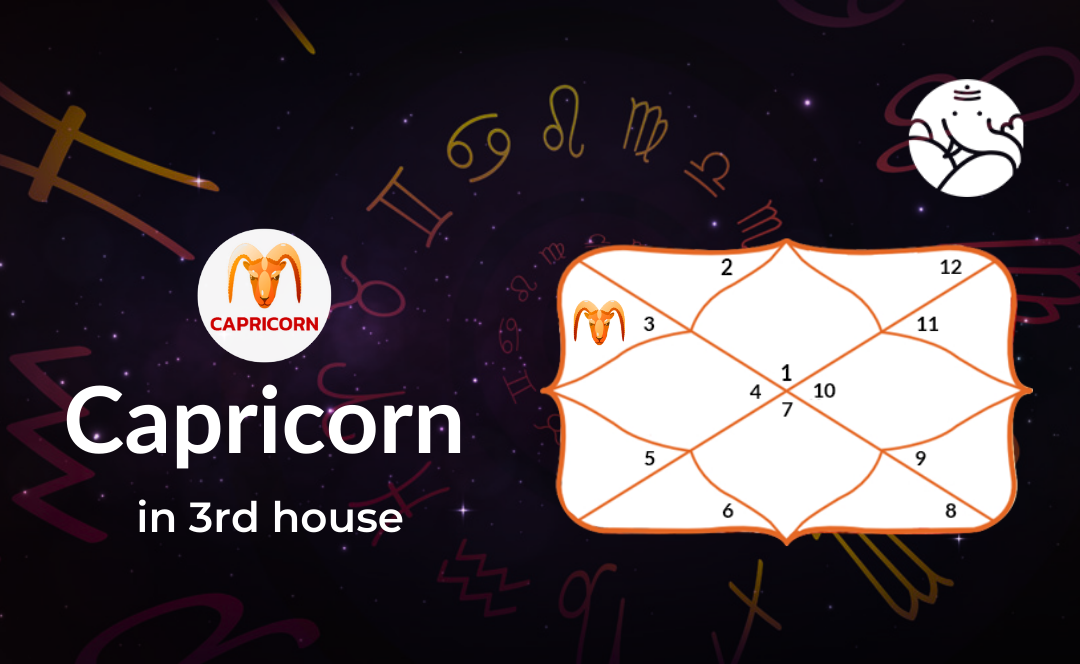 Capricorn in 3rd House
Capricorn in the third house in astrology affects a person's communication style, thinking, and immediate surroundings. The third house symbolizes education, siblings, local interactions, and neighbors. People prefer to pursue communication and learning with seriousness and discipline when Capricorn is in this house. In their learning process, they emphasize organization, structure, and usefulness. Additionally, their mentality is affected by this positioning, which makes them determined and goal-focused. People with Capricorn in the third house typically have an intense dedication to work and take a thorough approach to solving problems. They are reliable and responsible in their dealings with their siblings and neighbors. Overall, Capricorn in the 3rd House imbues people with a diligent and aspirational attitude that influences how they interact with others, learn new things, and interact with their immediate environment.
Capricorn in 3rd House Astrology
An astrologer's third house placement of Capricorn impacts a person's interpersonal relationships, learning capacity, and immediate surroundings. Their interpersonal and cognitive endeavors gain an intense and focused vigor when Capricorn occupies this house. These people have a logical and practical attitude to learning and choose organized and structured study techniques. They naturally gravitate towards expanding their knowledge and gaining experience in their chosen fields.
Getting advice through an online Jyotish consultation can be helpful for those with Capricorn in the third house. A knowledgeable astrologer can examine Their birth chart, who will consider the precise astrological combinations and locations, and give distinctive insights into how they interact with others and their learning ability. They can advise on how to communicate effectively, assisting people in expressing themselves clearly and authoritatively. Additionally, they can offer advice on improving their learning skills, such as developing a strict study schedule or looking into areas relevant to their careers.
Additionally, folks can benefit from an astrologer's advice through an online jyotish consultation to create immediate peaceful surroundings. They can guide establishing solid bonds with siblings or neighbors, encouraging open dialogue and cooperation. People with Capricorn in the third house can enhance their communication abilities, increase their knowledge, and foster an environment that fosters personal and professional development by knowing the specific astrological factors that apply to them.
Third House Astrology
In astrology, the Third House stands for relationships, education, siblings, close friends, and the immediate neighborhood. It is placed after the Second House and affects a person's communication and intellectual interests. This house controls people's ability to express themselves, their mentality, and their learning capacity. Additionally, it depicts interactions with family members, neighbors, and the neighborhood group. The Third House represents traits like curiosity, flexibility, and social interaction and is linked to the Zodiac sign of Gemini. Strong Third House placements are frequently associated with people who are gifted communicators, passionate learners, and seekers of intellectual stimulation. They appreciate relationships with family members and neighbors and look for chances to have deep intellectual discussions.
Positive Effects of Capricorn in 3rd House
The third house placement of Capricorn has various advantageous implications on a person's communication and intellectual endeavors. This positioning enables people to communicate clearly and authoritatively since they take their communication style seriously and systematically. They have great organizational skills, which facilitate learning and knowledge acquisition. Because of their practicality and tenacity, Capricorns become knowledgeable in their chosen fields, making them trustworthy sources of information. Additionally, their dependability and responsibility help them build solid bonds with their siblings and neighbor immediately s, creating a positive and peaceful environment. Capricorn in the third house generally enables people to speak well, broaden their philosophical perspectives, and preserve strong relationships with the surrounding people.
Negative Effects of Capricorn in 3rd House
Although Capricorn in the third house has many advantages, it can also have drawbacks. Communication that places too much emphasis on structure and utility could negatively affect creativity and spontaneity. These people could develop rigid thought patterns and reject fresh concepts or different viewpoints. They may also have a propensity to be unduly analytical or dismissive of other people's points of view due to their serious and methodical attitude. Furthermore, the placement's reputation for dependability and responsibility may pressure the employee to deliver accurate information or live up to expectations consistently. To be flexible and creative in expressing themselves and their cognitive interests, people with Capricorn in the third house must balance their realism and open-mindedness. Adopting a more adaptable mindset might enhance educational opportunities and promote deeper relationships with family members and neighbors.
Conclusion
Finally, Capricorn in the third house has a unique mix of favorable and unfavorable impacts on a person's communication style and intellectual pursuits. As they gain knowledge in their chosen industries, the advantages of a rigorous and focused attitude enable them to speak with authority and clarity. Strong connections with siblings and neighbors result from their dependability and organizational abilities, which help the nearby community. However, people must be aware of potential drawbacks, such as overly rigid thinking and critical behavior. It's critical to strike an equilibrium between pragmatism and flexibility to develop creativity, accept novel concepts, and sustain peaceful relationships. People with Capricorn in the 3rd House can communicate effectively, broaden their perspectives, and establish significant connections in their immediate vicinity by using favorable traits while being aware of the potential pitfalls.