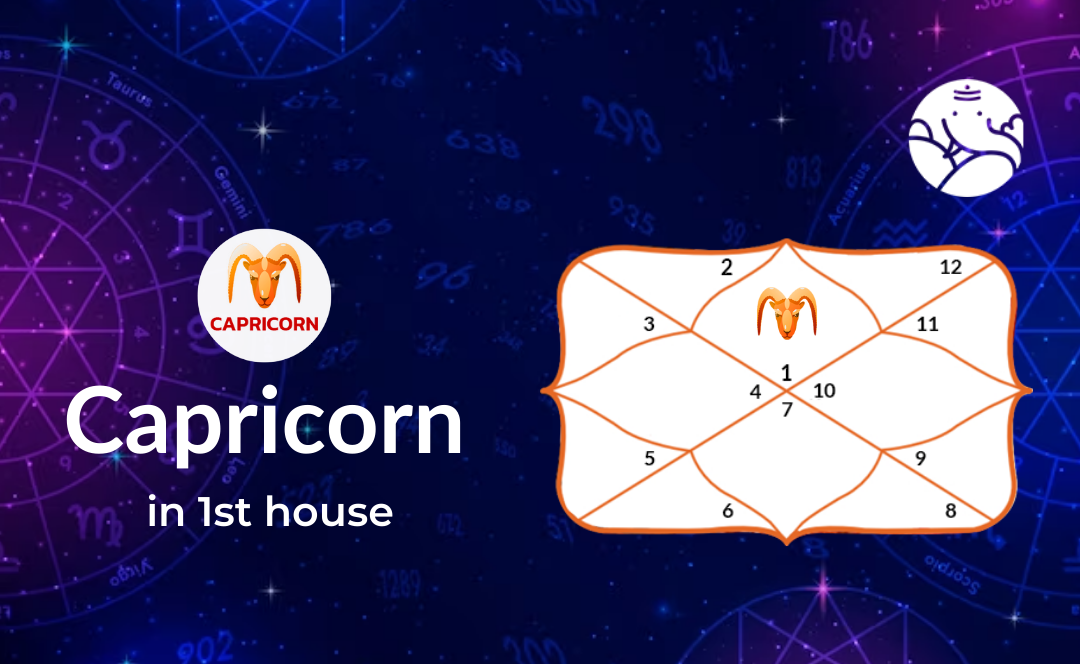 Capricorn in 1st House
People with a Capricorn in the first house have a distinctive personality that aligns with their zodiac sign's traits. This placement, at the intersection of the birth chart, influences their total artistic expression and interpersonal communication. A person with Capricorn in the first house frequently demonstrates discipline, pragmatism, and ambition. They give off an air of authority as well. They frequently display a persistent and determined mindset, an overwhelming sense of responsibility, and the drive to achieve their objectives. They may appear distant initially because of their reserved and cautious demeanour, yet they are competent, tenacious, and ready to embark on any difficulty.
Capricorn in 1st House Astrology
According to astrology, Capricorn in the first house denotes individuals with a dedicated and aspirational nature. These folks typically have a strong sense of responsibility and restraint. They are dedicated to their professional and personal endeavours and have a strong drive to achieve. Capricorn in the first house makes its inhabitants appear older than they are by giving them a guarded and gloomy demeanour. They are willing to make sacrifices because they greatly desire to succeed. They must, however, be able to control their tendencies towards workaholism and leisure. The placement of Capricorn in the first house represents their demand for structure and order. An online Jyotish consultation can provide informed guidance on navigating the challenges and maximising the advantages of this situation.
First House Astrology
In astrology, the First House symbolises the ego and personal identity. Its position at the beginning of the birth chart greatly impacts an individual's character and look. This house represents the exterior and philosophies of individuals. It regulates their aspirations, self-assurance, and goals for themselves. The First House also affects a person's attitude, personality, and sense of fashion. It is associated with the Aries zodiac sign and represents traits like self-awareness, aggression, and an enterprising mindset. Strong First House positions frequently point to people who are autonomous, self-reliant, and eager to make their mark on the world.
Positive Effects of Capricorn in 1st House
Possessing Capricorn in the first house of a person's life has many benefits. First, it instils a strong sense of duty and discipline, empowering them to remain unwaveringly tenacious in pursuing their goals. They lead a disciplined lifestyle, which helps them to make steady progress and achieve success over the long haul. People typically respect them for their serious demeanour and demeanour of authority, which enhances their leadership and authority. Because of their excellent organisation skills, individuals with Capricorn in the first house can balance their personal and professional obligations. Their pragmatic attitude and strategic thinking enable them to handle challenges with resiliency, ultimately fostering personal growth and setting the foundation for success.
Negative Effects of Capricorn in 1st House
Although Capricorn offers many positive traits to the first house, there could also be some negative aspects. One potential drawback is overemphasising work and accomplishment at the price of close relationships and self-care. Due to the solemnity and reserved demeanour connected with this position, it may be challenging to forge personal connections. This makes it challenging for others to understand the warmth and genuine feeling. In addition, their ambition occasionally leads to rigidity and criticism of themselves, which unnecessarily increases the strain and tension. To avoid feeling isolated, individuals with Capricorn in the first house must maintain their personal and professional objectives and form meaningful relationships.
Conclusion
In conclusion, a person's life is peculiarly influenced by both positive and negative factors by Capricorn in the first house. Because of their admirable attributes of responsibility, control, and ambition, they are driven to accomplish and achieve. Their systematic approach and astute reasoning enable them to overcome challenges with resiliency and steadily progress towards their goals. The downsides of a strict work ethic, a quiet demeanour, and likely solitude must be understood, too. Self-care, balancing goals at home and work, and creating significant relationships are all crucial for persons with Capricorn in the first house to feel overall well-being and fulfilment. By using their skills and overcoming potential challenges, they can lay a solid basis for success.