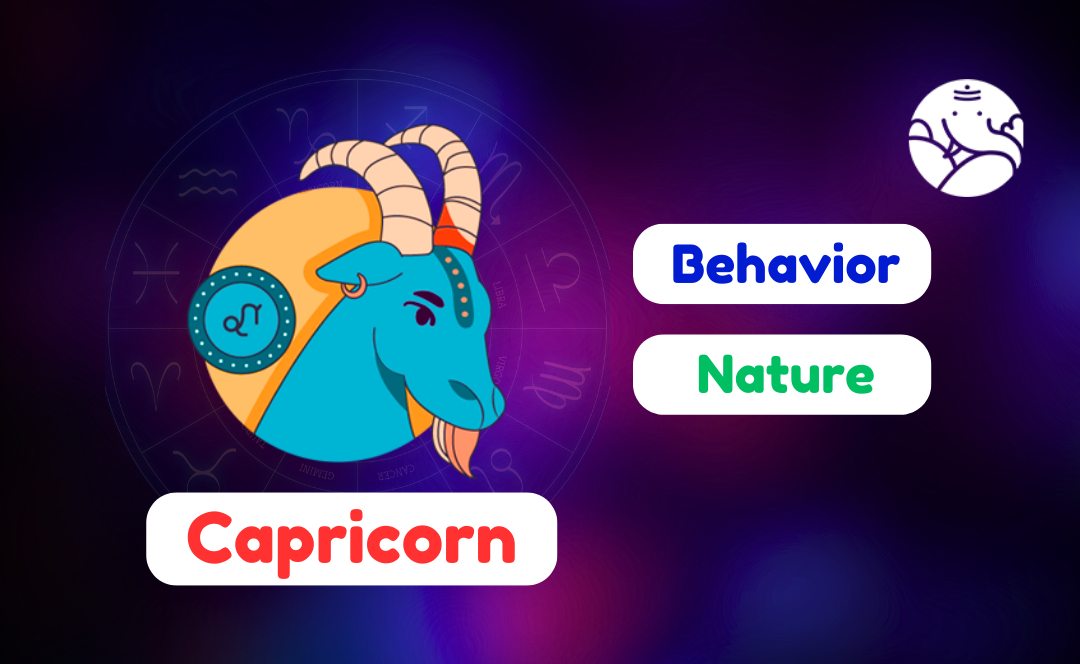 Capricorn Behavior - Capricorn Nature
Capricorn people are extremely hardworking by nature. Whatever work they start, they consider it only after finishing it. Sometimes the passion for working is so much in them that they are not able to pay attention to their family as well. Many times the people of Capricorn do not get the results according to their hard work. But without stopping, they keep on finding ways to move forward and reach the heights of success. Many times people of this zodiac also fail in life, but in their failure, the way ahead is hidden. Capricorn people work hard to achieve prosperity and hate any easy way. They are very loyal to their work. They are not afraid to act. They are not afraid to take responsibility either. They are extremely practical and dedicated to achieving their goals to the extent of being stubborn. They work hard for fame, prestige, and money.
The ruling planet of Capricorn is Saturn. Which makes them disciplined loving and philanthropic. They are hardworking, honest, ambitious, tolerant, patient and reliable. Capricorn people are charitable by nature and like discipline. There is so much kindness inside them that many times they work for others more than their ability. This nature of his helps to give him a different identity among the people and takes him to heights. People of this zodiac do not waste time on useless things and these people do not like any wrong thing. They keep thinking about their future.
Capricorn Man Nature
Capricorn men are self-respecting. They do not like to spread their hands in front of others. People of this zodiac are money spenders but never spend money for themselves. If someone else is in need, they help them quickly. They are of sensitive nature. Men of this zodiac have the feeling of helping the weak. Capricorn men try as much as possible to stay away from debt. These men cannot tolerate humiliation.
The love feeling of a Capricorn man is strong. If the people of Capricorn see a lack of trust in their partner, then they become disillusioned with love. These people consider love an important part of life and are ready to sacrifice everything for the one they love. If they ever get cheated in love, they cannot tolerate it and break down emotionally and men of this zodiac see humility, and their own qualities in women.
Capricorn men want to live peacefully in their life. They distance themselves from anything or anyone who disturbs the peace in their life. Capricorn men are generally lazy and have a habit of delaying things in careers and personal life. Fatigue can be an important reason for this.
Capricorn Woman Nature
Women of this zodiac are of creative mind which is often reflected in their profession. They are self-centered and give priority to their own feelings. Once satisfied Capricorn look at the people around you. Capricorn women prefer to be alone. She feels happier when she is alone than in a group of people.
Such women love to travel but that does not mean that they love to explore everyone. They travel from one place to another only to change places. She does not travel with the intention of knowing about the place and the people there.
She never forgets any past incident. They always remember all the good and bad things that were done to them. Professionally, they tend to take risks in the hope of getting things done. And, when the time suits them, they do. Such people work hard for what they want and rarely give up.
Capricorn women are of sociable nature. Make friends and maintain cordial relations with them. People of this zodiac are extroverted. They love to participate in various events and celebrations. They love to be a part of all events, be it small or big, personal or professional. Such people are always active.
Conclusion
The people of Capricorn are of deep thinking. These people are very careful in matters of money and business. The people of Capricorn are adept at doing many tasks at a time. Their memory is very sharp. These people lead an orderly life. Capricorn people never accept low-paid positions in the workplace. The people of the Capricorn zodiac are keen to get progress and success. Talk to astrology to know more about the nature of Capricorn.