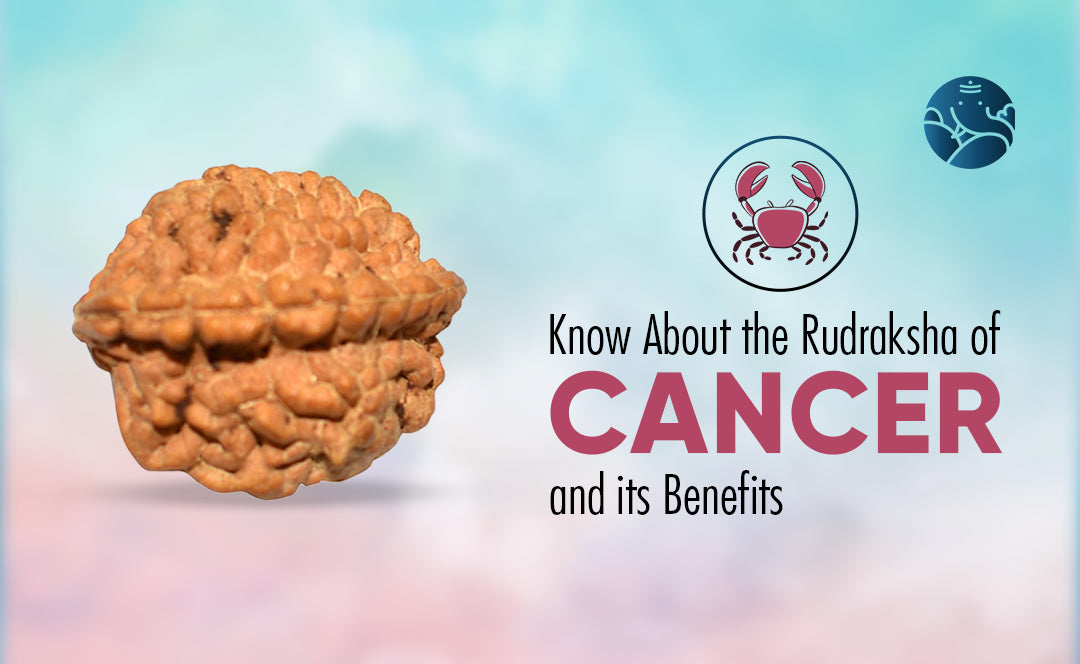 Know About the Rudraksha of Cancer and its Benefits
Cancer people should wear two Mukhi Rudraksha. Two Mukhi Rudraksha is considered to be the form of Lord Shiva and Mother Parvati. Shiva and Parvati remove all the problems by wearing this Rudraksha. This Rudraksha can also be worn for the attainment of marital happiness and peace. Another name for this Rudraksha is Deveshwar. The people of the Cancer zodiac are fickle in nature. The people of this zodiac do not listen to anyone and are beneficial. This Rudraksha is believed to be an incarnation of Lord Shiva. It represents Ardhanarishvara who is half male and half female. Like any other gemstone, Rudraksha is also ruled by a planet, its ruling planet is Moon.
What is The Cancer Rudraksha? 
It is best for the Cancer native to wear four Mukhi Rudraksha to achieve success in life. 2 Mukhi Rudraksha represents the Moon God, hence it pacifies the effect of the Moon and gives freedom from all the adversities and diseases associated with it. If you have Moon in your birth chart, then it can affect your life negatively. It can make you restless, decrease concentration, and can also bring bad luck in life, so to avoid its effects, it is advisable to wear 2 Mukhi Rudraksha. At such times you should consult an astrologer, who will read your chart and tell you about the planets, and suggest ways to pacify them.
Benefits of Wearing 2 Mukhi Rudraksha
Wearing 2 Mukhi Rudraksha reduces the fear of accidental death. If a pregnant woman wears 2 Mukhi Rudraksha, then during pregnancy that woman does not see anyone. There is protection from negative energies and the child growing in the womb is also protected.



If you feel that you have committed a sin, then you should definitely wear these 2 Mukhi Rudraksha and worship them regularly by keeping them in the temple of your home.



2 Mukhi Rudraksha bestows happiness-prosperity, protection, and power. Apart from this, there is never any effect of Vashikaran on those who wear it.



Wearing this Rudraksha is very important for the happiness of married life. It brings happiness, and peace to the family. This Rudraksha is also worn for family happiness. Rudraksha strengthens the bond between husband and wife, giving them true marital bliss.



It should also be worn to protect against diseases like heart disease, and obesity. Provides relief from obesity, heart disease, and lung disease.


How to Use 2 Mukhi Rudraksha
Two Mukhi Rudraksha should be worn after worshiping and chanting mantras. Mantra- "Om Hreem Namah" and "Om Namah Shivay" mantras should be chanted 108 times. After wearing this Rudraksha, water should be offered to Bholenath.
Conclusion
Heaven is attained by wearing energized 2 Mukhi Rudraksha. Wearing energized Rudraksha will pave the way for success and obstacles are removed. They achieves their accomplishment in life. Our advice is that the person should talk to astrologers before wearing 2 Mukhi Rudraksha. Astrology can help you in choosing the right Rudraksha by looking at your horoscope and the position of the planets.