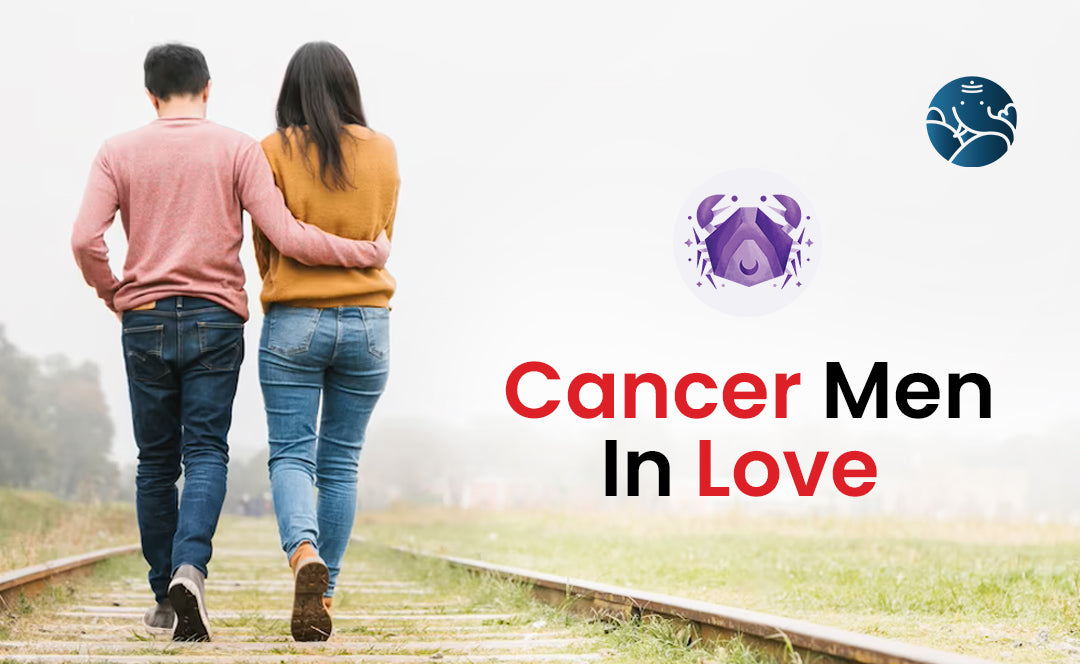 Cancer Men In Love
This article talks about Cancer men in love. We'll check Cancer men's unique quality when it comes to relationships and how it affects their love life. We will learn how the Cancer man's characteristics make him emotionally unavailable while bringing out his most loyal and sensitive nature. We'll also discuss how understanding their emotional needs can help nurture a relationship and make it truly special. Finally, we, love marriage specialists, will offer you advice to make your relationship last and strengthen your bond with a Cancer man. So buckle up and get ready to explore the depths of the Cancer man in love.
Cancer Man Traits in Love
Cancer men are comprised of many qualities and characteristics. Some of them are listed below:
Sensitive and Compassionate: Cancer men in love are susceptible and compassionate, often trying to provide comfort and security to their partners. They are known to be exposed to their partner's emotions and are often willing to go out of their way to make sure their partner is happy.
Intuition and Creativity: A Cancer man in love has an intuitive sixth sense when it comes to understanding his partner. They have a knack for reading the moods and feelings of those around them, which creates a deeper bond between two people. Additionally, Cancer men often have creative minds that allow them to find unique ways to express their love and affection.
Loyalty: Cancer men in love are often loyal to their partner. They are generally willing to resolve conflicts and work towards a healthy relationship with their partner. They can be overprotective of their partners sometimes, but that just comes from a deep commitment and devotion to the relationship.
Love and Care: Cancer men in love show love and care for their partner through physical displays of affection such as hugs, kisses, and hugs. They like to show their love in tangible ways and appreciate their partners doing the same.
Cancer men also often enjoy pleasing their partners with surprise gifts.
How Cancer Man Express Love
When a Cancer man is in love, he expresses his commitment with sweet, romantic gestures. He will open up emotionally, he will talk more about his feelings. Here are some signs you can expect from a Cancer man in love:
He will play an active role in your life. Cancer men often take an active role in their partner's life, even if it's just checking on them and asking how their day is going. No matter what, he wants to be involved and will take the time to show he cares.
He will give you thoughtful gifts. A Cancer man in love will make his partner feel special, often by sending thoughtful gifts to show they miss him. These gifts can be anything from small keepsakes of her love to expensive items.
He will be careful and loving. Cancer men are very caring and loving when in love. He will make his partner feel loved and secure with compliments and compliments, and he will always take the time to show them how much he cares.
He will protect. A Cancer man in love will want to protect his partner from any harm or danger, both physical and emotional. In good times and bad, he is by their side and will support them no matter what.
He will be faithful. A Cancer man in love is very loyal and will always be loyal to his partner. He will stay loyal to them, be very honest and focused in his relationship, never deviate, and always try to make sure everything is perfect.
Conclusion
Overall, the Cancer man in love is complex and sensitive, yet loyal and surprisingly romantic. They are very protective of those they love and are often willing to go the extra mile to ensure their well-being. A Cancer man will be faithful to his partner, never waver in his commitment, and strive to create a harmonious and loving family life. Although they can be shy and sometimes reluctant to express their feelings, Cancer men are sweet and gentle in love and make loving and compassionate partners. For further queries, please talk to astrologers.