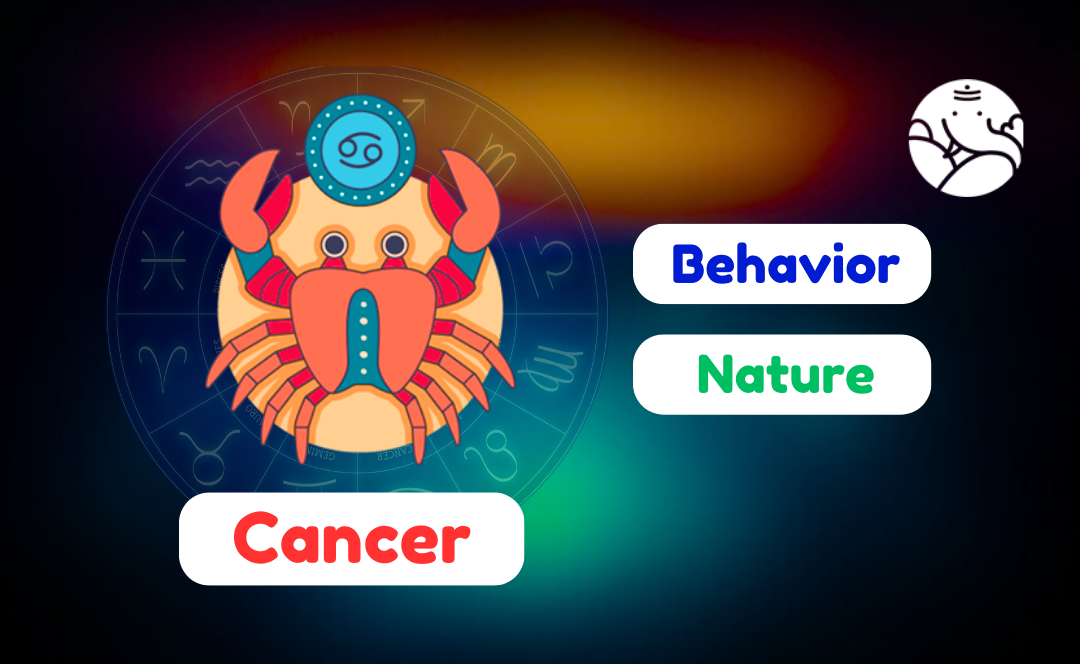 Cancer Behavior - Cancer Nature
Cancers are chubby and of medium height. Generally, it remains sharp on their face. They are generally emotional and care for others. They like to be around the house. They have good power of imagination and art. They also have spiritual qualities and extrasensory powers. They are very successful in the field of education, knowledge, politics, and administration. They get fame very easily. Their health is mixed with Kapha and Pitta.
Generally want to relax immediately after work. They often have stomach problems. Most of them have mental problems. Their married life is generally not good. One has to face opposition and controversy from the side of the child. They often become victims of emotion while making decisions. Sometimes become very emotional, angry, and jealous. Often, despite being with everyone, they continue to experience loneliness.
People of this zodiac are lovers of art and music. They can also be philosophers, poets, writers, high-class doctors, and researchers. They get to see ups and downs many times in their life. But they get away with it easily. They like to change a lot. They get the necessary comforts and facilities through their hard work. These people are very beautiful in the workplace.
Cancer Man Nature
Cancer men care a lot for their partners and are also reliable. They expect the same from their partner. In the process of showing more rights, they also have estrangement. For these people, their relationships matter a lot. These people are very proud and live on their principles. They are soft on the inside and very tough on the outside. These people are skilled diplomats and intelligent. The people of Cancer sign hoist their flag only with a little effort.
Due to the influence of Cancer males, these people are very emotional and imaginative. Language and communication skills are special qualities. Their mind moves very fast but these people are very fickle by nature. In some cases, they also have spiritual qualities. Their memory is very sharp. They are very simple, sensitive, and kind in nature. Apart from being romantic, these people are very loyal to their partners. Due to its emotional nature, you do not easily forget someone's mistake.
The physical structure of the male of this zodiac is round and these people start looking old very quickly. Their length is also less. Their physical structure is normal. Due to being reticent in nature, they often miss such opportunities in which they can perform better. Due to health problems, these people often remain ill.
Cancer Woman Nature
By the way, you too would not like to interfere with any human being in your personal life. But, when it comes to the zodiac, Cancer women do not like to interfere with any other person in their life. Cancer women like to maintain a lot of privacy in their lives, so they do not like interference from others.
Cancer women get emotional very quickly. She further says that due to being more emotional, they also start getting more upset. Due to this problem, not once but many times, they also start feeling stressed. Apart from this, she says that she loves to rule life and live like a king.
There are women of many zodiac signs who realize their mistakes very quickly, but Cancerians rarely realize their mistakes. Even if they have made mistakes, they may not realize it. She further says that she also refrains from admitting any mistake.
Conclusion
The nature of the people of the Cancer zodiac is very interesting regarding money. Saving money is always a problem. They bring unnecessary things to the buyer's house but, when the money is needed in real-time, they do not have the money. That is, in a way, they spend more money. Cancerians do not accept opportunities when they come and repent later. Talk to astrology to know more about the nature of Cancer.