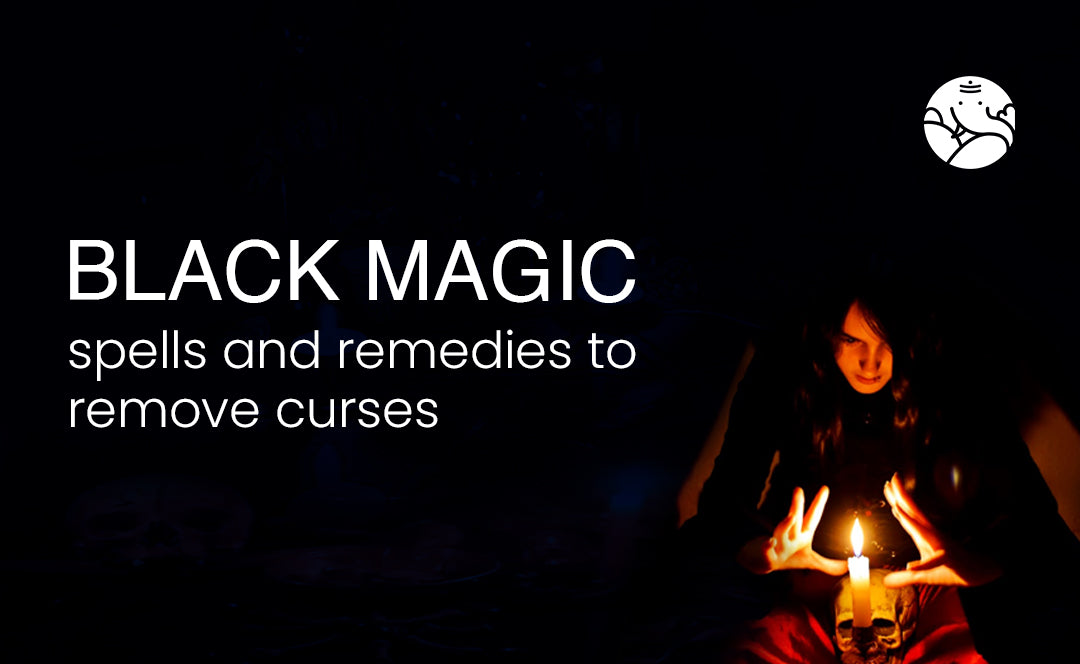 Black Magic Spells And Remedies To Remove Curses
The practice of tantra-mantra and black magic has been going on for centuries. More often than not it's favorable to use, but there has been talking of misuse. Usually, Black magic or Tantra-Mantra is used to win over their enemy. Along with this, the support of black magic has also been taken to control someone. Whether black magic or sorcery has been used on someone can be known from some signs. These signs have been explained in detail in Vedic astrology.
Symptoms of Black Magic
Any person on whom sorcery or black magic has been done, that person is not in control of himself or any other person. Such a person starts behaving strangely.




When a person suddenly starts getting sick without any reason, then understand that black magic can affect that person.




If the basil plant planted at home suddenly starts drying up or if a dead bird falls in the courtyard of the house, then these signs are considered inauspicious and it is also called the effect of black magic or Tantra-Mantra.




Sudden changes started in the person's nature and if they start telling themselves right at work, then understand that black magic has affected that person.




If suddenly you don't feel like doing a job or business and all your efforts fail, then this also indicates black magic.




Due to the effect of black magic, a person starts liking loneliness. The color of his nails starts turning black.




Often having terrible dreams at night is also a sign of black magic.
Black Magic Removal Spells 
ॐ काल भैरवाय नमः
Om Kaal Bhairavaya Namah
Benefits: Regular chanting of the Kaal Bhairav mantra gives you a feeling of mental peace. Also, this mantra removes negativity and you remain healthy, prosperous, and happy. Astrology can give you information about the spells to remove black magic.
Remedies To Remove Black Magic
Invite water by reciting the Hanuman Chalisa 7 times and give yellow to the victim.




After chanting the Gayatri mantra 108 times, performing Gayatri Yagya with cow's ghee gives instant benefits.




After taking a bath at sunset, mix nine drops of pure honey in half a kilo of raw cow's milk in a clean vessel. From the roof of the house to the bottom, in every room, living room, gallery, etc., sprinkling that milk kept reciting Hanuman Chalisa or Gayatri Mantra. Drop the remaining milk outside the main gate.




Tying the root of black Datura on the right arm on Sunday morning gives instant relief from the black magic.




By mixing asafetida in garlic juice, putting it in the eye, or smelling it, the person suffering from black magic gets relief immediately.




Om Namo Bhagavate Rudraya Namah Kosheshwasya Namo Jyoti Pantagaya Namo Rudraya Namah Siddhi Swaha.




Planting a white cave plant near the main door of the house always protects from evil spirits and black magic.




Tie eight leaves of Tulsi, eight black peppercorns, and roots of Sahdei in a small black cloth bag on Sunday morning and wear it around your neck, it will protect you from the evil eye for life.




To eliminate evil spirits and obstacles immediately, invoke little cumin seeds 7 times, touch the patient's body, and put it in the fire. The patient should sit in such a position that his smoke comes directly in front of his mouth.
Conclusion
If Tantrik has done any tantra action, witchcraft, ghosts, or black magic on someone's body, then definitely do these measures. Explain in Tantra Shastra, by doing these measures, the victim gets the immediate benefit. By talking to astrologers, know about what measures can be taken to get rid of black magic.