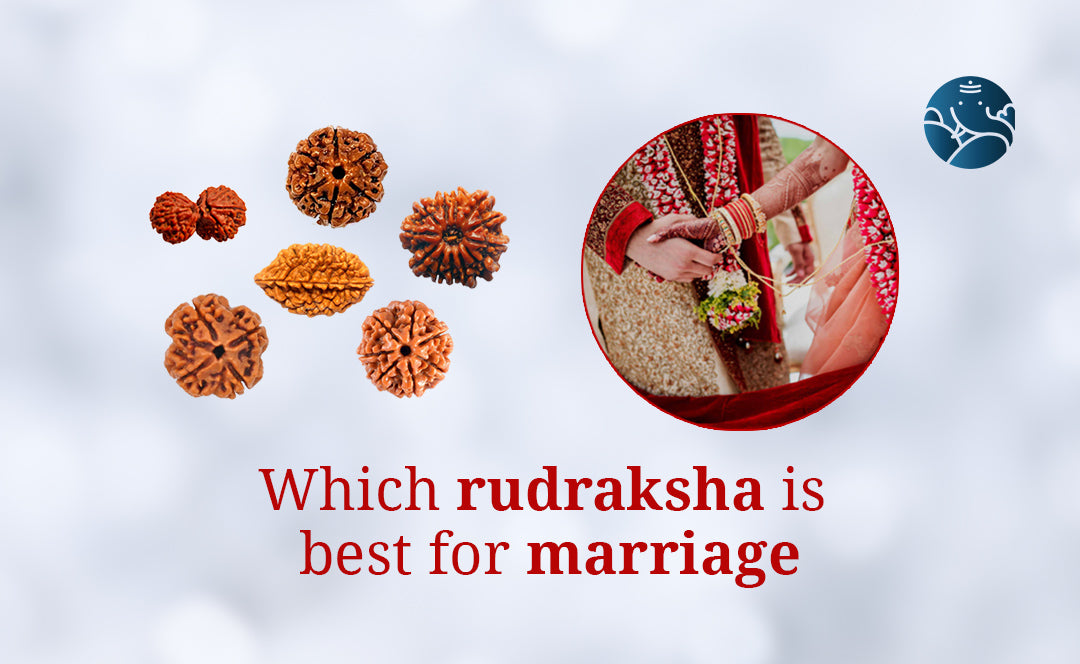 Which Rudraksha is Best for Marriage
Not getting married on time and at the right place has become the biggest problem nowadays. Due to many things like jobs, not getting a family of choice, and not obeying restrictions after marriage, nowadays youth do not want to get married. Apart from all these reasons, there are many astrological reasons for the delay in marriage. Jupiter in the best position in the horoscope of any young man or girl is necessary for marriage. Also, Saturn should not be affected by Jupiter. Due to the sight of Shani, the Dasha-Mahadasha, Antardasha, Sade Sati, and Mangal Dosha of Shani, the marriage is not able to take place on time.
Many remedies have been given in Vedic astrology for early marriage. One of the most accurate and quick effect is the use of Rudraksha. Rudraksha, the symbol of Lord Shiva himself, is known to provide happiness and good luck as well as to open the way for early marriage, but there is a right method and method to wear it. Rudraksha is found from 1 to 21 Mukhi, but only a few Rudraksha are used to remove obstacles related to marriage.
Rudraksha to remove obstacles in Marriage 
Wear Gauri Shankar Rudraksha
Gauri Shankar Rudraksha is considered to be a symbol of Lord Shiva and Mother Parvati. This Rudraksha is the factor of marriage happiness. Wearing this removes any kind of obstacle, and planetary defects and paves the way for early marriage. But it is quite difficult to get. That's why common people are not able to wear them.
Wear 2 Mukhi Rudraksha
Two Mukhi Rudraksha is no less than a boon for the unmarried. Two Mukhi Rudraksha can be worn to remove obstacles in a marriage. This increases the chances of early marriage. This Rudraksha also bestows happiness, luck, wealth, and peace with marriage.
Wear 4 Mukhi Rudraksha
Four Mukhi Rudraksha also removes obstacles in a marriage. This brings wisdom and concentration to the person. If any planet is becoming a hindrance in marriage, then wearing four Mukhi Rudraksha brings peace to the planets.
Wear 6 Mukhi Rudraksha
Six Mukhi Rudraksha works to strengthen relationships. Not only does this Rudraksha get married soon, but couples also who are facing problems related to marriage, whose relationship has reached the verge of breaking, must wear Six Mukhi Rudraksha.
Wear 7 Mukhi Rudraksha
Wearing Seven Mukhi Rudraksha around the neck removes the pain of Saturn and Mars. This gives strength to Jupiter. When Jupiter is strong, the problem of marriage is removed. Seven Mukhi Rudraksha is basically considered to be the Rudraksha of Saturn. Therefore, this Rudraksha is also worn to pacify Shani.
Wear 13 Mukhi Rudraksha
All the problems related to marriage are solved with 13 Mukhi Rudraksha. This Rudraksha gives strength to the seventh house of the horoscope. The strength of the seventh house is essential for marriage.
Conclusion
If you are troubled by a problem in marriage, then talk to astrologers. Astrology can help you choose the right solution and Rudraksha according to your Kundali.