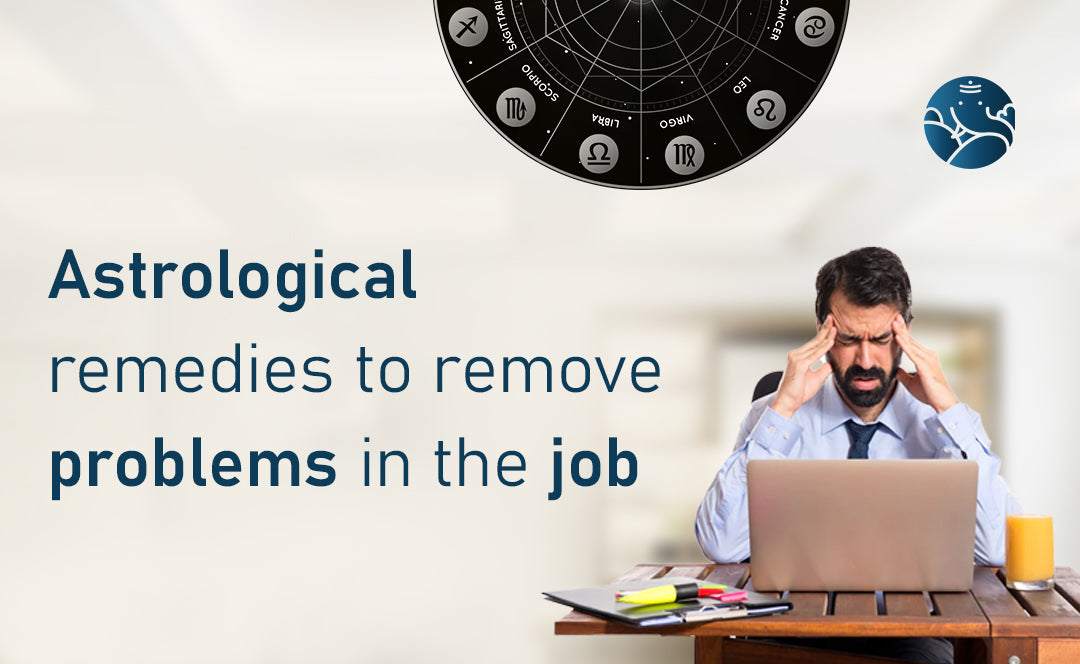 Astrological Remedies to Remove Problems in the Job
Often, despite all the efforts, many problems have to be faced on the job. Sometimes you don't get a promotion and sometimes you don't get the cooperation of higher officials relative to your hard work. Or have to change jobs again and again. If you are also facing these problems, then by adopting these special remedies of astrology, you can get relief from the problems going on in your job.
Remedies to Remove Problems in the Job
According to astrology, start worshiping Lord Vishnu from Thursday of Shukla Paksha. Apply saffron tilak to Shri Hari. After this, apply the same tilak on your forehead as well. Then offer three bananas to Lord Vishnu. After this, offer water to the banana plant and donate the three bananas that you have offered to Lord Vishnu. Keep in mind that you have to do this remedy regularly for 43 days. By doing this, the job will be stable. 
If you have to change jobs again and again, then you can do a special remedy on Saturday. For this, you have to go to a place where no one comes and goes. After this, bury the sun in the ground at that place. According to astrology, by doing this you will get a promotion in the job. Along with this, all the upcoming problems will also be seen to end gradually. 
According to astrology, when there is a lack of stability in the job, then the person should regularly offer Arghya to the Sun God by mixing vermilion and jaggery in water. By doing this the Sun God is pleased. Along with this comes stability in the job. But keep in mind that at the time when you start offering Arghya to the Sun God, offer water daily only at that time. 
To remove the problems coming in the job, offering water in basil is a very easy way. According to astrology, offer water to Maa Tulsi regularly. 
But keep in mind that a little Gangajal and sugar should be mixed in this water. After this offer this water to Tulsi. After this tell your problem to goddess Tulsi. Also, pray to remove it as soon as possible. 
It is believed that if a person does this regularly for a month, then all the problems in their job end, and by the grace of Goddess Tulsi, they gets progress in their job. 
Please Shani
Career Predictions, Saturn is considered the benefactor of work. If Saturn is weak in someone's horoscope, then they have to face problems in the field of work. In such a situation, it is necessary to take measures to pacify Shani. For this, you have to fast on Saturday and donate black sesame and mustard oil.
Please the Nine Planets
For the lack of prosperity and progress in life, Shanti Havan of Navagrahas should be performed. By this all the planets become auspicious and then their auspicious signs are received.
Please the Sun
According to astrology, the planet Sun has been given the highest status and it is also considered to be the factor of leadership. In such a situation, success in a career can be achieved by worshiping the Sun. For this, you have to offer water to the rising sun every day.
Use Chinese Vastu 
According to Chinese Vastu Shastra Feng Shui, the things kept in the home and office show progress. In this case, keep fish of many colors in the office and put a blue or black picture on the wall.
Offer Black Sesame Seeds to Lord Shiva
If you are facing many problems in your job, put black sesame seeds in water and offer them on Shivling for two days every week i.e. on Monday and Saturday and chant the Om Namah Shivay mantra. By doing this all the problems will go away soon.
Conclusion
Every human wants to progress in life. Everyone wishes that they have a good job and are successful in their work. People work hard for this too. Some people get success with less hard work, but some people do not get success even after hard work. If you are also one of these people who are not getting success after hard work, then many ways have been told in astrology to get progress. Through these measures given by astrology, the problems related to the job can be solved and you can also get benefits from online Astrology Consultations.