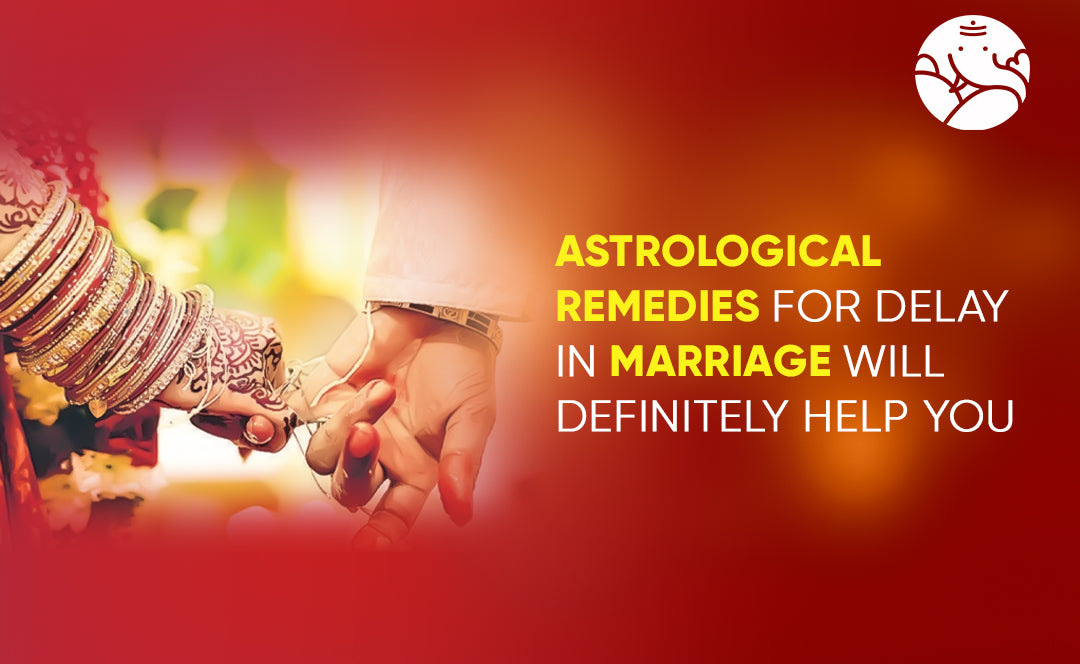 Astrological Remedies For Delay In Marriage Will Definitely Help You
"Marriages are made in heaven" this English phare means "Divine marriages are divine element of couples". Marriage can be bliss if it's done at a proper time. It can also be a curse if the other person is not suitable for you. Marriage predictions done by our family persons can be wrong and can lead to unsuccessful marriage life. For the proper guidance of marriage, you need to talk with an online astrology consultant.

Below are some reasons for the delay in marriage: 
Venus and Jupiter are weak in the horoscope.



Saturn and Mars had combined influence together.





Malefic patents are combined with Saturn in the 7th house.





Rahu or Ketu is influencing the 7th house.





Jupiter should not be in the 7th house for females.
Astrological remedies for delay in marriage life: 
You can chatter the shloka "om Namah Bhagavate Vasudevay" Placing your face to the east and doing 108 times a day.





Females should keep fast for 16 consecutive Mondays.





Also, females can feed green grass to cows regularly.





Orphans and old people need help.





One should worship Shiva and Parvati to get the blessings of the Moon and the Sun. Worshiping helps to strengthen the 7th house.





Mercury is a symbol of house relationships. To strengthen Mercury, offer sweets and clothes to the girls in the neighborhood.





Lord Ganesha should be chanted for retrograde planets in the 7th, 12th, and 8th house.




There are so many ways to stop delays in marriage. Astrology can help with that with simple methods. You need to do that thing in regular life. Isn't it easy and fruitful? Don't ruin your life coming in wrong marriage predictions. Consult our expert astrologer today for proper guidance and easy marriage life.

Wear gemstones to Delay Marriage
Rose Quartz:
Rose Quartz helps to improve love relationships. Rose Quartz brings love to life. This stone helps in improving the relationship.
Pearl/Moonstone:
Wearing Moonstone removes discord in relationships and increases trust in each other. It gives a strong feeling of love and companionship.
Yellow Sapphire/Pukhraj:
When it comes to married life, yellow sapphire is more beneficial for women. Pukhraj brings happiness to a love life.


Opal:
Opal gemstone represents Venus hence it is a symbol of love. Wearing it increases love between couples. Wearing opal gives happiness in love and marriage.
Emerald/Panna:
Emerald gemstone is a very beneficial gemstone for marriage. It is a symbol of love. Emerald brings positivity to couples suffering from strained relationships. It works well on the communication part of a relationship.
Neelam/Blue Sapphire:
Neelam is considered a symbol of love. It makes you emotionally, physically, and mentally strong. Those who are feeling insecure in love relationships should wear this.
Conclusion
Marriage is an important step in life that both man and woman a bond. Few people are lucky enough to find their love and enter into a holy marriage without any hitch. There are many people who are not able to experience happiness and happiness, so it is better to take a marriage prediction from a marriage specialist. Remedies for delay in marriage can also be found by an astrologer. If feel that a little astrologer's guidance can help you regain your enthusiasm, then, by all means, opt to explore new avenues to attain happiness in life and talk to astrologers.