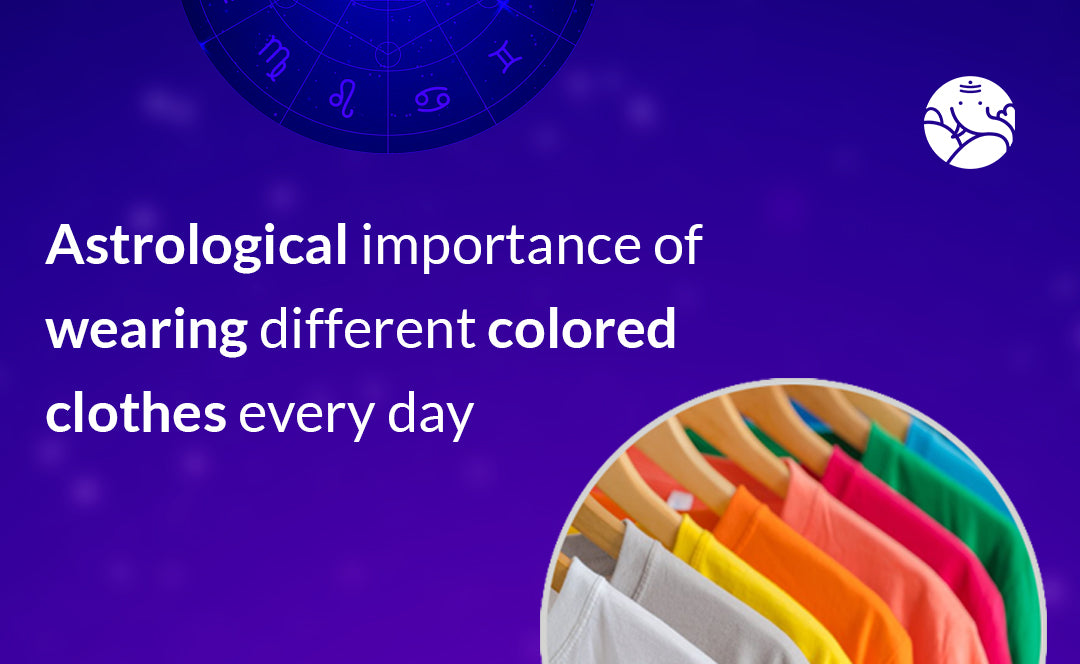 Astrological Importance Of Wearing Different Colored Clothes Every Day
You already know that all weekdays have special significance in Hinduism. These days have been dedicated to different Gods and Goddesses. At the same time, do you know that colors also have a lot of importance on weekdays? If a person meditates on the colors of the 7 days mentioned in the scriptures, then his luck can shine. Colors also have special matches with the importance of each day.
There are seven days in a week and each day has its own identity. As every day is special for us, similarly every color is also special for us. Astrology is one of the oldest sciences of India. The solar system may have been discovered later through scientific techniques, but even in our mythological history, predictions related to astrology have been made according to the movements and directions of the planets. The good or bad planets in your horoscope are also affected by the color of your clothes. Lucky Colours, It is not wrong to say that the color of clothes you wear on which day of the week has a good or bad effect on the planets of your Kundli. To avoid the evil eye of the planets, it is important that you wear the colors of their choice so that they remain calm toward you.
According to astrology, if a person chooses the color of clothes and wears them according to every day, then he becomes stronger than before. At the same time, all troubles go away and success starts to be achieved in life. Know about the colors to be worn every day and their benefits.
Monday
In Hinduism, Monday is dedicated to Lord Shiva. The lord of this day is the Moon, the symbol of coolness. That's why light-colored clothes should be worn on this day so that the eyes get relief. On Monday you can wear white, off-white, cream, light pink, light yellow, sky blue, etc. clothes.
Tuesday
Tuesday is dedicated to Hanuman Ji. Bright-colored clothes should be worn on this day. You can also wear orange, red, orange, saffron, or yellow color on Tuesday. With this, success can be achieved in every work with dedication.
Wednesday
Wednesday is dedicated to Lord Ganesha. Wearing green clothes on this day is considered auspicious. These include dark green and light green every color. Wearing clothes of these colors on Wednesday will remove all your problems and Mercury Related problems will also go away.
Thursday
Thursday is dedicated to the name of Lord Vishnu. Wearing yellow, the favorite color of Lord Vishnu is considered very auspicious on this day. Apart from this, you can also wear golden or orange colored clothes. With this, you can get progress in business and your job.
Friday
Friday is dedicated to Maa Lakshmi and Maa Santoshi. Wearing red or pink colored clothes is considered very auspicious on this day.
Saturday
Saturday is dedicated to Shani Dev. It is considered auspicious to wear dark-colored clothes on this day. You can wear black, blue, etc colored clothes.
Sunday
Sunday is dedicated to Lord Suryadev. Red, yellow, orange and golden colored clothes should be worn on this day. With this, you will be able to make progress in your work and gain money.
Conclusion
Its qualities and specialties are hidden in every color. These colors play an important role in our life as well as luck. In these seven days, choosing the colors of clothes according to that day can be beneficial for you to improve all the days. If you want to know more about the importance of wearing different colored clothes every day, then talk to astrology.