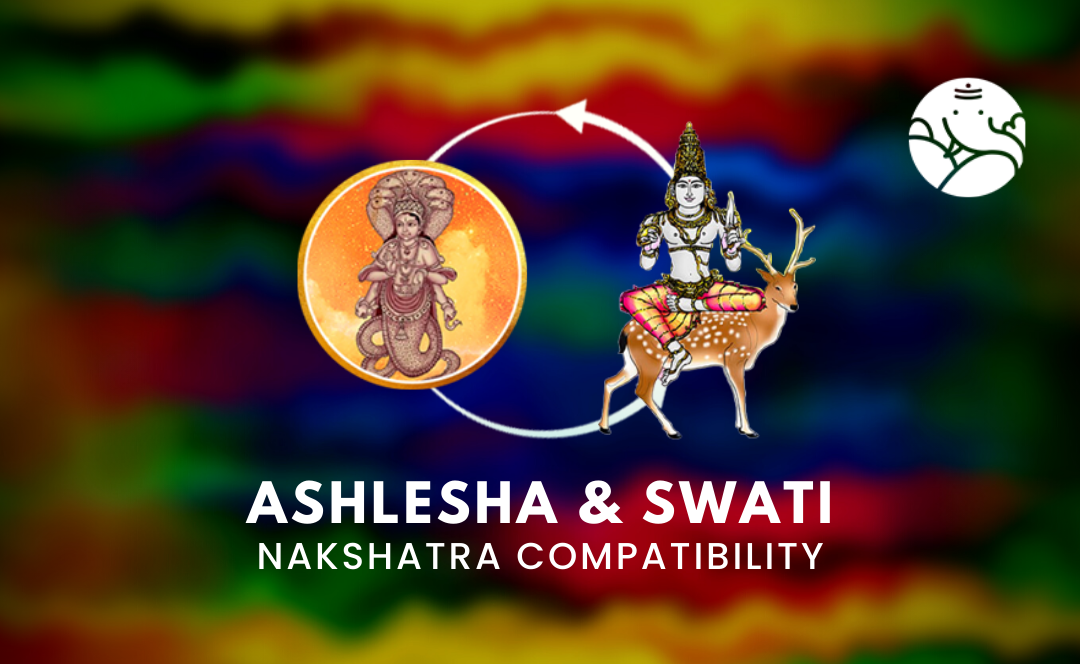 Ashlesha and Swati Nakshatra Compatibility
The 9th Nakshatra in the zodiac, Ashlesha Nakshatra is located between 16°40' and 30°00' in Cancer, as per Indian Vedic Astrology. The symbol of Ashlesha Nakshatra is a coiling serpent. This lunar area is considered to be occupied by the cunning divine snake that hides in the sign of Cancer. Ashlesha's ruling deities are the Sarpas, a group of snakes.
Out of the total of 27 nakshatras, Swati is the fifteenth. There is only one star there, not a swarm of stars. Its size and patterning in the sky give it the appearance of an elliptical diamond, oyster, or string of sparkling jewels. It extends from 186:40 degrees to 200:00 degrees in the constellation.
Ashlesha and Swati Nakshatra Love Compatibility
People born under the Swati Nakshatra respect independence and freedom highly in all facets of their lives. They favour long-term planning and like to move at their own pace. Even in their intimate relationships, they want to have a "space" and dislike being coerced into doing something. If their partners comprehend their mentality, they can have wonderful relationships. A love marriage specialist can understand your love compatibility better.
Ashlesha and Swati Nakshatra Marriage Compatibility
It is impossible to say that Swati nakshatra residents have a happy life and family life. They appear to be a happy pair to outsiders, but they are not. They could be forced to behave slightly differently despite their inclinations because of their cultures and social status. Get exact marriage predictions by date of birth from our eminent astrologers.
Ashlesha and Swati Nakshatra Career Compatibility
According to career predictions, the people of this nakshatra are brave, educated, driven, and competent in science, so they are able to perform any task. They can be effective executives in the fields of education, undiscovered abilities, and covert projects. They do acts akin to those of monks, gurus, and philosophers. They might engage as comedians, drama performers, drug smugglers, or in the travel sector. They might work as cloth merchants, sailors, or astrology interpreters.
Ashlesha and Swati Nakshatra Friendship Compatibility
Although they generally value tranquilly, it might be challenging to calm them down when they become enraged. They don't appreciate having their work criticised. They are constantly prepared to assist others. However, they detest being restricted from their right to privacy. They are naturally timid and kind. They wait patiently for things to get better. They are blessed with many friends that actually comprehend them.
Ashlesha and Swati Nakshatra Sex Compatibility
Buffalo, makes it fertile and is dominant in sexual activities. They are hyperactive in a sexual relationship and may damage their reputation by indulging in illegal litigations. They can even be prosecuted for their movement in red-light areas.
Positive Impact of Ashlesha and Swati Nakshatra Compatibility
Natives of Swati could be socially adept. As a result, they can be found at gatherings and parties where they interact with a variety of people. Natives of Swati could be particularly social media-inclined. The idea of social networking sites is currently expanding, mostly due to Swati's influence. Both Venus and Rahu enjoy interacting with others; Rahu is the lord of the internet and websites. It implies that jobs using the internet, websites, and social networking may be advantageous for Swati natives.
Natives of Swati are typically patient. They have the ability to invest and wait for a very long time for their investments to bear fruit. Depending on the positions of various planets in the chart, these investments could be economic, psychological, academic, or other kinds of investments.
Negative Impact of Ashlesha and Swati Nakshatra Compatibility
Natives of Swati could have a tendency to feel superior. This is so because Venus and Rahu, two planets known for their indulgence, strongly affect Swati. Rahu is particularly renowned for his ostentatious behaviour. Swati is an affluent nakshatra due to the combined effects of Venus and Rahu. Therefore, Swati nakshatra residents may be observed following and delighting in a variety of materialistic activities.
Conclusion
The fifteenth nakshatra, Swati, has Rahu as its ruling planet. This nakshatra governs the renal, stomach, epidermis, and urine. Some astrologers claim that this nakshatra affects the chest, while others suggest that it also has an impact on the tongue, nostrils, limbs, belly, and all of the brain's functions. If this nakshatra is impacted, the native may experience issues with these body parts. Swati nakshatra is regarded as the cough Pradhan nakshatra, hence the native may experience issues with a runny nose or cough. Stay under the guidance of online astrology consultations.