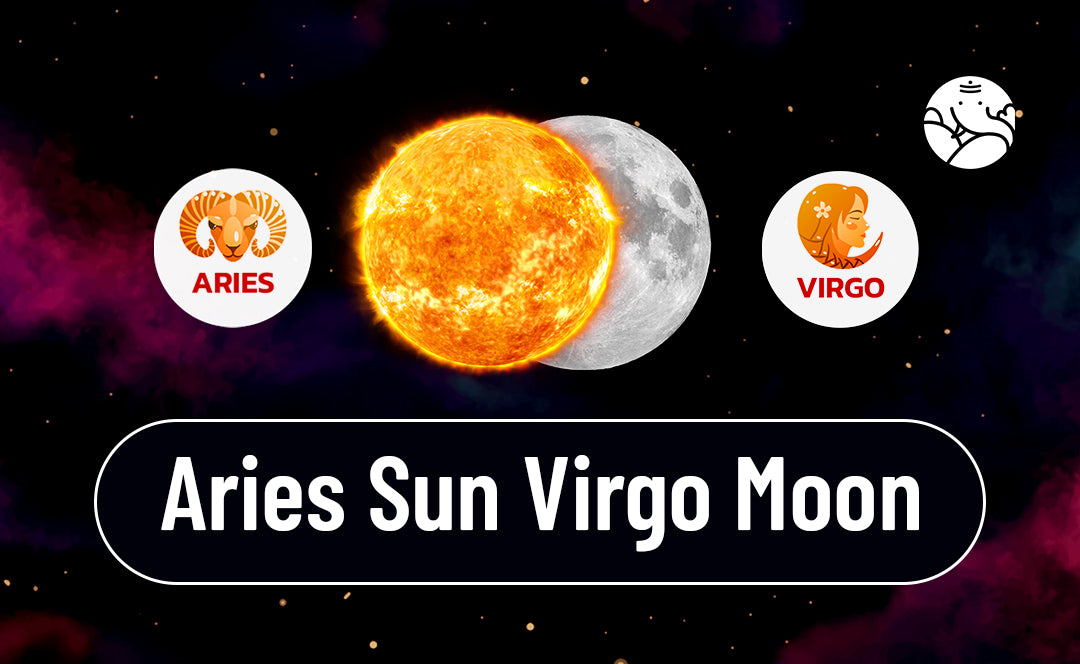 Aries Sun Virgo Moon
Aries Sun Virgo Moon person is a creative thinker, individualistic, hardworking, and very discriminating, this person is a mixture of cynics. They are very meticulous and specific about what they want from other people. The Aries Sun Virgo man or woman is a person with perfectionist tendencies. Their desire to hit the mark and accomplish what they set out to do can make them very precise, difficult, and fussy to work with. Due to being suspicious by nature, people with this combination of Aries Sun Virgo Moon do not believe the words of people easily. They are influenced only by evidence and sound reasoning and hence they are not easily swayed. Although they are generally very confident and have great faith in their abilities, they may also suffer from excessive anxiety or worry about what might go wrong. They can be very nervous and nervous at times. Their passion and practical mindset allow them to work hard and develop mastery in their work.
Aries Sun Virgo Moon Man
The Aries Sun Virgo Moon man is an idealist whose intellect is his most powerful weapon. Instead of striving to make the world a better place for everyone, his purpose goes beyond himself. These men are incredibly passionate individuals. He presents immense inner strength and often turns their thoughts into action. A person with an Aries Sun and Virgo Moon is charming, opinionated, and analytical. He seeks order in life, often prompting him to take an interest in everything. He is not comfortable around groups of people. The audacious Aries in their astrological chart can sometimes drive them wild with their outspoken nature, but the impulse won't last long. He is also highly reliable and would never inadvertently mess up or forget important events.
Aries Sun Virgo Moon Woman
The Aries Sun Virgo Moon woman will not back down no matter how difficult life gets; She has the determination to make the most of her current position. Even though these optimistic women often have a positive outlook on life, it is not uncommon for them to feel overwhelmed by their daily struggles. It is essential that they keep things under control and never forget the fact that every challenge will eventually come to an end. A woman with an Aries Sun and Virgo Moon will take her time being attracted to someone, carefully assessing them before committing. She can often appear strict in the eyes of others. Her dedication leads her to regularly have meaningful conversations that challenge and help relationships grow together. Falling in love with him is a magical experience, as he has a charming romantic spirit. She may seem intimidating with her reserved nature, but this woman's pride will only inspire co-workers to try their best. She is very receptive to making new connections.
Aries Sun Virgo Moon Personality
According to Personalised Prediction, People with Aries Sun and Virgo Moon have a unique balance between mind and instinct. They can accurately calculate risks, no matter how complex they may be. This insight never lets them lose sight of their goals and objectives, once they have a solid strategy in place. With this harmonious mix, these individuals can have wise advice that is difficult for others to match. Natives with this Sun and Moon configuration in the birth chart often display opposite personalities. People with a fiery Aries Sun and Virgo Moon are always up for an argument. They like to see issues from multiple perspectives and do not shy away from voicing their opinion. With a keen sense of intuition and perception, they can easily determine how the people around them feel and think. They will go out of their way to make sure everyone else is taken care of because they are very attentive and considerate of all who matter most in their lives. Their judgmental attitude can be harmful, as they may believe they are on a superior moral footing and have all the necessary knowledge. These individuals will not stop being proactive, instead choosing to take action even when conditions don't seem ideal. Some of the most ambitious achievers with an Aries Sun and Virgo Moon are people; They know how to put their ideas into practice.
Aries Sun Virgo Moon Love
According to Love Marriage Astrologer, Aries Sun Virgo Moon natives can be selfish in love; And this is a fact, not a judgment. Aries need to establish their identity before anything else. They recognize their partner's needs only through their reactions to what they are doing. Their ideal lover is a challenging and independent person. Spending too much time with your spouse can feel boring. They will soon lose their temper and break the relationship. They will help their partner in self-improvement. These people have a great need for communication, but they only open up when they feel comfortable around someone. The downside to this can be the fact that they are irritable and can get hurt easily.
Aries Sun Virgo Moon Marriage
According to Marriage Predictions, Aries Sun Virgo Moon are not very emotional and sensitive people. They are not particularly sympathetic or soft. In love life, they are guided more by logic than by feelings. This can be very confusing if their Aries-Virgo energies are too out of balance. It happens that they make an impulsive decision about staring at a relationship and then start analyzing everything and finding flaws in it. If the relationship doesn't progress the way they think the Aries Sun Virgo Moon person is inclined to leave and break it off. Emotionally, they may be very repressed until they express their authentic raw feelings in real time. They analyze their feelings rather than express them and much of it comes in the form of nervousness and worry. 
Aries Sun Virgo Moon Career
People with an Aries Sun and Virgo Moon can flourish in areas that require both creativity and structure. They can pursue careers in fashion, writing, art, or web design; And they can also be successful in analytical fields such as accounting, science, and research. Sometimes, it can be hard to find the right balance between their initiative and their subtlety. But this also means that Aries Sun Virgo Moon signs have a lot to offer in the workplace. On the basis of career report astrology, you can choose the right career. Aries energy is perfect for starting new ventures, and Virgo's attention to detail will help you get going like clockwork. They are experts at delegating tasks and meeting deadlines, so put those skills to use. With Virgo's analytical mind and Aries' passion and energy, they can make a real difference in people's lives.
Conclusion
Aries Sun Virgo Moon are people of contradictory nature, as the Sun in Aries and the Moon in Virgo are different, even opposites. However, if they manage to strike a balance between them, they can achieve amazing things. They are well organized, courageous, analytical, and executive, which are qualities to admire. The best advice for them is to try to be more flexible and less reserved. They should trust people more and maybe try to accept that imperfect things have their own charm and value. If you want to know more about Aries Sun Virgo Moon then talk to astrologer.