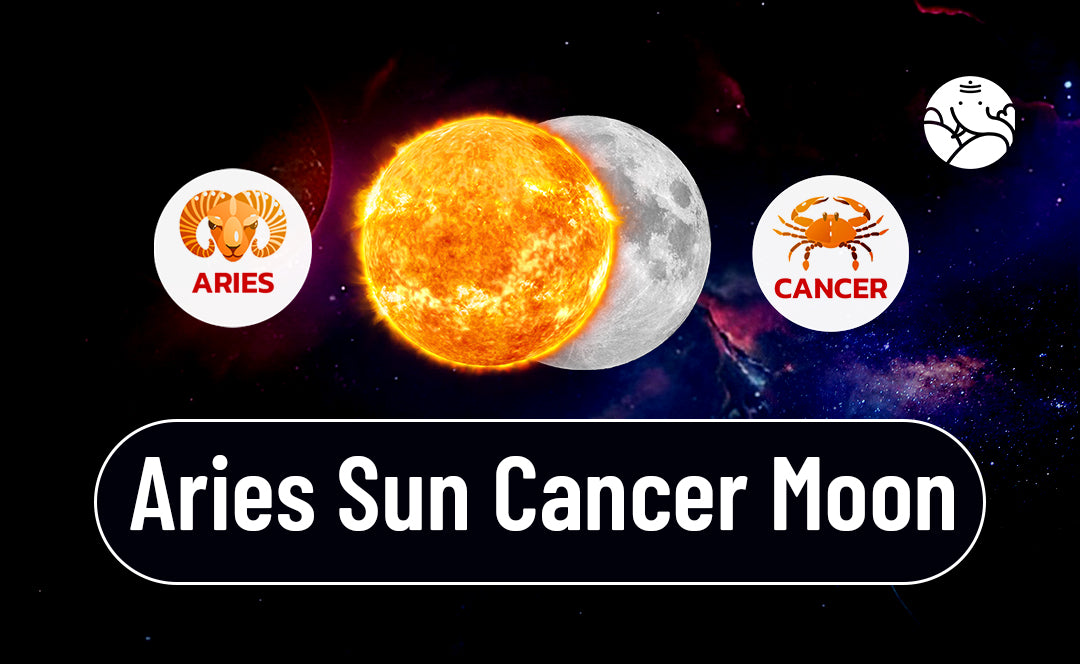 Aries Sun Cancer Moon
This conjunction of Aries Sun and Cancer Moon creates a personality that is no less dynamic and enterprising. Aries is the initiator of creative activities while Cancer is the initiator of things that make them feel more secure. Aries Sun Cancer Moon people are highly independent and self-driven. They have the ability to read people well and can pick up on people with bad vibes from a mile away. Aries Sun Cancer Moon people really don't like confrontation when they can avoid it. However, they are likely to have intense mood swings and lots of emotional energy outbursts if you provoke them. Neither Aries nor Cancer can take being told what to do, especially if they don't like the way they are being talked about. 
Aries Sun Cancer Moon Man 
These people have the courage of Aries, as well as the empathy and instincts of Cancer. The Aries Sun Cancer Moon person can find success in any enterprise. He differs from the average Aries because his empathetic nature allows him to understand what others are feeling and use this when making decisions. His ability to understand and empathize with people's feelings and motivations makes it easier for them to communicate effectively with others. With his efficient and kind nature, he easily convinces others. He may make a mistake here or there but rest assured that they are never intentional. His ability to understand world events allows him to form popular opinions on many subjects. With innate leadership abilities and a thirst for success, this person will find it easy to lead. Despite his innate strengths and enthusiasm, he can sometimes struggle with self-doubt. 
Aries Sun Cancer Moon Woman 
The Aries Sun Cancer Moon woman is fiery and always on the move. He has an extraordinary memory that can recall events from many years ago with remarkable accuracy. Driven by a worthwhile purpose, this vivacious woman oozes confidence and intelligence. He is a rare combination of self-assurance and benevolence. She cannot misbehave with others; She is genuinely kind and can be easily misled by people with ulterior motives. Her strong loyalty to her friends and family, combined with her emotional responsiveness, makes her an ideal friend; However, it can also make her vulnerable to those seeking to take advantage of it. She not only has an alluring beauty that attracts others toward her, but she also has powerful charisma and intelligence. Her strength of character commands the respect of all who encounter her. 
Aries Sun Cancer Moon Personality 
According to Personalised Prediction, Aries Sun Cancer Moon people are mysterious and complex, yet possess powerful confidence. If these individuals want to accomplish something, they work diligently and give it their all until it is done. These people are likely to be creative and intelligent, taking pride in their talents and abilities. These creative and pure-hearted people strive to make the world a better place through their work. They have an innocence that will never be tarnished by outside influences. These people are highly sociable and energetic, which makes them great companions. They have a strong sense of compassion, often standing up for those who are mistreated. 
Aries Sun Cancer Moon Love 
According to Love Marriage Astrologer, Aries Sun Cancer Moon people like to rule in a relationship. They are warriors who expect their mates to follow them. He doesn't like it when people hesitate or are too slow for him. These people will constantly challenge themselves to understand more and more and their lover needs to understand this. They can be sensitive and caring, but they are also aggressive signs, which makes them controlling. Usually, they are adventurous and humorous with a mischievous nature. Nevertheless, their mood swings can be fickle - from sensitive and temperamental to obsessively passionate. They are the ones who try to help their partner. They have a remarkable combination of kindness and compassion, always striving to ensure that their partner never feels neglected. 
Aries Sun Cancer Moon Marriage 
According to Marriage predictions, these people like to dominate in relationships. They are there to protect and care for others, not vice versa. Aries Sun Cancer Moon will not hesitate to approach the person they like. Furthermore, their Moon aspect will soften their outlook and instill some romanticism in them as well. In a marriage, they are caring, nurturing, and very protective. They are kind and understanding in relationships. Their creativity will ignite their relationship, and it will help bring imaginative ideas to life. 
Aries Sun Cancer Moon Career 
Aries Sun Cancer individuals can choose a career from career report astrology according to their unique personality. With their immense intelligence and intuitive knowledge, they can easily excel as officers and artists, students and teachers. They are truly empowered to do remarkable things. With their artistic and creative attributes, they may consider a career in the arts. Born with innate leadership qualities, he is an ideal candidate for a career in the field of education. As a teacher, he will make a positive impact on the lives of his students and help them realize their future. As someone who is often good at reading others due to their sensitive nature, a career in psychology could be a perfect fit. They are likely to have an innate understanding of human emotion and have great empathy and communication skills. As someone who values making a difference in the world, a career in social work is the perfect opportunity to use your passion to help others.
Conclusion
Aries Sun Cancer Moon take pride in themselves. They see themselves as inspirational leaders and guardians of those in need of protection. They are executive, but not aggressive in the typical Aries style. They are sentimental, but they are not lost in a romantic fantasy world. These people are always charming and trustworthy. Unlike any other Sun-Moon combination, they can be both extroverted and introverted. They can be thrilling while making love. They are tough and flexible, yet sensitive and nurturing. If you want to know more about Aries Sun Cancer Moon then talk to astrologer.