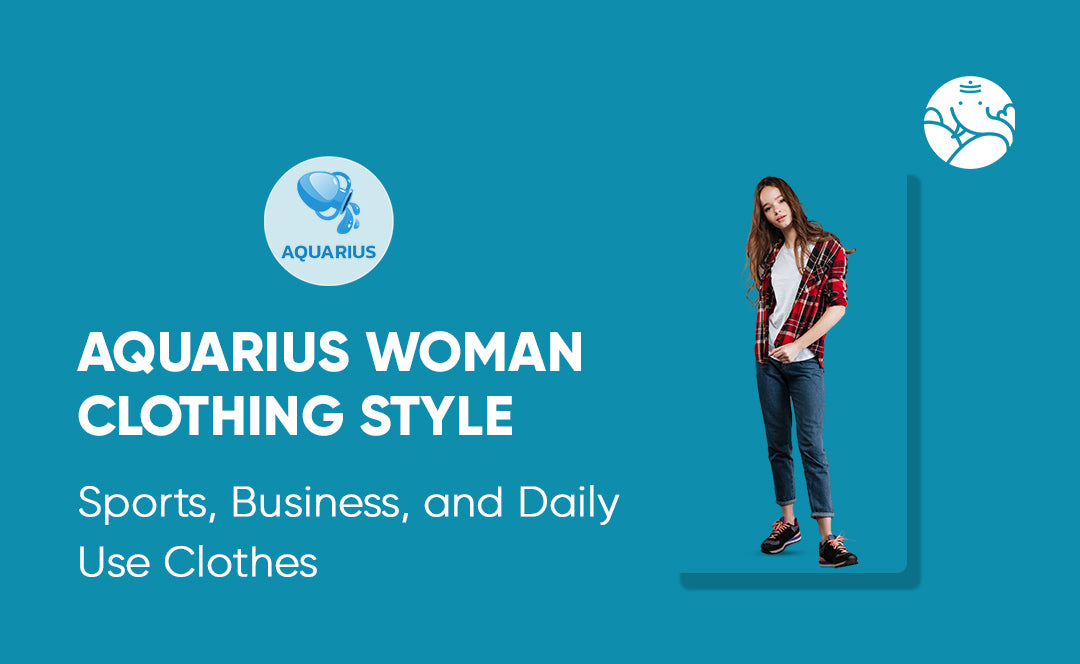 Aquarius Woman Clothing Style: Sports, Business, and Daily Use Clothes
Women born in the early months of the year between January 21 and February 19 come under the eleventh sign of the zodiac, Aquarius. Your personality and nature are unsolvable puzzles for everyone. You never believe in accepting any binding. These women are very fashion-conscious by nature. Experiments with colors in their costumes give a different effect. You neither impose your choice on anyone nor give authority to anyone else, that she can run his will on you. But don't take this to mean that you are a completely autocratic or careless woman. You only do or listen to what feels right to you. You are a humanitarian by nature, who always goes out of her way to help others when in need.
Aquarius Clothing Style women are very good advisors. Even though you do not disturb the privacy of others without any reason, if someone asks for your advice on his own, then you give him your advice. Aquarius Fashion Style like such people, who give respect to the environment, women, animals, children, and elders and are ready to help when needed. Your ruling planet is Uranus, and you are a soft, sometimes hot-tempered woman who comes under the element of Air. Your personality is charismatic and easily takes others under its influence. You are a woman with a completely independent, self-reliant, and self-confident personality.
If the Sun is in a strong position in your Kundli, then your beauty becomes unique, the sharpness of your face becomes impressive, and makes your personality impressive and different from others in the crowd. Aquarius women like the company of friends and people, but making yourself stand out in the crowd is your first priority. Because the sign of Aquarius gives the impression of being associated with water, some people may think that you belong to the water element. On the contrary, you belong to the air element.
Aquarius Women Wear Daily Use Clothes
In your daily wear style, you can wear a floral short cut-out dress matched with a denim jacket, or sometimes you can surprise everyone by wearing an open slit neon maxi dress. You can go for a day out with your friends by wearing slim-fit jeans with a loose top. With this, you like to keep your hair open with long curls. Big funky and stylish sunglasses are enough to make your face stand out from the rest. Flat slippers or sandals are helpful in maintaining the speed of your steps. Talking about colors, aqua blue, pink, sky blue, and neon become your favorite colors. In fact, these colors give you freshness and dynamic energy.
Aquarius Women Sport Dresses
Aquarius women like to wear athletic wear that is functional as well as fashionable. You are very fond of keeping your body fit, that is why you always indulge yourself in some kind of physical activity like a workout, jogging or sports. You can't resist experimenting with colors even in your sportswear. Often you are seen exercising in sky-blue, pink, or neon colored track suits, and pajama T-shirts. You can't forget to wear your funky sunglasses while doing outdoor sports, workouts, and jogging with colorful sports shoes. You like to keep your hair tightly tied in a ponytail. Light makeup is always the first choice and requirement of Aquarius women. But you use makeup only to enhance your natural beauty.
Aquarius Women Business Dresses
Aquarius women always like to live in a vibrant environment, that's why wherever you go you fill others with positive energy with your inner positive energy. This positivity within you is reflected in your attire as well. Being a very self-reliant and hardworking woman, you are associated with some kind of employment. The most important thing about your dress is that you like to keep your dress alive even in your workplace. If there is no compulsion in your office dress, you are not afraid to experiment with colors and harmony here too.
You can also go to the office wearing a long cardigan with a strawberry picture on it. A white blouse top is a must-have in your wardrobe. You can wear fitted pinstripe pants with a white or any other funky-colored fitted or loose shirt to stand out in your workplace. A sleek line strip can be worn with a shirt of any color with black pointed pumps shoes or bellies on the feet. The light blue sling bag makes for your favorite bag to carry to the office. In which you can keep the light things you need. You like wearing light jewelry like bracelets, thin chains, and earrings to the office. A designer branded watch on the one hand shows the luxury you are. In the office, you decide to keep your hair open or tied depending on your attire. Here too you like to go curled your hair many times.
Conclusion
If you have a strong Aquarius sign in your horoscope, especially Venus in Aquarius, you will be very much infatuated with air sign beauty. To dress like an Aquarius woman, you have to rebel against all style rules and create a personal look that stands out. If you want to know about the fashion style of Aquarius women, then talk to astrology.