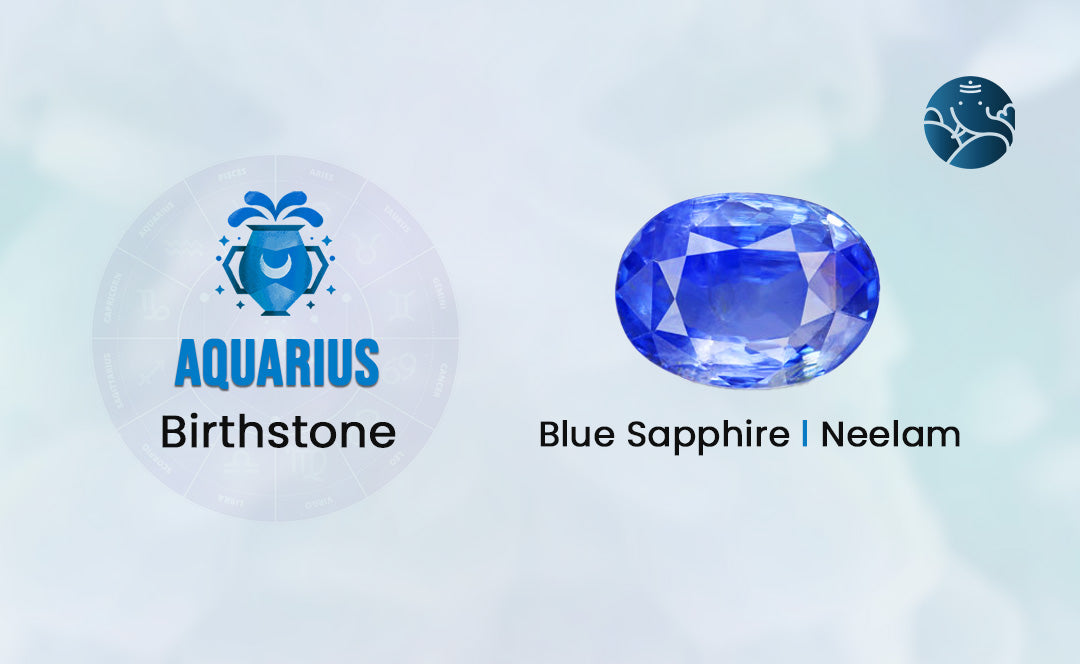 Aquarius Birthstone - Aquarius Lucky Birthstone, Meaning, Benefits & Uses
Due to Saturn being the lord of the people of Aquarius, it is necessary for the people of this zodiac to wear Neelam/Blue Sapphire. The people wearing Neelam get fame in society. The people of this zodiac are of reflective nature. Aquarius people are diligent in work. They like to be alone. Due to their good nature, people connect more with them. These people keep friendships well. Due to the influence of Saturn, Aquarius people also start behaving harshly.
What Is The Aquarius Zodiac Sign?
With Saturn being the lord of Aquarius, it is an air sign. Due to Saturn being the lord of this zodiac, these people are full of good qualities. The personality of this zodiac sign is emotional. People of this zodiac like to be independent. Aquarius sign people are never able to maintain a relationship.
What Is The Aquarius Birthstone?   
As the lord of the people of the Aquarius zodiac is Saturn, they should wear Neelam / Blue Sapphire Gemstones. If there are obstacles in the life of the people of Aquarius, then they must wear the Neelam gem to get rid of them, in a few days the obstacles will start to go away and the fate of the people of Aquarius will open. Apart from affecting the characteristics and business of Neelam in many ways, this stone also affects both the positive and negative qualities of Saturn. Also, wearing it brings good luck.
Lucky Gemstones For Aquarius Man
Neelam is the main gemstone for Capricorn men. Wearing this stone brings progress in life. The men of Capricorn get benefits in professional life by wearing this gem. Wearing like this brings prosperity. It helps to make their life soft. This gemstone affects men in a mystic way. Neelam gemstone helps Aquarius men to take positive energy from the planet Saturn.
Lucky Gemstones For Aquarius Woman
Neelam is a primary and lucky gemstone for Capricorn women. This gemstone best suits women. This helps to protect them from any kind of damage. This gemstone helps Capricorn women to get highly positive results. All your obstacles in his life are removed. Neelam gemstone is known to transform the physical, emotional, and spiritual nature of Aquarius women.
Benefits Of Aquarius Birthstone  
Wearing Neelam can get rid of health problems. Money starts to gain. At the same time, the chances of promotion in job and business are greatly increased. Not everyone can wear Shanidev's favorite gem Neelam like this. Neelam is extremely important in bringing success to people working in travel, tourism, hospitality, and export business. It restores peace of mind by reducing the wrath of Saturn. Wearing Blue sapphires also makes artistic works flourish. Neelam is believed to provide relief for the knee and bone-related ailments, arthritis, paralysis, etc. Favorable Saturn brings self-determination, inner discipline, and perseverance in the efforts of those who wear Neelam.
Uses Of Aquarius Birthstone    
The Neelam gem should be inlaid in a gold or silver ring and worn on the middle finger on Saturday. This gemstone should be worn during Shukla Paksha on Saturday morning. While wearing this gemstone, it is necessary to chant Shani Dev because Blue sapphire is the gemstone of Saturn, wearing it increases happiness and prosperity in the house. The Neelam is worn in the gold ring itself, which gives quick benefits.
Conclusion
According to the astrology predictions, when a Neelam gives a person a positive result, in a few days it makes that person full of happiness and prosperity and also makes the person a beggar if it comes to giving bad effects. Therefore Neelam gemstones should be worn with great care. When you methodically wear the right weight gemstones mentioned on the basis of the horoscope, you will always get success.