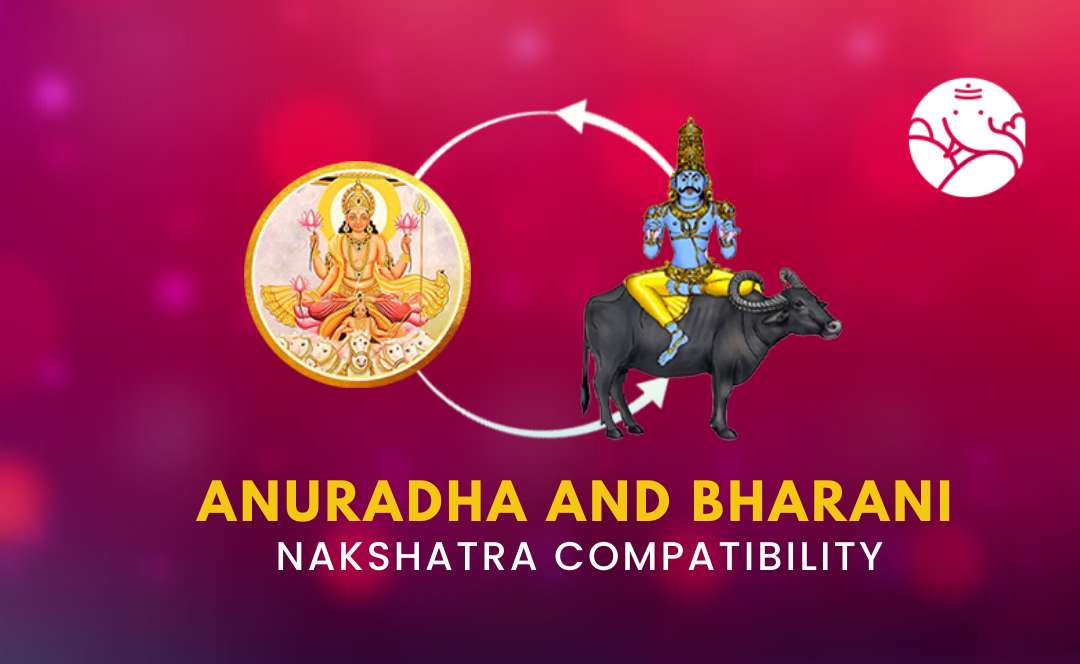 Anuradha and Bharani Nakshatra Compatibility
The 17th star in the Ancient astrological star series is known as Anuradha Nakshatra. Anuradha is made up of the stars Beta, Delta, and Pi Scorpio. Above Antares, the brilliant red star, emerges on a flat surface.
Anuradha sign natives excel at finding the right balance between opposing forces. They are high achievers who open up conversations to guarantee that harmony reigns. The key characteristics of those born under the Anuradha sign include wit, acute attentiveness, and high spirit.
The second nakshatra in astrology that expresses Venus' characteristics is called Bharani. This nakshatra represents Lord Yama and is situated in the 13-20′ and 26-40′ range in the Aries sign. Lord Yama's responsibility as the nakshatra's ruler is to evaluate your favorable and undesirable conduct and, in accordance, create the precedent for your future. Therefore, the ups and downs in a person's life who was placed under the Bharani nakshatra merely reflect their destiny.
This nakshatra also carries feminine qualities like parenting, loving, creating, etc. Because it is inspired by the planet Venus. The strong sensuous characteristics that this nakshatra also imbues in humans make them appealing and exceedingly challenging to get over.
Anuradha and Bharani Nakshatra Love Compatibility
The Bharani nakshatra's inhabitants are thought to display desires, feelings, and manners. Simply put, their enthusiasm for romanticism and love is out of the ordinary. They have a unique style in romantic relationships as per the opinion of our Love Marriage Specialist.
Anuradha and Bharani Nakshatra Marriage Compatibility
In marriage, you have a tendency to take an aggressive approach and expect people to embrace your ideas, which leads to uncertainty and a lack of transparency and understanding in the relationship. The ideal marrying age for those born under the Bharani nakshatra is between 22 and 30. Marriage predictions by date of birth report will provide you with more information regarding your marriage life.
Anuradha and Bharani Nakshatra Career Compatibility
According to career predictions, there are no favorable or undesirable times for people born under the Bharani nakshatra, therefore they can work in any line of work. Additionally, once you are 33, your work life will continue to flourish. People who are Bharani born are excellent in marketing, especially in the cigarette and aviation industries. You must, however, ensure that the company always operates from the eastern side of the building. These natives benefit greatly from collaborations. Aside from business, you will succeed in your career as a prosecutor or surgeon.
Anuradha and Bharani Nakshatra Friendship Compatibility
When it comes to how well-liked them is by their fellow group members, the male born under the Bharani nakshatra falls halfway in the middle. You will have two to three close pals, though, who would sacrifice anything for you. They have a calm disposition and spend the majority of their time by themselves.
Anuradha and Bharani Nakshatra Sex Compatibility
The person with Bharani nakshatra will have average energy in a sexual relationship and will enjoy the company of the sex partner. They are somewhat controlled in sexual desires.
Positive Impact of Anuradha and Bharani Nakshatra Compatibility
The Bharani nakshatra is a sign of impetuous and brave women. Their decisions are not solely driven by some individuals' selfish needs, but rather are for the benefit of everyone around them. They have established clear goals for themselves and is an upstanding person who doesn't like to let them go. These women are well-respected for their maturity and modesty in the family and for these qualities. It is clear that girl born under the Bharani nakshatra dislikes being told what to do and what not to do because they are aware of commitments.
Negative Impact of Anuradha and Bharani Nakshatra
Compatibility
Another trait of the Bharani nakshatra is that its natives are seen as ambitious. They are passionate about what they stand for and are the last to give up. These individuals are also incredibly flexible and patient. Rather than comforting themselves with platitudes, they trust the reality of the circumstance. The jealous people on earth are probably those born under the Bharani nakshatra. Over time, though, they discover how to take advantage of the envy factor for themselves, which makes them extremely marketable.
Conclusion
You have a sympathetic spot for helpless people, both in terms of people and creatures. You have a lot of personalities and aren't afraid to admit the truth, no matter how unpleasant it may be. You are the one that goes after their emotions, and you rarely give other people's opinions any thought. You also tend to try to mend things most of the moment and have a sympathetic nature. But most of the time, people find it hard to overlook the mistakes you make. Online Astrology Consultations can assist you in your tough times.