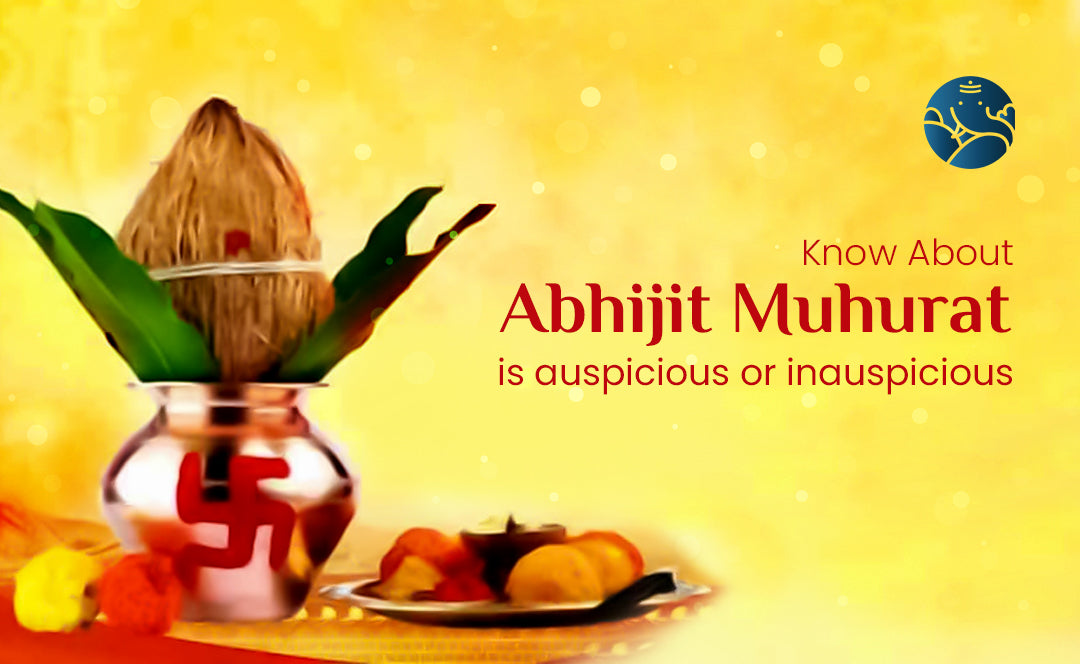 Know About Abhijit Muhurat Is Auspicious Or Inauspicious
The word Abhijeet means "conqueror". Time is very important in Sanatan Hindu Dharma. It is believed that the success of the work done at the right time is certain. On the basis of Tithi, Muhurat, Nakshatra, etc., it is ascertained at what time one will get success by doing which work. Finding out the Muhurat is not a matter of understanding for any common person, so Abhijeet Muhurat is considered to be the best Muhurat. It must come once a day and it is considered good for doing any kind of auspicious work.
How To Calculate Abhijit Muhurat
Abhijeet Muhurat is the 8th Muhurat out of 15 Muhurat which occurs between sunrise and sunset. The time interval between sunrise and sunset is divided into 15 equal parts and the middle part of the fifteen parts is known as Abhijit Muhurat.
If sunrise is at 6 am and sunset is at 6 pm. Abhijeet Muhurat for a particular place will start exactly 24 minutes before noon and end 24 minutes after noon. Abhijit Muhurat for such a place will be between 11:40 am to 12:20 pm. Of the day Due to the seasonal variation of sunrise and sunset times, the exact timing and duration of Abhijeet Muhurat are not fixed.
It is believed that Lord Shiva killed the demon Tripurasura during Abhijit Muhurat. Also, Abhijit Muhurat has the blessings of Lord Vishnu who destroys innumerable doshas with his Sudarshan Chakra during the Muhurat posture.
Other Names For Abhijit Muhurat 
Abhijit Muhurat is also known as Abhijit Muhurta, 4th Lagna, Qutub Muhurat, and Swami Tithiyansh Muhurat. The pattern of Abhijit Muhurta is Nishita Kaal which prevails during midnight.
What To Do And What Not To Do In Abhijit Muhurat?
Abhijeet Muhurta is right for all kinds of auspicious works. Like starting a new work, starting a shop or business, starting a worship or ritual, investing in a new scheme to accumulate wealth, etc. On the basis of advice from the expert of astrology, the work of house entry, shaving work, marriage, etc. can also be done at Abhijit Muhurat.
If you want to travel and the direction of travel is south, then you should not go for the journey in this Muhurta. And do not do any kind of new or auspicious work in Abhijeet Muhurat on Wednesday, it will not give you auspicious results.
So, friends, this was the discussion about Abhijeet Muhurat, in the comment, you will definitely tell how you got this information and if you have some other facts related to it, then you can also tell us.
Any auspicious work done in Abhijeet Muhurta is successful. In Abhijit Muhurta, you can start any new establishment or business, beard, collect money, or do any worship rituals or marriage, etc.
Conclusion
Abhijeet Muhurat is an auspicious time in the afternoon which lasts for about 48 minutes. Abhijeet Muhurta is capable of destroying innumerable doshas and is considered one of the best Muhurat to initiate all kinds of auspicious works. Although Abhijeet Muhurta is very good, still do it once with your astrology so that there is no obstruction of any kind in your work. If you want to know more about Abhijeet Muhurat, talk to astrologers.